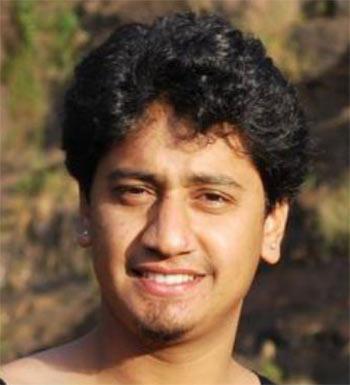 'I have been told that legends like Mammootty, Aamir Khan and even Shahid Kapoor were being considered for the National Award. I'm thrilled to have won it.'
Sanchari Vijay talks about his National Award-winning movies.
Sanchari Vijay is the first Kannada actor to win the National Award for Best Actor.
He has won the award for his outstanding performance as a transgender in Nanu Avanalla Avalu (I am not a he, but she).
Vijay also acted in another film that won the National Award this year: Harivu (The flow) directed by Manjunath S, which won Best Regional Film (Kannada).
Vijay's award citation says, 'For his subtle and non-stereotypical playing of a woman trapped in a man's body, portraying a gamut of emotions as s/he struggles through confusion, rejection and humiliation to finally chart her own course with confidence and dignity.'
Vijay spoke to Rediff.com contributor Praveen Sundaram soon after the National Awards were announced.
You are the first Kannada actor to have won a National Award for acting. Congratulations!
Thank you. Yes, I am thrilled that I have won the National Award.
I have been told that legends like Mammootty, Aamir Khan and even Shahid Kapoor were being considered for the award.
It is a good feeling. My phone hasn't stopped ringing since the time the awards were announced.
Two of your films have won National Awards. Harivu won the Best Regional Film in Kannada and Nanu Avanalla Avalu has won you the Best Actor.
Yes, and in both the films I played the lead role. Both films were emotionally draining and challenging.
In Harivu, I play a farmer from north Karnataka who brings his ailing son to Bangalore for treatment. His dilemma is how to take the body to his hometown. Till the end, he had to hold in his emotions.
In Nanu Avanalla Avalu, I played a transgender which was also very difficult to play. Both roles are close to my heart.
Your character in Nanu Avanalla Avalu is based on the book Living Smile Vidya?
Yes, I was given the book to read before we went for the shoot. I was really disturbed when I read the book.
We all know how a transgender is treated in our society.
What was the most challenging scene to perform?
There is a scene where a crude and illegal surgery is performed. It is done in real life too in Kadapa (a small city in Andhra Pradesh).
That was really challenging to perform. But the Censor Board removed the scene.
How did you prepare for the role?
We had real transgenders in the film and they gave me inputs.
I would frequent traffic signals and their colonies to interact with them and watched videos online.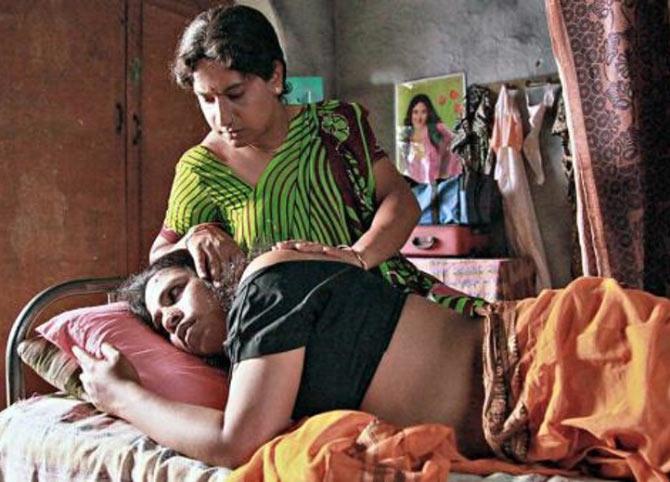 Image: A still from Nanu Avanalla Avalu.
How did you start your career in acting?
I come from Chikmagalur in Karnataka. After completing my engineering, I worked as a lecturer in a college and then moved to Bangalore and began doing theatre.
Gradually I started doing movies. I have done about 10 Kannada films, mainstream and offbeat, and one film each in Hindi, Tamil and Telugu.
Prakash Raj's Oggranne was a tri-lingual, so I guess I can say that I have done one film in Tamil and Telugu, in that sense.
Incidentally, even in Oggranne, I played a transgender, though that was a small role.
What is your opinion on Kannada cinema?
I think a lot of experimenting is happening. It is heartening to see that many young directors are trying to make different kinds of cinema like Ulidavaru Kandanthe.
Which directors would you like to work with?
I would love to work with Shankar and A R Murugadoss.