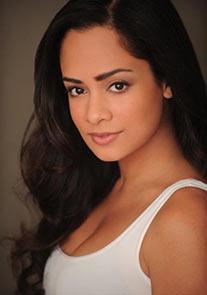 'Dev Patel and I hung out together to get to know one another. It's very important to understand your co-star before you begin a project.'
Devika Bhise gets ready for The Man Who Knew Infinity.
After Dev Patel and Freida Pinto created magic in Slumbog Millionaire, the actor moves on with NRI actress Devika Bhise in The Man Who Knew Infinity. The new film is about mathematical genius Srinivasa Ramanujan, and is based on Robert Kanigel's biography.
The film will be directed by Matt Brown, and also stars Jeremy Irons.
Devika, 20, recently graduated from the Johns Hopkins University, where she studied theatre.
Born and raised in Manhattan, she has acted in the 2008 film The Accidental Husband, and more recently in the off-Broadway production of And Miles To Go.
Devika tells Rajul Hegde/ Rediff.com how she got the part.
How did you get the part in The Man Who Knew Infinity?
When I was studying at Johns Hopkins in Baltimore, I played the goddess Namagiri in a play based on Robert Kanigel's book.
It was the same story but more fantastical, with ghosts and goddesses. The film is based more on reality.
I will be playing the part of Ramanujan's wife Janaki in the film. Five years ago, when I did this play, I had no idea that it would turn into this. It's really exciting for me.
I did screen tests, auditions, and met the producer. The entire process took two months. It was a stressful but also an amazing period.
Have you read the book on which the film is based?
Yes, I have read it twice. I have done a lot of research on the character and the story.
My meeting with Kanigel at Cambridge University(where part of the film is shot) gave me a deeper understanding of Janaki's personality.
He had met her after Ramanujan's death. She was a lot older then. I got a sense of who she was through him.
In those days, to be without a husband and to be strong about it is extremely admirable. She was ahead of her times in a way. It would be challenging to get the complexity of her character across.
I had to get used to wearing a sari and my Bhartnatyam training helped me immensely in relating to the culture in which Janaki belonged.
We have an Indian culture consultant who is helping us with the Tamilian accent and the dialect. I think my dancing was one of the main reasons I bagged this role.
I've also learnt the whole culture, the Sanskrit shlokas, the body language and the language of the Iyenger Brahmins.
How was your meeting with Jeremy Irons (who plays Ramanujam's English mentor in the film)?
Jeremy is someone I look up to a lot. He is a super star and takes his craft very seriously.
I am enamoured by him. He introduced himself to me and I was really speechless.
It shows his humility even though he is such a great actor.
He was so kind and reassuring. It was wonderful to meet him.
Have you seen Dev Patel's films?
I have seen Slumdog Millionaire. I thought he gave a very good performance.
In this film, I want to keep an open mind towards the actors and not see anybody as the characters they have played in the past.
What was your first meeting with Dev like?
I have just shot one scene with him. I met Dev and Jeremy Irons in Cambridge.
I figure mainly in the Chennai and Kumbakonam scenes.
Dev and I hung out together to get to know one another. It's very important to understand your co-star before you begin a project.
Working with Dev would be fun as he brings a great deal of spontaneity to his acting.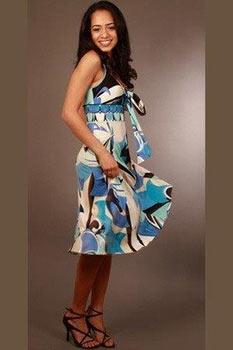 Tell us about yourself.
I was born and raised in Manhattan. I visit India twice a year. My grandparents' house is in Mumbai and there's a second home in Goa.
I have been learning Bharatnatyam since I was four, under my mother Swati Bhise. I have performed in many places in India and New York.
Three years ago, I came to Kerala, to Irinjalakuda, to study Kutiyattam, the Sanskrit theatre, which is the oldest form of theatre in the world.
I have directed a documentary titled Hijra, the Third Gender. I travelled to India a lot and one thing that I didn't understand was why everyone was scared of these people. That sort of cultural doesn't exist in the States. That's why I chose the subject.
The documentary won the Best Social Documentary Award in the Los Angeles Film Festival.
What about your family?
My father and my older brother are in finance and my mother is a Bharatnatyam dancer and teaches and runs a non profitable organisation in the US and a theatre festival in Goa.
She is the Indian cultural consultant and adviser for this film too.
I am comfortable both in Hindi and Marathi. I speak Marathi with my parents and grandmother.
Do you watch Hindi films?
I have watched quite a few old Bollywood films of Shammi Kapoor and Nutan.
Among recent ones, I like Kahaani and Lagaan. I really like Vidya Balan and Aamir Khan.
I have watched some of Anupam Kher's plays too and really respect those actors who have gone from theatre to films. You can tell that they are acting because of their craft and not just to be a star.
I have been told to watch Queen and I like Kangna Ranaut as an actress.
Would you like to do a Bollywood film?
It depends on the project. If it's the right film, something like an art film or a script that I enjoy and which would make a substantial movie, then absolutely.
It is fun to do and watch commercial films but my personality wouldn't work so well for such stuff.
But Bollywood in general, I wouldn't say no to; it just has to be an appropriate script that will show my skills as an actress.