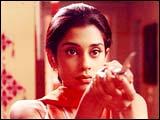 Model-turned-actress Masumi Makhija has had an interesting beginning to her career in Bollywood with films like Mahesh Manjrekar's Padmashri Laloo Prasad Yadav, Vishal Bharadwaj's Miya Maqbool and Shona Urvashi's Chupke Se.
She has also worked in two international films: Gate To Heaven (produced by the makers of Run Lola Run) and Madhu Ambat's 1:1.6 Ode To Lost Love.
This Friday sees the release of her film, Chupke Se, costarring Zulfi Sayed, Om Puri and Rati Agnihotri.
| | |
| --- | --- |
| | More on Rediff! |
| | |
Chupke Se, though directed by her sister Shona, was not meant to be Masumi's launchpad to Bollywood. "The film was not launched with me in mind. The script was already ready. I still had to audition for it. But we did think it would be special if we did a film together," explains Masumi.
The actress is the niece of the late film producer Gul Anand (Chashme Buddoor, Khatti Meethi). She has been acquainted with the camera ever since she was 10 years old. "I started with television because I was too young to be in films then. Television is a good medium to learn how to act in front of the camera." Masumi has featured in soaps like Thoda Hai Thode Ki Zaroorat Hai and Banegi Apni Baat, and in advertisements for Rexona, Kingfisher and Johnson & Johnson's facewash and moisturiser.

Chupke Se is a romantic comedy about a software millionaire (Zulfi Sayed), who does not know of a life beyond computers. Masumi plays a middle-class Maharashtrian girl who wants to become famous and enter the glamour world of movies and celebrities.
One day, their paths cross.
"Megha, my character in the film, is very enthusiastic, impulsive and a typical vernacular girl. She adds a bit of spice to Varun's [Zulfi] life. The only thing I share with Megha is that we love to live life," says Masumi.
Having her sister as her director was an advantage for the aspiring actress. "Shona knows exactly what I'm capable of. She is technically sound and a great director. Since she is also a writer, she has a great sense of storytelling. She knows choreography, animation and a lot about filmmaking, including camera angles.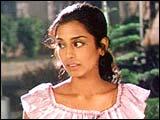 "Since it was a family affair [their mother, Jayashree, is one of the film's producers], we could take some things for granted. We worked extra hours and were always there for each other. Shona's my best friend. We have a very comfortable relationship. For the last year and a half, since the concept of Chupke Se was conceived, we have lived and breathed the film!
"We have worked very hard on it. Since we were all fresh, there was a lot of enthusiasm on the sets. But we also had a lot of experienced people around. So there was a good blend between the new and the old," she adds.
Chupke Se has been shot over 80 days in Mumbai and Pune.
Masumi specially cherishes the fact that she is sharing screen space with Om Puri in Chupke Se. She is also part of another Om Puri starrer, Vishal Bharadwaj's Miya Maqbool, which is an adaptation of William Shakespeare's Macbeth. "There was a comfort level between us. One thing about senior actors is that they always give you your due as an actor. That makes a big difference. They let you do your own thing and never try to tell you how to enact a scene. Yet, they are very helpful. If something is missing and they feel it can be done better, they always ask for another take. I wouldn't say Om Puri gave me tips; he gave me advice. No one tells you whether you should blink in a scene or move your hands in a particular way. They tell you about camera angles and the like."
Tabu plays Lady Macbeth, Masumi's stepmother in Miya Maqbool. Masumi cannot get over her performance. "Tabu is a pleasure to watch. No matter how many shots there are, she'll give her full intensity and her hundred per cent. But it was not difficult to hold my own against her. If you don't have confidence, you shouldn't be an actor. Miya Maqbool has great actors like Irfan Khan, Naseeruddin Shah and Pankaj Kapoor. Just watching them is like being in an acting school! Since I'm new, there are so many things to learn."
The film will be premiered at the ongoing Toronto International Film Festival. Though Masumi is excited about it, this is not the first time her film has been showcased abroad.
Veit Helmer's German film, Gate To Heaven or Tor Zum Himmel sees her opposite Russian actor Valeri Nikolayev (who also starred in the Val Kilmer-Elizabeth Shue starrer The Saint).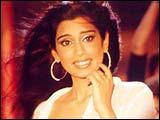 The political drama is set in Frankfurt airport. Masumi plays the mother of a three-year-old girl. "My character is going through a really rough time as she tries to smuggle her daughter, who was left behind in India, to Germany. It's a challenging role because you have to put yourself in her place and see what you would go through because a lot of emotions may seem unreal," she says.
The actress, who says her criteria for signing films is a good script and director, also has Madhu Ambat's English film, 1:1.6 -- Ode To Lost Love in her kitty. The film stars Atul Kulkarni, Sonali Kulkarni, Rati Agnihotri and Gulshan Grover. "My character here is very dark, very depressed because her father commits suicide and her mother is having an affair with her boyfriend."
Mahesh Manjrekar's Padmashri Laloo Prasad Yadav is about four people. Masumi plays Padmashri; Suniel Shetty plays Laloo; Manjrekar plays Prasad and Johnny Lever plays Yadav. Masumi says her character is 'very seductive and uses her charm to get her work done.'
Click here for More Features