Ever wondered what happens when Hollywood A-listers turn protestors? Take a look.

There exists a rare breed of showbiz celebrities who are just as passionate about social causes close to their heart as they are about their craft.

We have all known about Angelina Jolie's work with the United Nations for refugees in several war-torn countries, the relief work of Sean Penn in places like Haiti, and the social activism of George Clooney, who has been relentless in his efforts to draw attention towards the mass genocide in the Darfur region of Sudan.

It's little wonder then, that we occasionally spot some of the most influential showbiz stars in the world mouthing off slogans and participating in peaceful sit-ins.

Here, for instance, are a bunch of them we have spotted at various protests over the years.

Marion Cotillard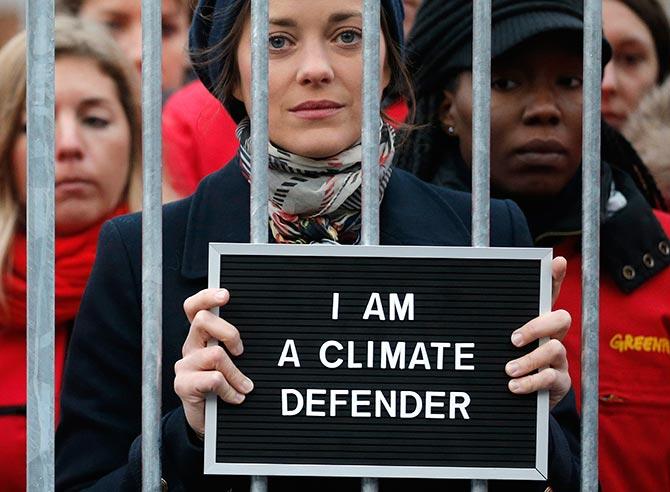 Photograph: Christian Hartmann/Reuters
French actress Marion Cotillard and Greenpeace activists protest inside a mock prison cell, in support of fellows activists who were detained on the boat Arctic Sunrise, during a protest action at Palais Royal place in Paris in November, 2013.

The group, consisting of 28 activists and two journalists, were arrested after coastguards boarded the Greenpeace icebreaker Arctic Sunrise following the protest at an oil platform owned by state-controlled Gazprom off Russia's northern coast earlier in September.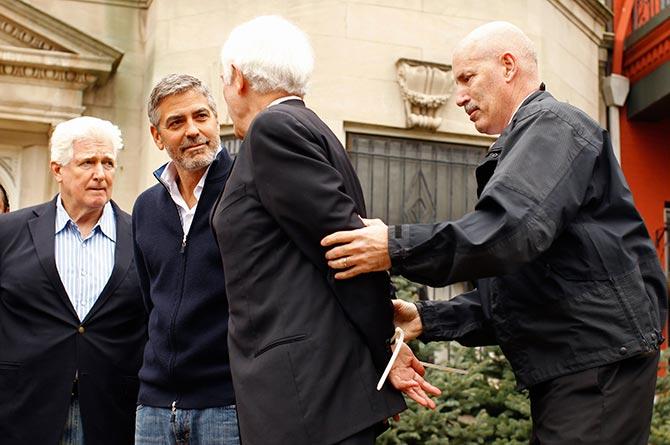 Photograph: Kevin Lamarque/Reuters
Actor George Clooney (2nd from left) and his father Nick Clooney (2nd from right) are arrested for civil disobedience after protesting at the Sudan Embassy in Washington on March 16, 2012. Clooney was protesting the escalating humanitarian crisis in Sudan.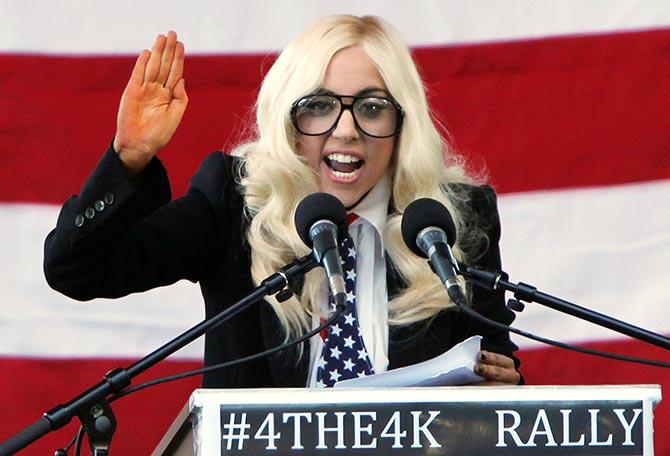 Photograph: Joel Page/Reuters
Singer Lady Gaga speaks at a rally in Portland, Maine on September 20, 2010, urging members of the Senate to repeal the military rule banning openly gay people from serving in the armed forces.

The event was organised by the Servicemembers Legal Defense Network to pressure Republican US Senators Olympia Snowe and Susan Collins of Maine to vote to allow a repeal of the policy.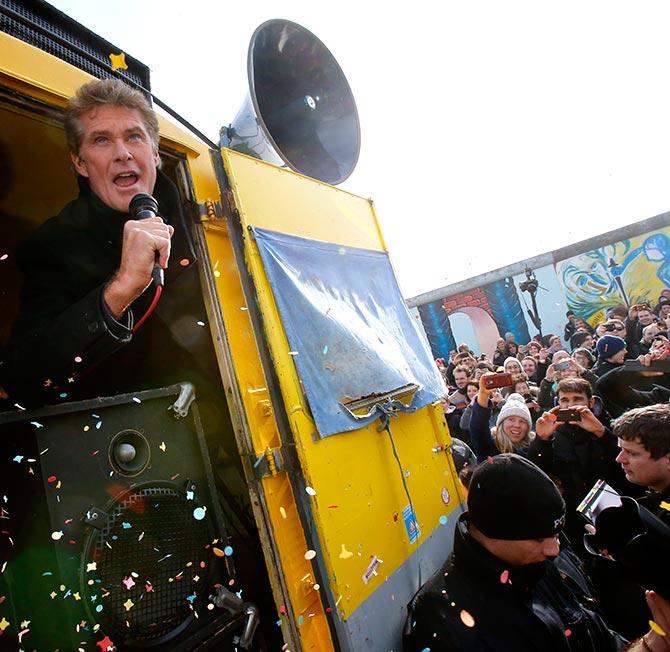 Photograph: Tobias Schwarz/Reuters
American actor and singer David Hasselhoff addresses a demonstration along the open air 0.8-mile painted section of the Berlin Wall known as the "East Side Gallery" in Berlin on March 17, 2013.

Developers plan to build luxury apartments close to the East Side Gallery, which is adorned with the work of artists such as Keith Haring and Gerald Scarfe, but builders had to stop tearing down the wall due to protests last weeks.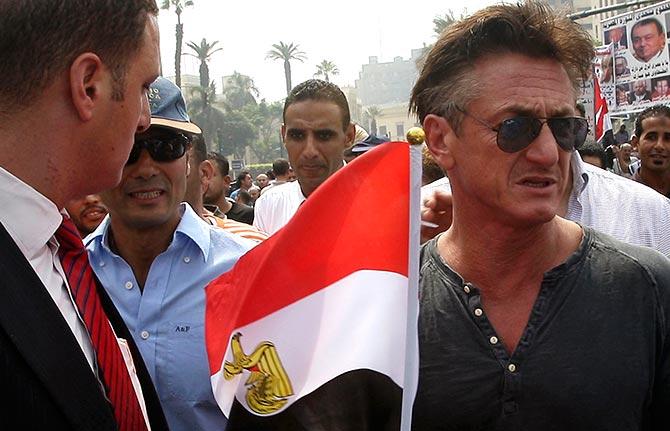 Photograph: Stringer/Reuters
Actor-director Sean Penn holds an Egypt flag as he walks with Egyptian actor Khaled al-Nabawi in Tahrir Square during a protest against the ruling military council, after Friday prayers in Cairo September 30, 2011.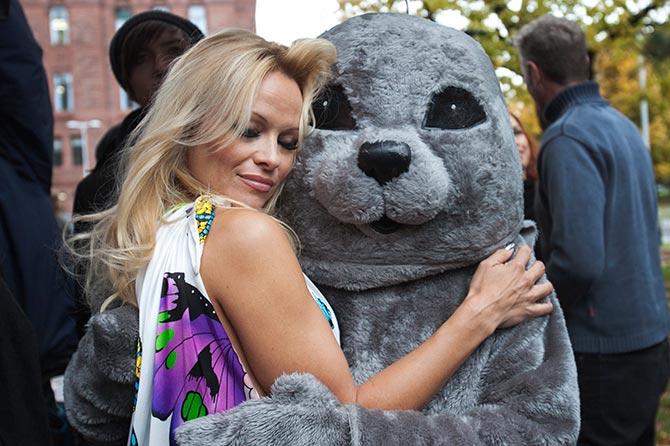 Photograph: Mark Blinch/Reuters
Actress Pamela Anderson poses with a person dressed as a seal as part of PETA's protest of the Canadian seal hunt at Queen's Park in Toronto, October 23, 2009.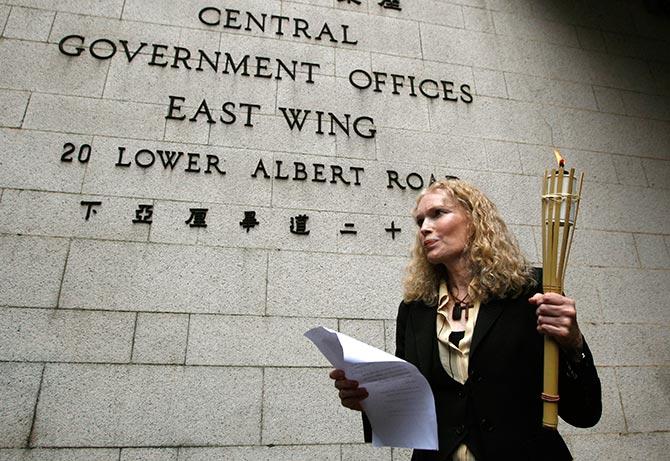 Photograph: Bobby Yip/Reuters
Veteran actress Mia Farrow carries a torch during a protest outside the Hong Kong government headquarters May 2, 2008.

Farrow, who has pressured China over its policy on Sudan, spoke at Hong Kong's Foreign Correspondents' Club too.

The actress was allowed entry into the city with a fellow activist following an agreement with Hong Kong authorities that they not disrupt the Olympic torch's relay, according to local media.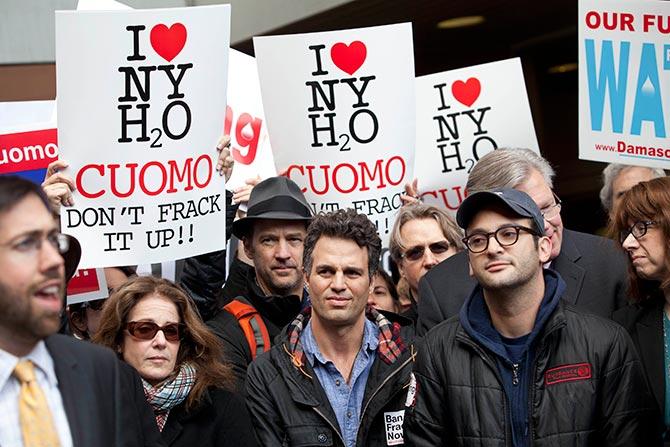 Photograph: Andrew Burton/Reuters
Academy Award-nominated actor Mark Ruffalo (centre) and Academy Award-nominated director Josh Fox (right) participate in a protest against hydraulic fracturing outside the Tribeca Performing Arts Center, Borough of Manhattan Community College in New York November 30, 2011.

Officials from the state Department of Environmental Conservation were discussing the hydraulic fracturing process used in natural gas drilling in the center, in one of four scheduled public hearings.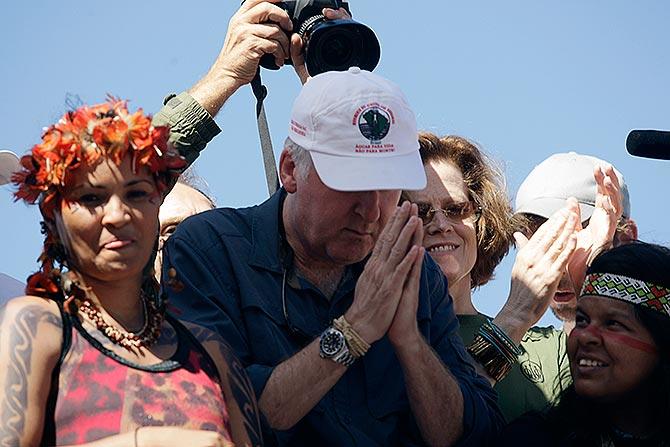 Photograph: Ricardo Moraes/Reuters
Canadian director James Cameron and actress Sigourney Weaver (3rd from left) attend a protest against the Belo Monte Hydroelectric power plant construction in the Xingu River, in Brasilia April 12, 2010.

The organising group Movimento dos Atingidos por Barragens (Members of the Movement of Dam) had claimed the construction will displace indigenous tribes.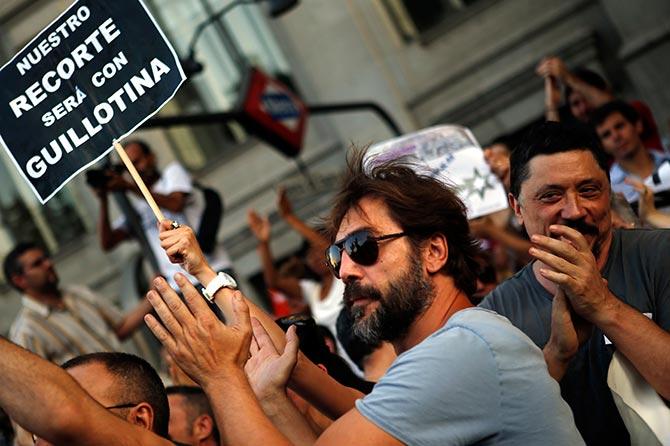 Photograph: Susana Vera/Reuters
Spanish actor Javier Bardem and his brother Carlos applaud as they attend a protest against government austerity measures in Madrid July 19, 2012.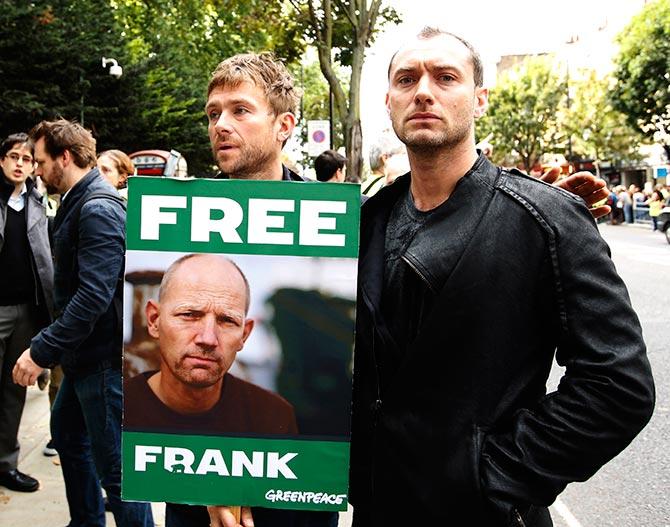 Photograph: Olivia Harris/Reuters
Musician Damon Albarn (2nd from right) and actor Jude Law protest against the detention in Russia of Greenpeace activist Frank Hewitson, outside the Russian Embassy in London October 5, 2013.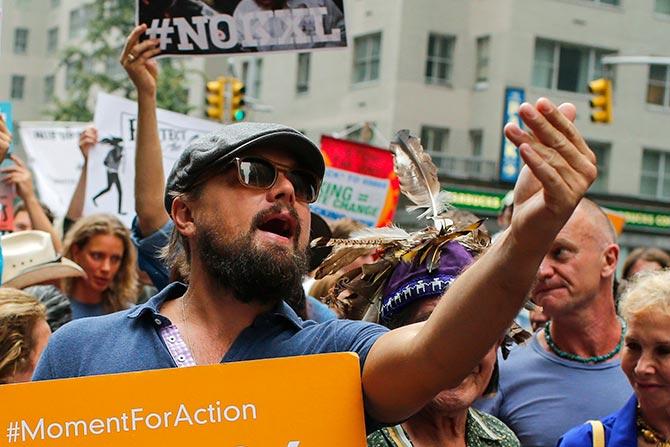 Photograph: Eduardo Munoz/Reuters
Actor Leonardo DiCaprio takes part in a march against climate change in New York, September 21, 2014.

An international day of action on climate change brought hundreds of thousands of people onto the streets of New York City on Sunday, easily exceeding organisers' hopes for the largest protest on the issue in history.

Organisers estimated that some 310,000 people, including United Nations Secretary-General Ban Ki-moon, former US Vice President Al Gore, DiCaprio and elected officials from the United States and abroad joined the People's Climate March, ahead of Tuesday's United Nations hosted summit in the city to discuss reducing carbon emissions that threaten the environment.