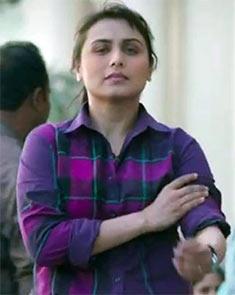 Now that the first look of Pradeep Sarkar's hard-hitting new film Mardaani is out, it's quite clear that protagonist Rani Mukerji will dominate the proceedings.
Mardaani is Rani's do-or-die attempt to comeback to the position that she held three years ago before Aiyya made mincemeat of her career.
Says a source close to Yash Raj Films: "The trailer that you see is designed after the film has been re-edited. The entire plot has been changed. All the romantic scenes between Rani and her screen husband Bengali star Jisshu Sengupta have been removed."
The film is the story of a cop's search for a missing girl-child, which leads her on a trail to a human trafficking racket. After watching the film's latest edit, Rani and her producer-husband Aditya Chopra decided to remove all the romantic portions.
Says the source, "Jisshu Sengupta's role has been substantially removed. He played Rani's husband and represented her domestic life. But now Pradeep Sarkar and Adi feel Rani's character's lighter moments from her home life seem to impinge on the main theme of child trafficking."
From what we hear, Jisshu's role has been almost entirely removed from Mardaani.
Says the source, "The film has been re-edited as a dark, tense thriller."