A student of film at New York University and at Sorbonne, Paris, not to mention a multiple award winner for documentaries on architecture and urbanism, 38-year-old Manu Rewal's foray into mainstream fiction features would raise many an eyebrow.
But this is no ordinary film. Though Chai Pani etc -- a light hearted 92-minute 'Hinglish' (Hindi and English) caper on freedom of expression and corruption in India -- was canned early last year, it shall make it to the marquee only this Friday.
Starring Konkona Sensharma in a double role, VJ Gaurav and Zafar Karachiwala, the film was, with inevitable irony, stuck at the Censor Board. Their objections -- Konkona's smoking onscreen, 'mild' kissing scenes, the use of expletives and the phrase 'reservation-wallahs are very lazy' as they thought 'it might cause riots.'
The director fought tooth and nail, and now finally, the film shall hit the screens on March 11.
Manu Rewal speaks to Vishal D'Souza about this unusual film that is Indian, yet not just another Bollywood caper.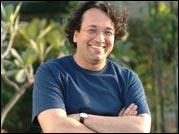 From award-winning architecture and urbanism documentaries to full-length crossover 'fringe' feature filmmaker -- what prompted the transition? What has the journey been like?
Before making documentaries on architecture, urbanism and design, as a student of film and acting at Paris and later in the US, I did only fiction. I even made a one-hour telefilm when I first came back to India after my studies. I was always very interested in fiction.
After I finished my series on Indian architecture, Heritage Of India, for Doordarshan, I decided to make my first feature. I wrote my first version of the script in December 1998 and started looking for a producer in India and Europe.
Meanwhile, I made another documentary on Le Corbusier, the famous Swiss-French architect who designed Chandigarh.
That film won many awards and put me in touch with people who suggested I make a short film so producers would feel confident I could handle fiction. So I made a short film in three months with practically no money in a friend's bedroom with one actress and many voices. That was Hollywood Ki Pukar, which was selected in the director's fortnight at Cannes 2002.
I thought I would get a producer, but no such luck. However, the audience's reaction to my film -- laughter throughout the 12 minute comedy -- convinced me to produce it myself.
After completing another documentary on architecture I had begun on my father Raj Rewal's building, the Parliament Library of India, on January 1, 2003, I decided to stop all other work and dedicate myself to Chai Pani etc.
I had no money then. By October 2003, I funded it largely through family and friends and two industrialist film lovers. The shooting was very tough but thanks to the support of some great guys and a young and enthusiastic crew, we pulled it off in 24 days.
It is a sync-sound film shot in Jaisalmer and Delhi. The editing and lab was comparatively easy and I finished the film by March 2004. [A] Very tough, very demanding journey but I think it has made me stronger.
What lessons have you learnt, especially with all the controversy Chai Pani etc raked up with the Censors? What was the fuss about?
They were essentially objecting to Konkona smoking a cigarette and a few swear words! I learnt that censorship can be totally arbitrary. It is one of the last refuges of the 'License Raj' and all that it entails. Some people supposed to judge our work have been given powers they're incapable of handling, as they are uneducated in the arts and in law. They interpret the censor law in a very narrow manner and ignore its spirit, and even its letter at times!
In my case, images and words were taken out of context, actually against the censor law itself. Pressure has to be kept on the government that if it still wants censorship in this day and age, the least it can do is to ensure that only people educated in the arts and in law are made part of the Censor Board.
Real life imitating reel life... your movie is about a young filmmaker's fight against corruption and freedom of expression, isn't it? And it's a little too ironic. Do tell us more about the film and its genesis.
It is ironic and funny from the outside, and very, very frustrating and tough when one is going through it! Funnily, these kinds of experiences were my inspiration for the film but the aim was not to make an angry, social comment. The aim was to make an entertaining, light film on serious subjects like corruption and censorship.
The comic perspective on life is more precious to me. I feel that though at film festivals, awards are given to political stories or melodramas or tragedies, it is more difficult and challenging to create a good entertaining comedy on a serious subject.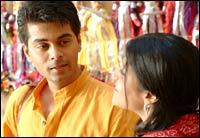 Fifteen rewrites, a Rs 20 million budget, 20 day shoot, 100 percent sync sound, an 'A' certificate, a film that's now almost a year old -- What can audiences expect?
I finally got a U certificate, and you will have to see the film to understand how I did it!
The audiences laughed wildly and clapped a lot in the film festivals in Goa -- IFFI [International Film Festival of India] and Mumbai-MAMI [Mumbai Academy of Moving Image]. I hope that they enjoy it. Everyone needs to laugh and smile.
You say Chai Pani etc was well received at Cannes 2004 and at IFFI at Goa in December last year. Is this one of those 'festival films?'
If 'festival film' means slow, boring and designed to win awards, then it is definitely not a festival film. It is a film made for an audience who lives or has lived in urban India and who understands Indian English. Though going by the reactions in Cannes, where people were laughing though they probably didn't get some of the India-specific jokes, it seems to work well with an international audience as well.
It's an Indian film, yet it's no Bollywood flick. Would you say your film is 'anti-establishment'?
It is not a film like those made in the 1970s about feudal exploitation or corruption, essentially because of the comic perspective I have taken. It has two layers. It has a layer that is a slice of life -- because of sync sound, real locations and realistic acting. And then it has a comic layer where this reality is exaggerated a little.
Though some people in the audience told me in MAMI and Goa that it was not exaggerated and that it was very real. As long as they laughed, I am happy!
Why did you make the film in Delhi?
Delhi is where I live. I didn't want to move to Mumbai unlike a lot of my friends who are filmmakers or actors because I feel that every place has its charm and beauty. More so with today's technology one doesn't actually need to shift base.
I wrote and edited the story in Delhi, most of my cast and crew is from Delhi, and so are the financiers for the film. I had to go to Chennai because that is where my lab is and I had to go to Mumbai because that is where the business of films is run from. But most of the time on the film was spent in Delhi.
There are, of course, some disadvantages from a business point of view because I am based in Delhi, but for me the environment in which one does creative work is very important and I feel that my film is different. Also, because I am a Dilliwala, Delhi has a different feel and pace than Mumbai. As a city, its focus is less on money and more on power. It is, after all, the capital of India.
This environment has an effect on all of us. My film's subject and style is different from a film conceived and made in Mumbai.
Can you tell us about your principal crew and cast?
I've used a host of talented people from Delhi in my film. In fact, I wanted to use the maximum Delhi people as many of them don't get the chance to work on Indian feature films as they are in Delhi, though they often work on foreign productions.
I will start with Sawan Dutta, the music director who composed two catchy songs for my film, the theme song, The chai pani song, and a reinterpretation of Saare jahan se achha. We wrote The chai pani song together and she has composed the music, arranged it and even sung in her beautiful, sexy voice.
Apart from her, there are a series of superb performances by Delhi's stage, television and even radio performers rarely seen on the big screen, imparting a fresh yet high-quality feel to the film.
There is a marvelous scene in which the minister -- played by Bhaskar Ghosh, the former information and broadcasting secretary -- sees through his department's folly and takes an unusual decision.
Another memorable scene is enacted by Yuri, a popular radio jockey who plays the don who threatens his creditors in front of a shocked Satya, the protagonist.
Television newscaster Tejeshwar Singh and stage actress Sinia Duggal, last seen on the big screen in The Perfect Husband, play the hilarious couple of Uncleji and Auntyji that want to get the young man married at all costs.
Inder Misra, one of the most famous voices of Delhi, present in many ads, corporate films, and documentaries, appears for the first time in front of the camera as Satya's father.
Among the crew, I would specifically like to mention D P Singh, my chief assistant director who was my right hand and without whom the task of finishing the shoot on time would have been impossible. Other key members of the crew from Delhi are fashion designer Sonam Duba, who designed Konkona's clothes, and Ayesha Punvani, the production designer who did a great job.
Last but not the least is P D Valson, the most respected sound recordist in Delhi, who in his first feature film on 35 mm has given us a 100 percent sync sound film. Not 70 percent as in Lagaan. No wonder every foreign television channel that comes to Delhi wants him!
I consider Konkona Sensharma and Gaurav Kapur to be half-Dilliwalas, as they have lived in Delhi and have family here.
Of course, when I couldn't find the right person for a particular job at the moment I needed them, I looked elsewhere; my cameraman Pushan Kripalani and lead Zafar Karachiwala are both pucca Bombaywalas.
My film lab is in Chennai, Prasad Lab, and my mixing was done by K Laxmi Narain. The final post-production was guided by Madan Prasad. So though there is a strong Delhi component, it is actually a truly pan-Indian Film.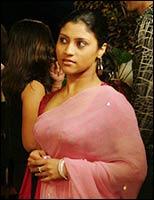 Konkona Sensharma versus Konkona Sensharma. The Page 3 star and National Award winner returns with her second release this year. What made you cast her in the double role? Is she a director's delight?
I saw Mr And Mrs Iyer and liked her performance very much. I chose her before she got the National Award and before Madhur Bhandarkar chose her. Unfortunately, because of the censors my film got delayed by seven months and Page 3 released before my film.
I hope her popularity will help get audiences to see my film. Yes, she is a wonderful actress and when one has no money and one needs to shoot very fast she is an asset. She gives great and different performances in every take!
Channel [V] VJ Gaurav Kapur, and theatre actor Zafar Karachiwala, both relative newcomers to movies, play the other leads. What was it like working with them?
Both are in the same league as Konkona. I looked for my male lead for a long time and finally found Zafar about a month before the shoot. He is excellent and is again a one-take artist. Surprisingly, he is also very aware of the technical side and adjusts his performance according to the camera. Gaurav is a born entertainer and a great pleasure to work with. Not only can he be funny, when required he can also give an intense and serious performance. Both of them will do great things in the years to come.
What next?
A Dutch producer who was in the premiere in Goa has offered to produce my next film. A non-resident India who attended the same screening and who wants to invest in films and maybe co-produce them also wants to do something with me. I am also working on a Franco-Indian story.
But right now, I am preparing for the release on March 11.