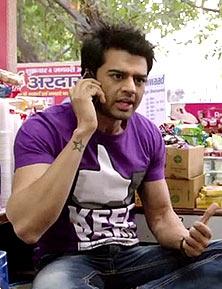 Manish Paul's endearing performance in Mickey Virus has got him noticed in the film industry. Now, the actor will be seen in Abhishek Sharma's sequel to Tere Bin Laden.

Ali Zafar, who played the lead in Tere Bin Laden, will make a cameo appearance in the film.

"Yes, I play the lead role in the sequel to Tere Bin Laden. It's an entirely different story from the first Laden film. Unlike Mickey Virus which had both comic and thriller elements, Laden will be an out-and-out comedy. I think audiences want to see me in a full-fledged comedy."

The collections for Mickey Virus are not very good but Manish claims he's getting 'great feedback.'

"On Friday, I visited a theatre screening my film. I could hear people cheering for me. It was unreal. I got goosebumps," Manish says.

Manish is already a known name in the entertainment business through his hosting skills. "The film fraternity has been very kind. Abhishek Bachchan tweeted wishing me well. Karan Sir (Karan Johar), with whom I've been vibing on Jhalak Dikhhla Jaa, has promised to see my film. So I am happy. He says I am talented and that he doesn't want to waste me by signing me in a small role. I hope it happens."

Manish sees himself as the consummate entertainer. "I love to laugh and I love to make people laugh. That's the way I am in real life. I love it when people around me are happy. That makes me happy. My spot boys, lightmen and camera people start smiling the minute they see me. That's why people are surprised by Mickey Virus. I've also done the serious moments effectively. The minute my life gets jacked, people stopped laughing."

Manish admits anchoring and acting are two different disciplines. "When I am anchoring, I can be myself, and say what I want. Acting is measured and controlled. When I was Mickey, I had to forget I was Manish."
Comparisons with actor Ayushman Khurrana do not rattle Manish. "You can compare me with anybody, whether it is Shah Rukh Khan or Ayushmann Khurrana. The other day, someone came up to me and said I was promoting my film with the same enthusiasm as Shah Rukh did during Chennai Express. Having said that, I've to say I am not here to compete with anyone. I am here to create a niche for myself. I never worked for money. In 2008, I stayed home for eight months. Thankfully, my wife was very supportive."
Says Manish proudly, "The day I got married to Sanyukta, I decided to bring her to Mumbai with me. I told my wife I won't pursue my dreams in Mumbai without her. I wasn't going to leave my wife behind in Delhi to look for work in Mumbai."
Manish has a two year old daughter as well.
The proud papa says, "My daughter Saisha has been looking at the hoardings and screaming, 'Papa, I can see you.' I am taking my wife and daughter to Delhi to watch the film with my entire family."