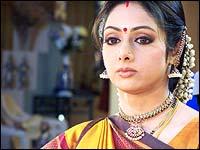 She appeared half a decade ago as a greedy housewife ready to sell her husband (Anil Kapoor) for money in Judaai.
After a self-imposed sabbatical, Sridevi is back with a bang albeit on the small screen. This time too she plays a housewife whose life is a comedy of errors.

Catch Sridevi in her new avatar as Malini Iyer, the new television serial to be aired on Sahara Manoranjan channel every Monday and Tuesday at 9 pm.

Why the big switch from films to television? "It is a role written for me. It is a home production [the banner is Sridevi Productions along with husband Boney Kapoor]. Also, it is a comedy with an emotional undercurrent. I love comedies and I enjoy a good laugh. This show gave me an opportunity to play a character I understand and can relate to. You can say I took it up for the creative satisfaction that Malini Iyer gives me."
Comedy is indeed Sridevi's forte as seen in the past in films like Chaalbaaz, Lamhe, Gurudev and Judaai.
Malini Iyer is a South Indian housewife married into a Punjabi family. The story revolves around how she tries to adjust in a different culture.
Filmmaker Satish Kaushik, who helms Malini Iyer, says, "Directing Sridevi is an experience to cherish. She is an amazing actress. It is my pleasure and privilege to work with her."
Kaushik worked with Sridevi previously in the big budget flop, Roop Ki Rani Choron Ka Raja, co-starring Anil Kapoor.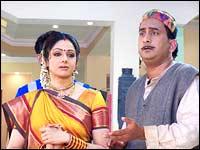 Television actor Mahesh Thakur (Tu Tu Main Main) plays Pinku aka Pankaj Sabharwal, Malini Iyer's husband. Playing Sridevi's husband was a great experience, says Thakur, "Sridevi is a fabulous actress. She makes every actor on the sets comfortable. We are never given the feeling that she is a superstar."
The moment the director says action, Sridevi talks in her heavily accented Hindi, "No teansion Meena Bhabhi, hum yairpot jayenge aur saare flight check karenge."
Another actor yells, "Oh! My God!" 
Kaushik interrupts, "Make 'Oh my God' more lively."
Post retake, it is lunchtime. But not before a photoshoot of Sridevi is taken care of. Sridevi readily strikes a Namaste pose, twirls her hair, and makes an Ayyo-expressing face.
Sahara Manoranjan's president Satish Menon is all praise for the star: "Sridevi is a fantastic actress. She has the knack of making the simplest of situations look funny. That is her specialty and this show will see her in one of her most remarkable performances."
Sridevi says, modestly, "The attempt is to promote Malini Iyer as a character and not Sridevi. Malini Iyer is a woman of today who is very identifiable with every Indian household. Though her dress is South Indian, Malini Iyer's character traits are such that she is an ideal bahu [daughter-in-law] and an ideal Indian wife. If you see our promotion campaigns, Malini Iyer has been highlighted. We have asked the audiences to watch out for Malini Iyer and not me," she says.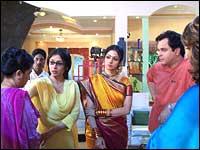 Having ruled Bollywood as the numero uno heroine for years, Sridevi says she has not missed the glitz and glamour while she was away. "My family has always been a priority. I didn't miss anything," she says.
Sridevi and Boney Kapoor have two daughters, Jahnavi (7) and Khushi (3). "When my films are shown on television, they tell me about it. They both love to dance on my songs. Beyond that, there has never been a conscious effort [by the family] to watch my films together." 
What about Malini Iyer? Do they intend to watch the show together? "We all are waiting for it to come on air," she concludes.
Photo: Jewella C Miranda
Click here for More Features