'...it was because Lataji sang for us.'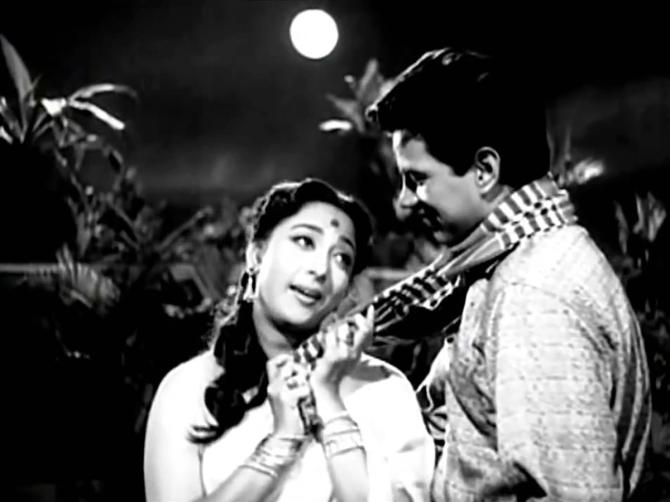 Yesteryear actress Mala Sinha lip-synced innumerable Lata Mangeshkar hits in films like Anpadh and Neela Akaash.
Heartbroken at the demise of a singer whose voice in many ways defined her career, Sinha says she was always inspired by Lataji.
"Kabhi socha bhi nahin tha ki filmon mein kaam karungi. I didn't want to be an actress. I wanted to be a singer. Right from childhood, I would copy Lataji's songs like Jiya Beqaraar Hai, Hawa Mein Udta Jaaye, Aayega Aanewala, Barsaat Mein Tumse Mile Hum... right down to most minute nuances in her singing."
Instead, Mala Sinha became a popular actress of the 1960s.
"How was I to know that one day Lataji would sing for me? Some of her best songs like Aapki Nazronne Samjha, Neend Kabhi Rehti Thi Aankhon Mein and Ja Re Udd Ja Re Panchi were sung for me. I feel blessed."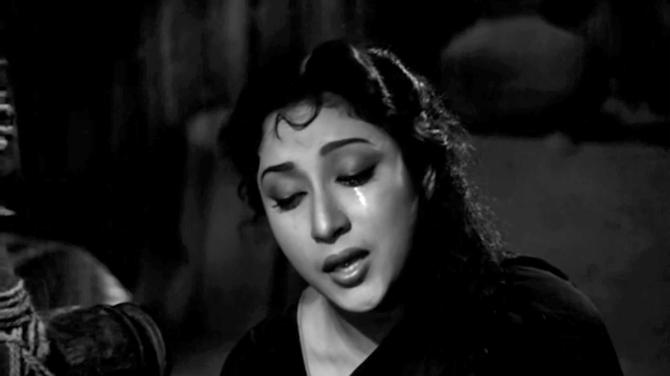 During her childhood, Mala Sinha was known for her renditions of Lataji's numbers.
"As a child, I lived in Bhawanipur in Kolkata. I was known as 'Baby Lata' in Kolkata. I'd be called for singing at Durga Puja or at birthday parties. I wasn't a trained singer. I had a God-gifted ability to sing. My ear was so sharp that I'd pick up Lataji's songs immediately. I loved to sing.
"Baba (father) would bring home a single of Lataji's every day. Those days singles were released on wax records. After I'd return from school, the first thing I did was to listen to Lataji's song.
"I was so attached to my record player that I brought it to Mumbai when I came here to pursue my career. I don't know woh kahan chala gaya, kisne uda liya. I've lost so many things in life."
Speaking of the wide repertoire of songs that Lataji voiced for Mala Sinha, the actress chuckles, and says, "I had a deep emotional connection with her voice. The minute she sang for me, I transformed on screen."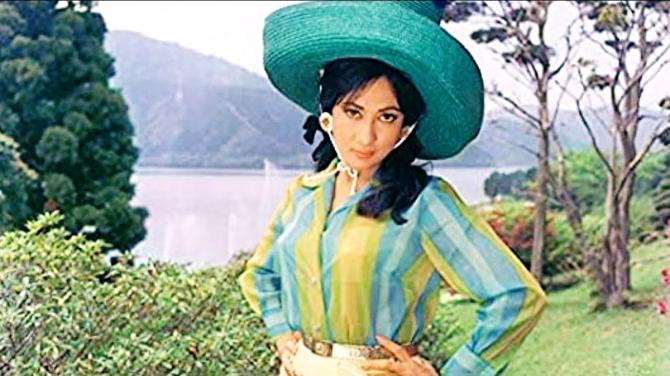 The actress remembers Lataji's songs with affection.
"One of my first songs sung by Lataji was the hard-hitting Tu Mere Pyar Ka Phool Hai about unwed motherhood in Dhool Ka Phool. The entire theme of the film was expressed by Lataji in that one song. I could never hear that song without crying. I think the great Sahir Ludhianvi wrote that amazing song.
"After that, the hits just flowed: Ja Re Udd Ja Re Panchi in Maya, Aapki Nazron Ne Samjha in Anpadh, Balma Anari Mann Bhaye in Bahurani, Meri Aankhon Se Koi Neend Liye Jaata Hai in Pooja Ke Phool, Milti Hai Zindagi Mein Mohabbat Kabhi Kabhi in Aankhen, Neend Kabhi Rehti Thi Aankhon Mein in Aasra, Kankariya Maar Ke Jagaaya in Himalay Ki Godh Mein, Dhol Sajna in Maryada... Oh, and I adore the songs that Lataji sang for me in Jahan Ara.
"Matching the emotions that Lataji expressed was always a challenge," she continues. "Woh kitna kuch keh jaati thi apne ganon mein (she said so much in her songs). It was like being swept into an ocean of emotions."
"If we heroines looked so beautiful on screen, it was because Lataji sang for us."