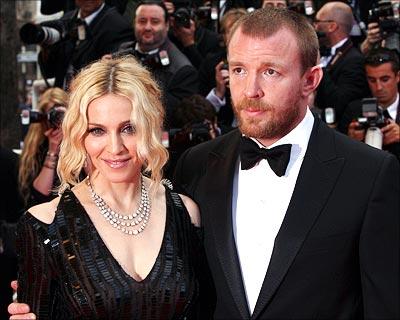 Madonna and Guy Ritchie will soon be filing for divorce since they 'can't bear to live with the pretence any longer', according to reports.
The celebrity couple has reportedly decided to call it quits publicly after firing a row of arguments at each other, including the amount of time each devotes to their careers and Madonna's desire to adopt another child.
Though the pair is said to have made attempts in the past to resolve their growing issues but things have gone out of their hands and the couple is allegedly desperate for divorce.
'They just couldn't live together any more,' the Sun quoted a source as saying.
'Despite huge attempts to patch things up they both knew deep down that divorce was on the cards. They tried hard over the last few months but their fighting was getting out of control,' the source added.
Friends of the 50-year old mother revealed that the singer wanted to wait till her Sticky & Sweet world tour was over but now both cannot wait to get rid of each other.
The source said, 'The final straw came before Madonna started her US tour. Madonna wanted a highly stage-managed separation, with their split being announced when it was convenient for her. She didn't want the distraction while she is trying to concentrate on her tour. But a series of rows around Guy's 40th birthday last month were so bad that Madge ended up storming out of the house and Guy's had enough. Guy said if they were going to split, it has to be now -- and their marriage will finally be over in a matter of weeks.'
Married for seven years, the singer and her Brit movie director were also said to be arguing over their careers.
The source said, 'Lately Guy has been putting his foot down about a lot of stuff. He is sick of his career taking a backseat to hers and was determined to spend as long as he had to promoting RocknRolla here, even if it meant being away from Madonna rehearsing in the US.'
On the familial issues of their kids having to move from one place to another, the source further revealed, 'Guy wants Madonna to stop uprooting them and let them stay in one place.'
Though Madonna's representative declined to comment, a statement confirming their split is said to have been prepared already and will soon be released.
Text: ANI | Photograph: Getty Images