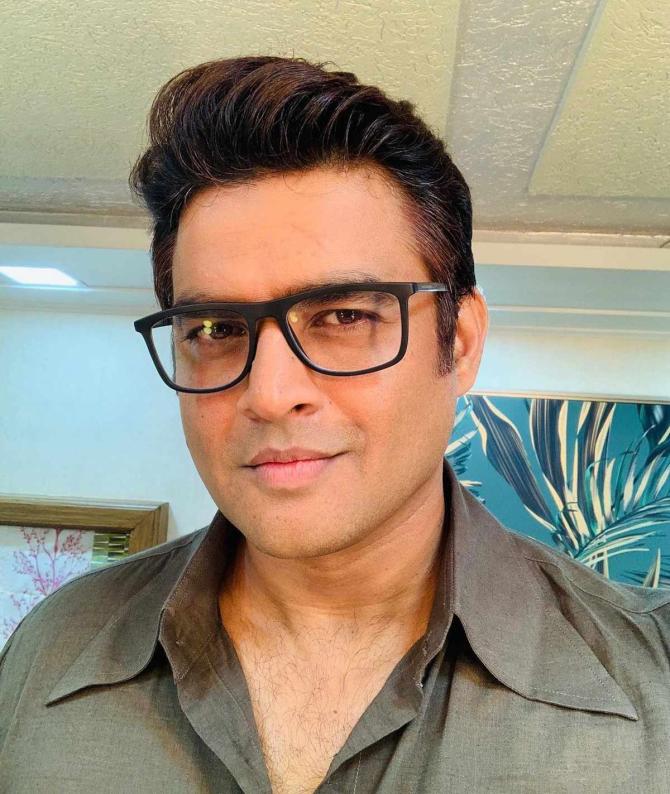 R Madhavan turns 51 on June 1, and he's spending his special day in Dubai with wife Sarita and son Vedant.
For the actor who started 28 years ago in the game-changing serial Banegi Apni Baat, when Indian television was yet to find its legs, Madhavan retains a remarkably fresh and virginal attitude to life and his work.
"Honestly, I don't feel 51," he tells Subhash K Jha with a laugh.
"I guess it comes from a positive attitude to my work, family, everything. I don't allow any negativity in my life. You won't see me moping over a flop or preening over a hit."
Sarita -- his 'one and only' wife of 22 years -- is his anchor and best friend. How has he managed a rock-steady marriage in the entertainment industry?
"Sarita would kill me if I strayed. How do I avoid temptation? With a nice, cold shower," he quips.
As for this second birthday during the lockdown, Maddy says, "Honestly, I'm keeping it really low and just having dinner with Sarita and Vedant. I wish my parents were with us in Dubai, but hey, I'm being greedy."
"God has given me so much. Even during these tough times, my family is safe and healthy, touch wood. I couldn't ask for more. We just pray for peace around the world. Hopefully, my next birthday will be pandemic-free," the actor adds.
"I don't feel any older and don't have any qualms about growing older either."
"I know it sounds clichéd but I genuinely feel you are as young or old as you feel. I think I have a perfect life. I remember when my first Hindi film Rehna Hai Terre Dil Mein had released, I had told you I wished it was as big a hit as Hrithik Roshan's Kaho... Na Pyar Hai."
"Today, I am proud of every film that I have done and wouldn't change a thing."