Madhavan is shooting for Saran's (Gemini's highly successful director) Jay Jay at a Chennai shopping complex. The weather is hot but the actor is on a high. His first comedy, the Tamil film Nala Damayanti, directed by Mouli and produced by Kamal Haasan, has released June 12.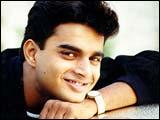 He had just finished shooting acclaimed director Vikraman's Priyamana Thozhi for the AVM banner.
Life, he tells Shobha Warrier, couldn't be better.
You played a Palghat Brahmin cook in Nala Damayanti. What kind of preparation did you do? Was it difficult?
I was not too worried about body language or the actual performance in terms of character.
I was only worried about the diction and accent. I didn't want it to sound so Palghat that the rest of Tamil Nadu would not understand. At the same time, I didn't want the role to be caricatureish and insult the Palghat lingo.
So I tried to draw a balance between the two. That was the difficult part -- to get the accent correct and mix the emotions accordingly.
Did Kamal Haasan help you?
Definitely. Actually Mouli Sir and Kamal Haasan helped. Mouli Sir was quite familiar with the dialect. So he would pop in the correct words and adjectives.
Kamal Sir used to read the whole scene on a digital format and email it to me three days before the shooting of a scene when we were in Australia.
How do you react to reviews that say you look too sophisticated for a poor, not very educated, cook?
It is actually quite complimentary! What they are saying is absolutely true. It is written on my face that I am educated. It is difficult for me to get it off [laughs]. I think sometimes a good education gets in your way [laughs again]!
I know I am capable of playing a crass character, capable of shocking people. Because I am born and brought up in a place like Bihar, I hide my crassness with a lot of effort [laughs yet again].
Was it tough living up to the expectations of those who have seen Haasan portray a Brahmin cook in Michael Madana Kama Rajan? He is said to have written Nala's role with the intention of playing it himself.
Right, the expectations were high. But, as an actor, I don't think I should take unwanted pressures. After analysing all the challenges I had in this film, I decided to eliminate a few which would not concern its actual success.
Kamal Sir's character was appreciated so much that people wanted to know how I would do a similar role. That was not my challenge; it was their expectation. I didn't take Kamal Sir's performance as a yardstick.
If you look at it like that, I have had to take some pressure or the other in all my films. I had to live up to Mani [Ratnam] Sir's expectations in all his films; I had to live up to Kamal Sir's expectation in Anbe Sivam…
So as long as my character comes out as an honest person, the film should work.
How was it shooting in Australia at a stretch?
Full of challenges. Sometimes, it was totally horrifying to think what would have happened if something went wrong. We had a 30-day shoot, and we finished on time.
Those 30 days were most enjoyable. I cannot do a comedy unless I am happy. So what you see in the movie is a complete reflection of the mood throughout the shoot.
Once, we were shooting on a bright, beautiful day. Suddenly, it started raining. There were hailstones, too. The scene we were shooting was of me making dosas outside.
We put up a canopy on top of the stove. Since the tawa [griddle] was still hot, I started making dosas for the unit. I gave the first dosa to my wife. I put some egg on it and made my own masala. It was crisp and nice, and turned out brilliant.
Suddenly, everybody was waiting in line to have dosas! That was very memorable for me.
Did you learn to cook in the film?
No, there were no cooking scenes as such in the film.
You haven't been accepted as a hero in Hindi films. Do you feel there is a bias against South Indian heroes?
No, there is no bias at all. For the record, Gautam Menon's Rehnaa Hai Terre Dil Mein was not a theatrical hit, but the music is still on the charts. The movie was a huge hit in the overseas market.
Because of RHTDM, more than Anant Mahadevan's Dil Vil Pyar Vyar, I am getting offers, right from Ashutosh Gowariker to Farhan Akhtar.
The only thing is, I didn't choose to make this public. Unfortunately, for Ashutosh Gowariker's project, which I really wanted to do, there was some problem with the producer in the initial stages. And he had to have a bigger hero!
Hindi is not my bread and butter; it is my indulgence.
Why didn't you accept Farhan Akhtar's film?
It had too many heroes, even though it would have been wonderful to be part of his film.
I really want to try and see whether I can make it as a solo hero. I want the whole pie, not a piece of it.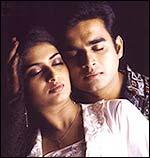 When you first signed Mani Ratnam's Alai Payuthey, what were your expectations as far as a career in films was concerned?
My wife and I talked about ae multitude of possibilities if the film did not do well, if it did well, if it was average...
There was a lot at stake because I was at the top in television. I left it for a year to do Alai Payuthey. 
The day Alai Payuthey was shown to the press, everybody said it was not a good film and it would flop.
I thought maybe it was not going to work. I went to the theatre on the first day. They said it was a flop. The second day, they said it was okay. On the fourth day, when I first appear on screen on a bike, I saw girls jumping up and dancing. I didn't need any confirmation. I told my wife, Sarita, we have made it.
The film became a phenomenon, and I am here today thanks to the film.
How do you feel about being the object of affection of so many young girls?
I was used to having girls' attention because [the television serial] Banegi Apni Apni Baat was a huge hit with them. 
But to be absorbed by the whole state without question suddenly was a real pleasure.
I have seen all kinds of reactions in Tamil Nadu, Malaysia, London, Germany, Switzerland -- it is the same! I must say it is highly morale-boosting. And very frightening too!
Frightening?
I have to get used to the day when it will not be the same. That is inevitable.
It is very difficult for actors at the top not to care for attention. But I am preparing myself for that day.
My wife and I try to underplay it as much as possible, we try not get used to the hype. But I must tell you we are not very successful.