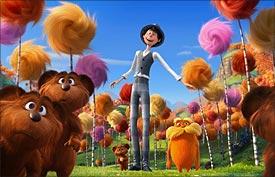 With stronger results than the most optimistic predictions, the highly praised 3D animation movie The Lorax, and Project X, which received middling reviews, grossed $70.8 million and $20.8 million respectively, across North America.

And the box office, which is hotter so far than last year by over 20 per cent across the globe, is going to get a very big boost when John Carter, the sci-fi adaptation of Tarzan author Edgar Rice-Burroughs's sci-fi novel opens worldwide next week, soon to be followed by another eagerly awaited flick, Hunger Games.

The first quarter of 2012 could go down in movie history as one of the most exciting and lucrative of all times.
The Lorax will be playing across many countries outside America next week, followed by Project X. Unlike in India, where it is nearly unthinkable to see two new films released the same week turning into hits, it has become a routine in Hollywood for two or three films in a week to become hits.
The Artist, which doubled its screen count in North America to 1756 following its five Oscar wins (including for best picture and director), did benefit, but not too much, from the honour. The low budget film which had grossed $30 million before the Oscars made about $3.9 million over the weekend, a 34 per cent jump from the previous week. It was the best week for it yet. A respectable boost, though distributor Weinstein Company must have expected much more.
Many box-office observers pointed out, as did Entertainment Weekly, that 'it seems that no amount of accolades can turn a black-and-white silent film into a mainstream smash.'
The Artist could end its North American run with about $50 million, a solid gross for a film that cost just about $15 million (and some $50 million to publicise). Worldwide, the film is expected to gross about $120 million.
At the other end of the spectrum is the story of reckless teen behaviour, the party movie Project X. It may put off conservative audiences because it is full of sexual content, nudity, drugs, drinking, abusive language, etc, though at the end, the teens learn a few hard lessons of life.
Many critics thought Project X, which has new artists, was over the top, but it had its admirers such as Richard Roeper, critic for the Chicago Sun-Times.
'If you tell me you hate this movie, I wouldn't even try to talk you out of that reaction. There were times when I hated it, too,' he mused. 'But having experienced far too many teenager coming-of-age films in which there are almost no consequences the night after somebody throws a party that spirals out of control, there's something refreshingly twisted about a movie in which the destruction is epic, and the consequences are harsh, at least for some… It's stupid and horrible, and then, weirdly, almost great.'
Directed by first timer Nima Nourizadeh, Project X could click with young audiences across the globe.
But the big film to watch next week is John Carter, which will appeal to an older generation and young audiences who might not have read the series that was very popular in the previous century. The dazzling sci-fi epic cost Disney about $250 million. Only about five films out of the over 150 Hollywood makes a year cost over $200 million. The author of the novels, Rice-Burroughs, began writing them nearly 98 years ago and set them in Barsoom, his fictional name for planet Mars.
The pulp novels celebrate John Carter, an American Civil War veteran, who is mysteriously transported to the red planet where he becomes a legendary warrior, battles aliens and woos a woman he thinks is the most beautiful in the universe. John Carter is adapted from the novel A Princess of Mars.
'It was the origin of those kinds of stories, a comic book before there were comic books,' Andrew Stanton, the two-time Oscar-winning writer-director of Finding Nemo and Wall-E, told the British newspaper The Telegraph recently.
He read the Barsoom novels first about 40 years ago when he was 10, through the pages of the 1970s Marvel Comics' adaptation, and then the books themselves.
'My girlfriends used to joke they were my romance novels,' he added. 'They were so primal. There was something fundamental in that this guy, who was sort of standard on Earth, became exceptional just for being in a different place. When you're in your teens, you wish you were somewhere else, and you wish you were more appreciated for who you are.'
And once again, John Carter could prove that you do not need stars to make a film hugely successful. It has veterans such as Willem Dafoe, but no $20 million per film stars such as Harrison Ford or Eddie Murphy. But Taylor Kitsch (TV's Friday Night Lights), who plays the title character, could become one in a year or two.
Both The Lorax and John Carter are each expected to gross over $600 million. Of the recent releases, only the latest, Mission Impossible: Ghost Protocol has done so, and it is inching towards a massive $690 million finale and has resurrected the career of Tom Cruise.
There was also a surge, estimated at $2 million, for The Iron Lady, which fetched Meryl Streep the best actress Oscar, and got one for best make-up. Worldwide, the film has grossed a decent $75 million, with steady sales expected from its DVD and Blu-ray version.
Oscar winners in the foreign language and documentary categories both expanded across North America on Friday. Iran's legal thriller with deep sociological layers, A Separation had its best week as yet as it added 160 screens, taking its total count to 243, and saw its weekend take jump 174 per cent to $1 million for a cumulated gross of $3.7 million.
The football documentary Undefeated also expanded from five to 13 theatres and collected an encouraging $84,000.