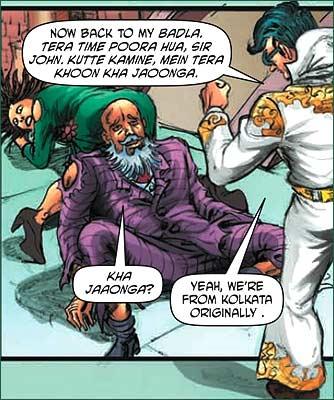 The fun thing about JZ -- and for me, the 'Agent of D.I.S.C.O' take on Nick Fury, Agent Of S.H.I.E.L.D never quite gets old, heh -- is that while it reads like a typical spoof of the mtv variety, Mohapatra brings in all sorts of non-Mithun, non-filmi elements into the fray, making this a complete trip down memory lane for all of us who grew up in the 80s. We can identify. Without giving much away, I never believed a single comic could exist and span across both Mala D and Domo Arigato, Mr Roboto, and for that, sir, I take my hat off to you.
Yet, perplexingly, the problem with Jimmy is that there is too much of the familiarity. While Mohapatra indeed does try and create an Austin Powers-like world for the Seventeesy character and his music and his Mithunwalk, it seems somewhat underdone, as if its not going out on a limb enough.
The funnest parts right now are the bits of obscure dialogue, the times the plot veers away from Master Dinanath or the blind mother, and stays cheeky -- 'cause honestly, it really is a spoof we've seen before.
Then again, it is an origin story, and maybe Jimmy needs a couple of issues to really get into the groove, to get his Mithun-Mojo going. Meanwhile, the first issue undoubtedly makes you laugh -- even at jokes you've heard before. May the Zhingchak continue to amuse.
Rediff Rating:

Jimmy Zhingchak: Agent of D.I.S.C.O is currently available in comic outlets across the US and on the Virgin Comics website.