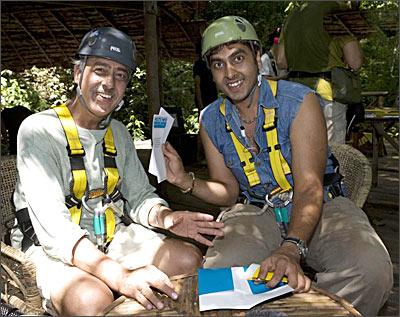 Two Indian teams participated in the third season of the Amazing Race Asia -- cousins Neena and Amit Rai, and the father-son duo of Niranjan and Kapil Asrani. Unfortunately, neither teams could make it to the finals.

 

Patcy N spoke to the Asranis to know what went wrong:

 

Niranjan loves travelling and sports. He is the member of a backpackers association in Mumbai, and has been on quite a few adventures with them. So it was no surprise that he wanted to be a part of Amazing Race Asia.

 

Niranjan and his son Kapil got selected after passing a physical and mental test, and according to Kapil, their chemistry. The two are more like friends than father and son, they say.

 

After

being on the show for five weeks, the two had a lot of fun and excitement. Of course, there were quite a few 'miserable' moments as well, like the time they had to eat bugs, grasshoppers and scorpions. 

 

The most exciting part of the show was when they played The flight of the Gibbons, where they had to cross a valley by jumping from one tree to the next.

 

"We don't feel bad even though we lost because my father and me got to do things we would have never thought of doing in our wildest dreams," Kapil said, adding, "We lost because we did not know how to drive an automatic vehicle. It was frustrating when we were stuck in traffic, and we did not know to drive that vehicle."

 

The game took the Asranis to Taiwan, Bangkok, and Vietnam.

 

Niranjan wanted to win the prize money of $100, 000 to build a theatre, as he is a stage actor and director, and his son is an actor too. "But we are not disappointed. We had fun. My dream of building a stage for drama will be accomplished anyway," Niranjan signs off.