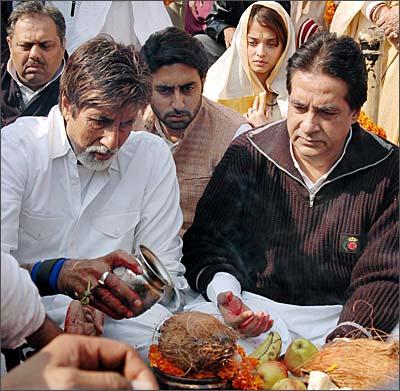 Amitabh Bachchan performed the last rites for his mother, Teji in the holy Triveni sangam in Allahabad, Uttar Pradesh.
Teji passed away on December 21 in Mumbai's Lilavati Hospital.
Amitabh, Jaya, Abhishek, Aishwarya Rai, younger brother Ajitabh and close friend and Samajwadi Party leader Amar Singh arrived at the Bamrauli airport, just ouside Allahabad, by a special aircraft at around 11.30 am.
They were received at the airport by local businessman and Samajwadi Party MP from Banda, Shyama Charan Gupta, and local SP MP Kunwar Reoti Raman Singh, among others.
The Bachchans were taken to the banks of the  Ganga in a chartered bus from the airport, where a huge crowd was waiting to catch a glimpse of the superstar.
There was tight police security at the river's banks as a sombre Bachchan, in a white kurta-pyjama, carrying his mother's ashes, proceeded towards a motorboat booked to take them to the sangam, the confluence of the Ganga, Yamuna and Saraswati rivers.
The Bachchans and their friends were brought to the sangam by the motorboat and an hour-long ritual was conducted by  Prayagwal mahasabha, a famous group of Allahabad priests.
The prayagwals had refused to perform the last rites of Bachchan's poet father Harivansh Rai Bachchan in 2003 to protest the fact that priests from Varanasi having been flown in for the occasion. However, this time, the prayagwals were persuaded to take charge of the rituals by Gupta.
Text and photograph: PTI