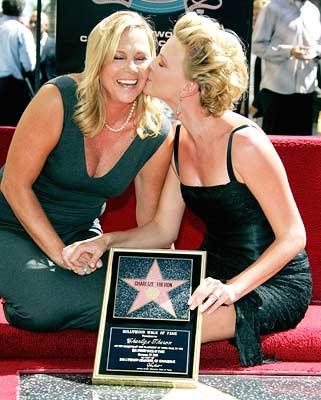 Oscar-winning South African movie star Charlize Theron (right, in the picture) was welcomed into the heart of Tinseltown when she was awarded her own star on Hollywood's glittering Walk of Fame on Thursday.
The platinum-blonde star of 2003's critically acclaimed serial-killer film Monster turned out for the ceremony on Hollywood Boulevard's famous pavement where she was awarded the 2,291st bronze-edged star on the Walk of Fame. In the picture, Charlize is seen with her mother Gerda.
Charlize, an ex-model and ballerina, was the first South African to win an Oscar when she won the Best Actress Academy Award for
her startling performance as a prostitute and serial killer Aileen Wuornos in the low-budget Monster.
The stunning actress underwent a staggering physical transformation -- with the help of heavy make-up, liquid resin and an extra 13.6 kg -- to play Wuornos, who was executed in Florida in 2002.
Theron, born in the town of Benoni outside Johannesburg, grew up as an Afrikaans-speaking South African schoolgirl who dreamed of a career as a ballerina and once told a teacher she was going to be a princess.
Shortly afterwards, the then 16-year-old took up modelling in Paris and Milan before heading to New York where she enrolled in a top ballet school until she was forced to stop dancing after a knee injury.
Since then, she has an impressive roster of films, including Devil's Advocate, The Legend of Bagger Vance, Reindeer Games and The Cider House Rules.
Charlize plays an assassin in the upcoming sci-fi action film, Aeon Flux.
Photograph: Getty Images