Sooni Taraporevala's humourous, fast-paced and life-affirming story of underdogs Little Zizou is scheduled to open on March 13 in India. The film, which is Taraporevala's directorial debut, was much praised at the Mahindra Indo-American Arts Council Film Festival in New York a few months ago.
It will be presented by Mira Nair, who turned several of Taraporevala's scripts into successful and acclaimed films like The Namesake and the Oscar-nominated Salaam Bombay!
"It is a delightful film, which celebrates love and tolerance," Nair said while talking about it during Little Zizou's premiere in New York. "It will not leave anyone untouched."
Set in Mumbai, Little Zizou is a satirical take on two Parsi families, one headed by an extremist (Sohrab Ardeshir) out to end inter-racial marriages involving the Parsis and the other by a crusading liberal (Boman Irani) running a declining daily Parsi newspaper. But the film is also about young Parsis trying to make a sense of a fast-changing world around them. At its heart is Little Zizou (named Xeres and played by Jahan Bativala) who is without a mother, but who pines for her and speaks to her photograph. He hopes she will help bring his football hero Zinedine Zidane to Mumbai.
The film's humour adds to its many charms.
"It was very much was my intention from the start," Taraporevala says. "Parsis and humour have always been a good fit. We love to laugh. Now that I'm older I feel that even more urgently. I have always admired people, who can make others laugh. Mira is a great mimic and comedienne and I was always her captive audience. I think it's always much much harder to elicit laughter than tears. Tears are easy. Comedy is much more of a challenge."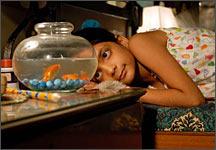 The film is being distributed in India by Studio 18. Apart from Boman Irani, Sohrab Ardeshir and John Abraham in a delightful cameo, it also features Zenobia Shroff, Shernaz Patel, Mahabanoo Mody-Kotwal, Imaad Shah, Kunal Vijaykar, Kamaal Sidhu, introduces Jahan and Iyanah Batlivala.
"John has a few scenes in the film but they are very important it," Taraporevala says. "He was very generous with his time and his enthusiasm is fully reflected in his performance."
Last week, the Indian Film Company (TIFC) representing its first international production, signed LA-based world sales company, American World Pictures (AWP), to handle the international sales of Little Zizou.
Jeffrey Goldmann, Senior VP, International Sales, AWP, said in a statement: 'We fell in love with Little Zizou on watching it. It is a simple, sweet and well-intentioned comedy with a message of tolerance at its heart. We introduced the film to buyers at EFM (Berlin) and will continue to do so at the upcoming markets to lock distribution.'