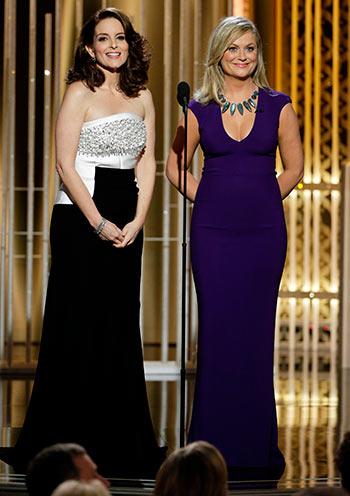 While their second turn as Golden Globes host was rather sedate, this year saw Tina Fey and Amy Poehler (in the picture) making some brave jokes.
There was the Bill Crosby one, where Poehler said: '
In Into the Woods, Cinderella runs from her prince, Rapunzel is thrown from her tower for her prince and Sleeping Beauty just thought that she was getting coffee with Bill Cosby.'
Fey later moved on to George Clooney, and his new wife Amal Alamuddin, saying, 'Amal is a human rights lawyer who worked on the Enron case, was an advisor to Kofi Annan regarding Syria, and was selected for a three person UN commission investigating rules of war violations in the Gaza strip. So tonight, her husband is getting a Lifetime Achievement Award!'


There was also a bit featuring comedienne Margaret Cho as 'Cho Jong Un' in the wake of the recent Sony hack and the The Interview controversy.
They may have been a blast but this is Tina Fey and Amy Poehler's last year as Globe hosts.
So what did you think of them? Did they bring on the chuckles or not?
VOTE NOW!
Photograph: Paul Drinkwater/NBCUniversal via Getty Images