'The power of prayers and so many wishes manifesting never ceases to amaze me. Hope the truth comes out soon.'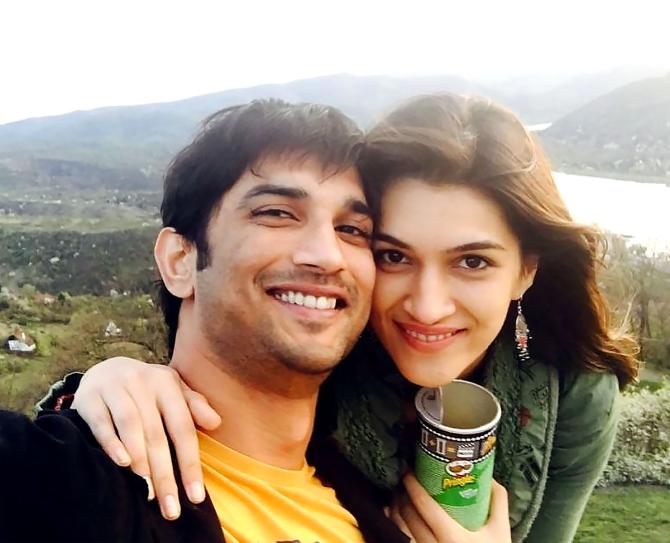 Sushant Singh Rajput's family lawyer Vikas Singh said the Supreme Court's upholding the transfer to the CBI of the FIR against his girlfriend and actress Rhea Chakraborty and others for allegedly abetting the actor's suicide has given impetus to their 'quest for justice'.
The senior advocate said the apex court verdict is a victory for Rajput's family and fans.
"The Supreme Court has accepted all points. The court also clearly said the FIR registered at Patna was correct," Singh told the media.
Minutes later, he tweeted: 'Well begun is half done. Has been a gruelling time listening to experts that Patna had no jurisdiction to register the FIR. Our quest for justice gets impetus with the authoritative decision by Supreme Court.'
Besides the family, Sushant's colleagues in the film industry were also happy with the Supreme Court's verdict, and they took to social media to express themselves:
Kriti Sanon: Last 2 months have been extremely restless with everything being so blurry. Supreme Court's order to let the CBI investigate Sushant's case is a ray of hope that the truth will finally shine Lets all have faith, stop speculating & let the CBI do their work now! #CBIForSSR.
Akshay Kumar: SC directs CBI to investigate Sushant Singh Rajput's death. May the truth always prevail.
Ankita Lokhande: Justice is the truth in action Truth wins .... #1ststeptossrjustice
Parineeti Chopra: This is a positive step. Please let's respect this moment, and let the CBI do their work now! Please let's stop speculating and coming to conclusions on our own .. #CBIforSSR #SushanthSinghRajput
Kangana Ranaut: Humanity wins, congratulations to each one of SSR warriors, first time I felt such strong force of collective consciousness, AMAZING #CBITakesOver
Shilpa Shetty: Lauding the #SupremeCourt in this decision. The power of prayers and so many wishes manifesting never ceases to amaze me. Hope the truth comes out soon; for the sake of his family, fans, and above all... for his soul to rest in peace. May justice prevail #CBIEnquiryForSSR
Madhur Bhandarkar: Welcome Judgement by the Hon. Supreme Court of India on the #SushanthSinghRajput case. Hope justice prevails.
#CBIForSSR #JusticeforSushantSingRajput
Anupam Kher: जय हो.. जय हो.. जय हो... #CBIForSSR #justiceforSushanthSinghRajput
Isha Koppikar: Justice is finally a step closer #CBITakesOver #CBIforSSR
Mukesh Chhabra: We can finally see a ray of sunshine The truth will prevail. waheguru #CBIForSSR