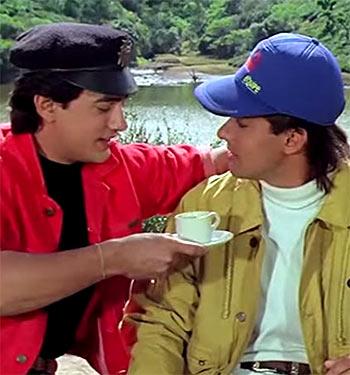 Remember what Amitabh Bachchan said about the most consumed drink in a scene from Mili?
'Paani ki pyaas. Chai ki chayaas. Ek pyaali milegi?'
Or a coy Tina Munim speculating a 'Meet the Parents-style scenario to beau Rajesh Khanna in Souten? 'Shayad meri shaadi ka khayal dil mein aaya hai. Isiliye Mummy ne tumhe kal chai pe bulaya hai.'
Teatime enjoys a special place in Hindi films. Whether to finalise life partners or mark family time, garam garam chai is an indispensable part of Bollywood households.
Here's what we learned.
Andaz Apna Apna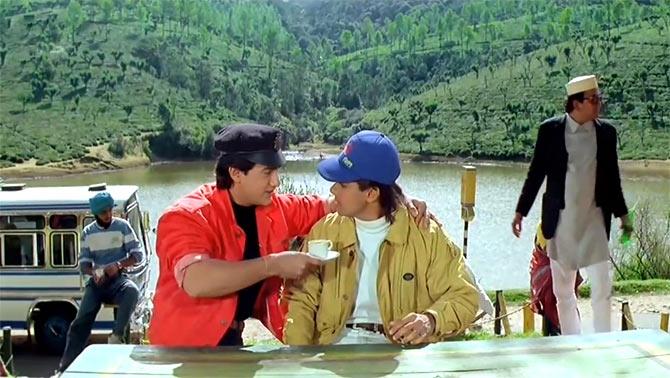 IMAGE: Aamir Khan and Salman Khan in Andaz Apna Apna.
Do dost ek pyaale se chai peeyenge, decides Aamir Khan.
Salman Khan is as eager as the audience to find out the philosophy behind this.
Pat comes the reply: Isse dosti badhti hai. That the shelf life of this viewpoint is only a few seconds is another thing.
Hasee Toh Phasee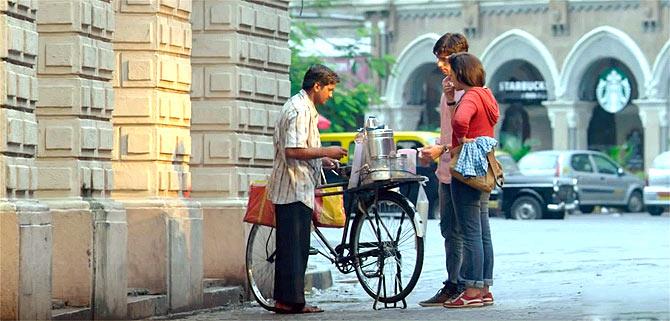 IMAGE: Sidharth Malhotra and Parineeti Chopra in Hasee Toh Phasee.
When Mumbai monsoon forces you to spend the night on the street, grab the first hot cuppa from the first cycle stand chaiwala you bump in the city like Sidharth Malhotra and Parineeti Chopra.
Baazigar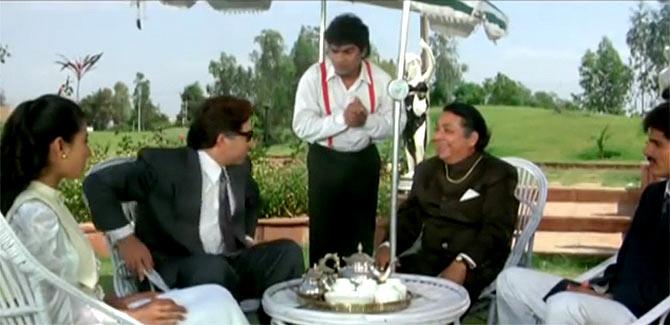 IMAGE: Kajol, Dalip Tahil, Johnny Lever, Dinesh Hingoo in Baazigar.
Always double check your tea stock when serving guests -- if your butler happens to as scatterbrained as Kajol's -- to save yourself from embarrassment.
Bawarchi
IMAGE: Master Raju, A K Hangal, Kali Bannerji, Asrani, Durga Khote, Manisha, Rajesh Khanna and Jaya Bhaduri in Bawarchi.
The family that sips Brooke Bond together bonds better as Rajesh Khanna's multipurpose Bawarchi amply and amusingly demonstrates.
Dil To Pagal Hai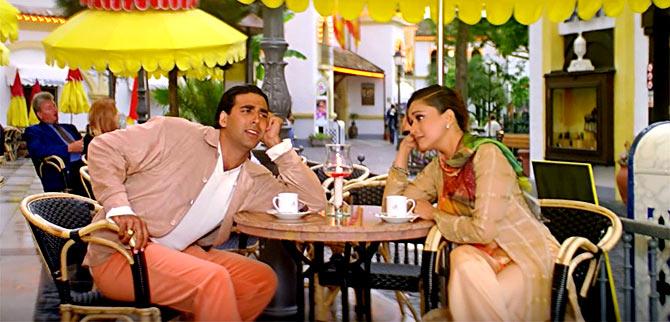 IMAGE: Akshay Kumar and Madhuri Dixit in Dil To Pagal Hai.
Instead of sampling its famed breweries, Akshay Kumar and Madhuri Dixit travel all the way to Germany to do chai pe charcha over that crazy little thing called love.
Chhote Sarkar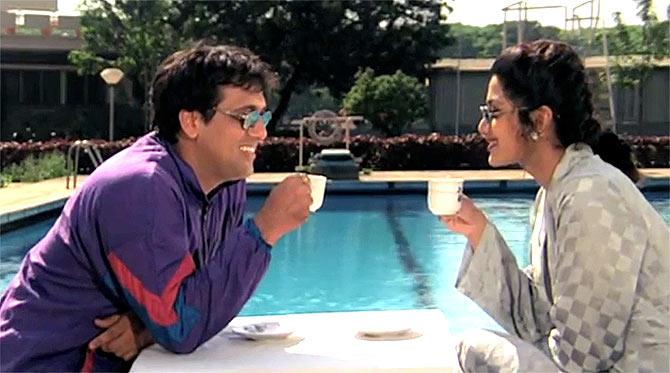 IMAGE: Govinda and Shilpa Shetty in Chhote Sarkar.
The French may whisper sweet nothings over champagne but desis like Govinda and Shilpa Shetty rely on good ol' chai to do the trick.
Dil Se...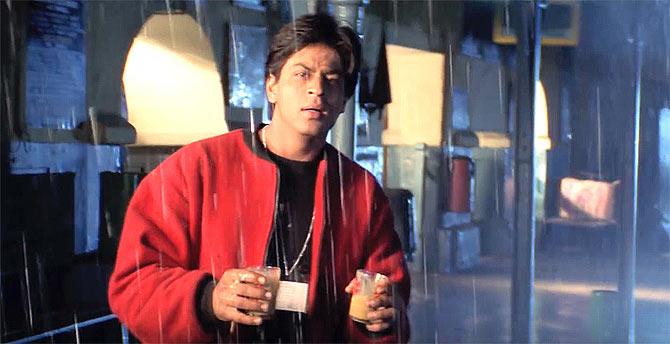 IMAGE: Shah Rukh Khan in Dil Se..
A love story is cut short even before it can start over cutting chai as Shah Rukh Khan rudely finds out one rainy night of Dil Se...
Trishul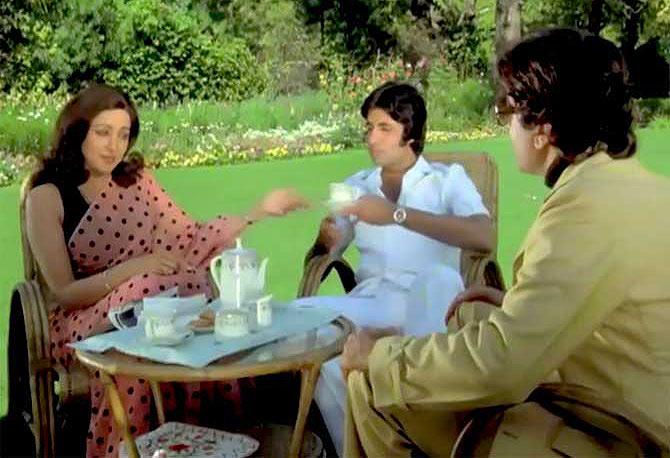 IMAGE: Hema Malini, Amitabh Bachchan and Shashi Kapoor in Trishul.
Trust a gregarious Shashi Kapoor to steal Amitabh Bachchan's thunder and Hema Malini's tea party unconsciously, proving two's company and three's a crowd.
Chupke Chupke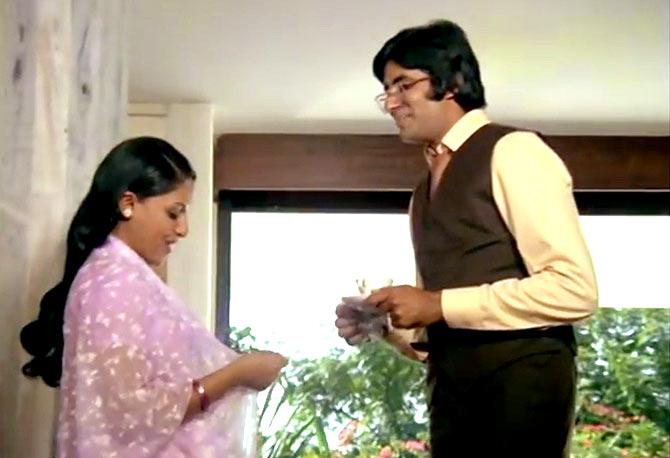 IMAGE: Jaya Bachchan in Chupke Chupke.
Big B has better luck with his chayaas wish around wifey Jaya Bachchan even if it means brushing up on his Botany in exchange.
Griha Pravesh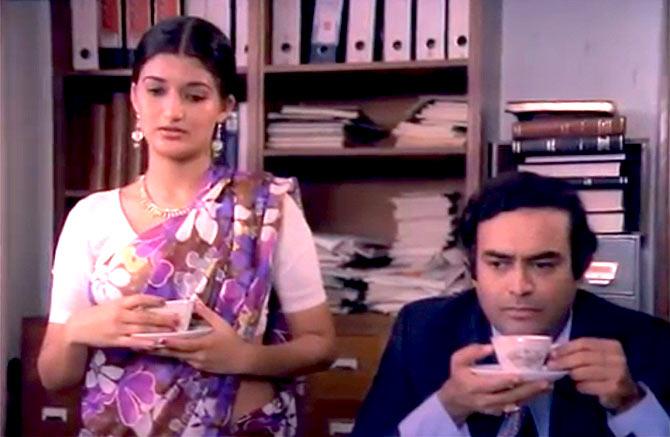 IMAGE: Sarika and Sanjeev Kumar in Griha Pravesh.
The long-running popularity contest between coffee and chai is perfectly captured in the scene where chai lover Sarika compels coffee fan Sanjeev Kumar to shift loyalty. His betrayal is fleeting and it's not long before he returns to his cappuccino ways.
Khoobsurat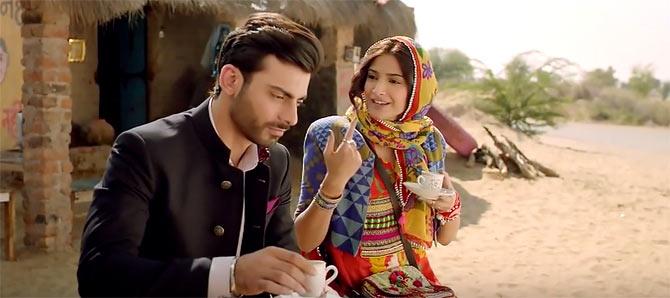 IMAGE: Fawad Khan and Sonam Kapoor in Khoobsurat.
Royalty Fawad Khan gets a taste of street-side tea, malaai marke, in crockery that's definitely not bone china, thanks to a bohemian Sonam Kapoor. He likes it so much; he marries her in the end.
Lakshya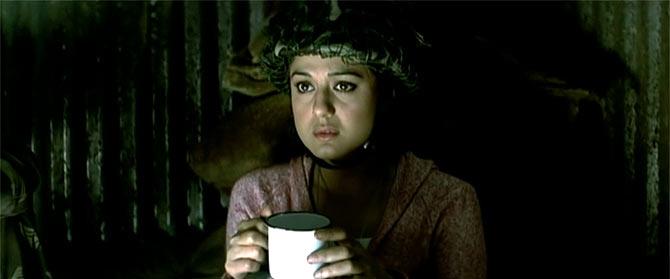 IMAGE: Preity Zinta in Lakshya.
On the other hand, forget china, tea itself is a big luxury for those defending the country during war as Preity Zinta's adventurous news reporter discovers first hand in Lakshya.
Parineeta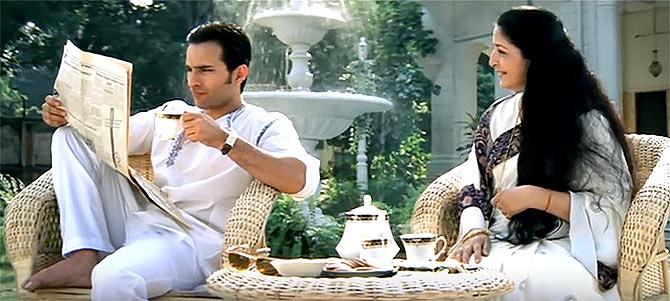 IMAGE: Saif Ali Khan and Surinder Kaur in Parineeta.
Always wondered how glamorous the Nawab looks while sipping on his fancy tea? Here's your chance.
Sharmilee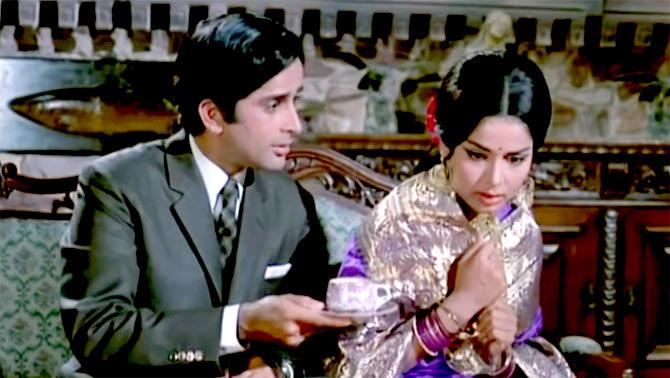 IMAGE: Shashi Kapoor and Rakhee in Sharmilee.
In old school Bollywood, a classic arranged marriage setup featuring a extrovert modern boy and introvert gharelu girl wouldn't be considered complete in the absence of a neatly arranged tea-set.
Vijaypath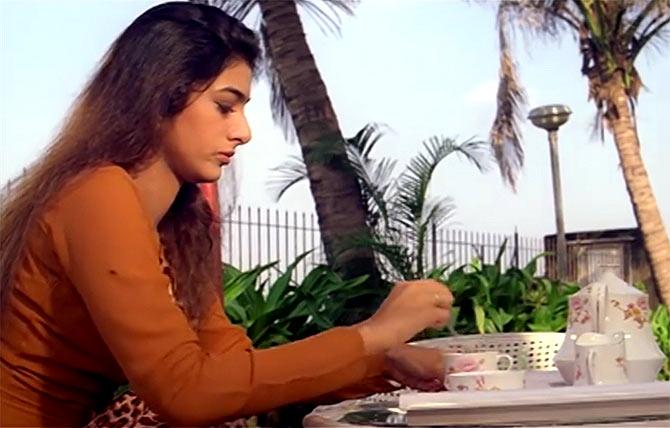 IMAGE: Tabu in Vijaypath.
Eternally flawless, Tabu's focus makes something as basic as preparing tea look like art.
Saaheb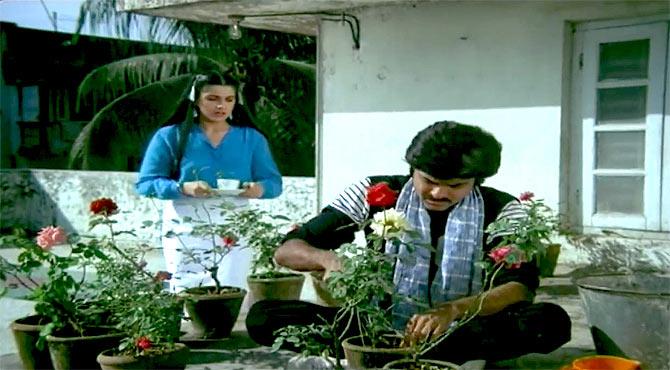 IMAGE: Amrita Singh and Anil Kapoor in Saaheb.
Nothing like a cup of kadak chai to refresh Anil Kapoor's tired soul after toiling in the sun, right Dingy (Amrita Singh's pet name)?
Zamana Deewana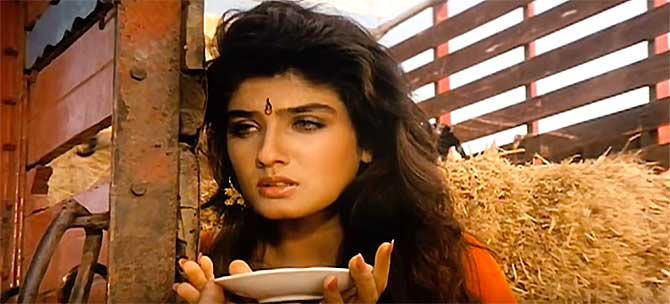 IMAGE: Raveena Tandon in Zamana Deewana.
Out of cups, a saucer will do just fine. Wah, Taj, er, Tandon!

Barfi!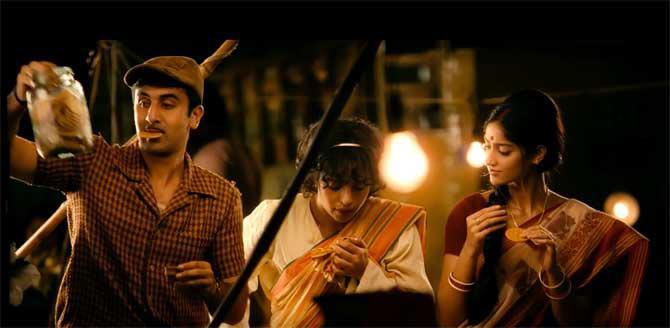 IMAGE: Ranbir Kapoor, Priyanka Chopra and Ileana D'Cruz in Barfi!
The charm of drinking chai from a kulhad with biscuits to dip in it is something else or so insists the sweet troika of Ranbir Kapoor, Priyanka Chopra and Ileana D'Cruz.
Tamasha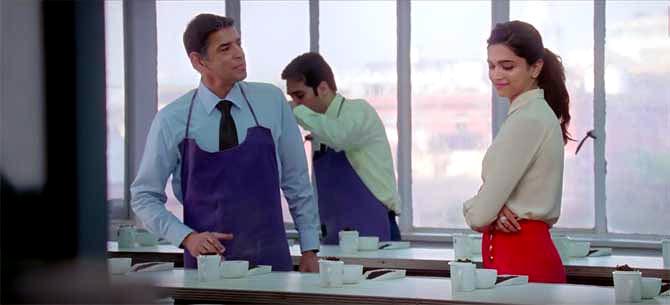 IMAGE: Deepika Padukone in Tamasha.
But if Deepika Padukone's wince is any indication, the process of making chai and trying out its numerous samples is nowhere as fun as relishing it in its final avatar.