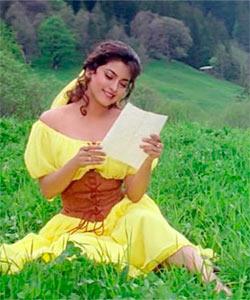 Some cool tips, right here!
'Ever Thine. Ever Mine. Ever Yours,' signed off Ludwig van Beethoven in a fond love letter to his beloved.
You can only imagine the thrill its recipient must have felt.
Well, that's the power of pouring your heart out on paper.
With Valentine's Day fast approaching, it's time to pick up those note pads and scribble an old-fashioned note to your sweetheart. Or learn the tricks from Bollywood. It thrives on schmaltz like that.
Here's what we learned about the art of writing and, more importantly, reading prem patras.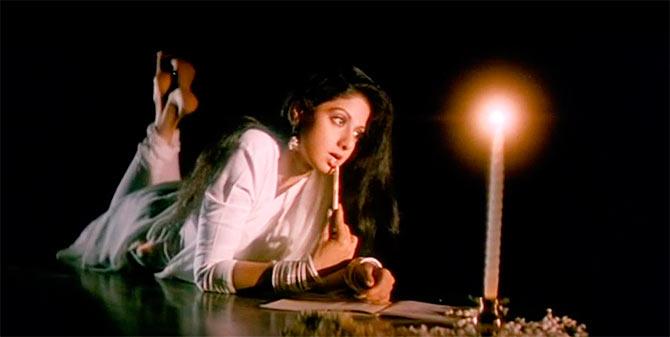 Image: Sridevi in Chandni
Who knew candlelight letter writing can be as romantic as candlelight dinner?
Thank you Sridevi for showing us the way in Chandni.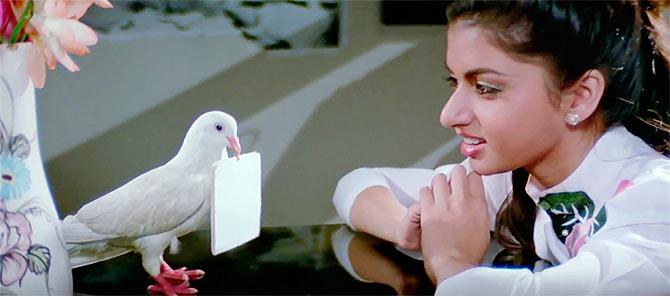 Image: Bhagyashree in Maine Pyar Kiya
Train your kabootar like Bhagyashree in Maine Pyar Kiya by chanting 'Ja Ja Ja' so many times that it gets fed up and flies off to do the needful.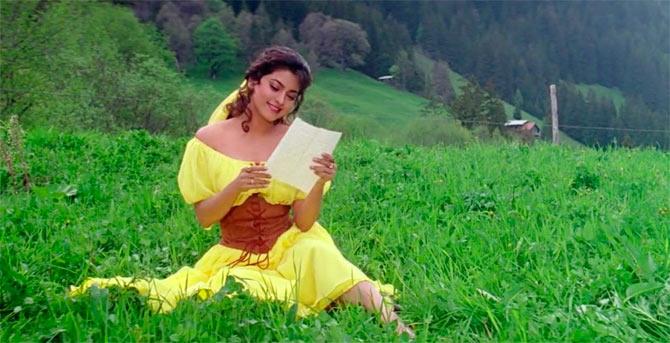 Image: Juhi Chawla in Darr
Find a sweet, correction, Swiss spot to read your letter in solitude like Juhi Chawla in Darr.
Any activity automatically becomes better against the lush green landscapes of Switzerland, no?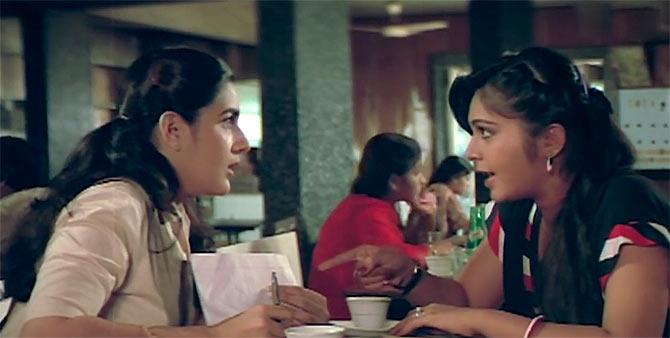 Image: Amrita Singh in Chameli Ki Shaadi
Like Amrita Singh in Chameli Ki Shaadi, take your BFF's help to write that all-important first love letter. Like Amrita, oppose all her daft suggestions.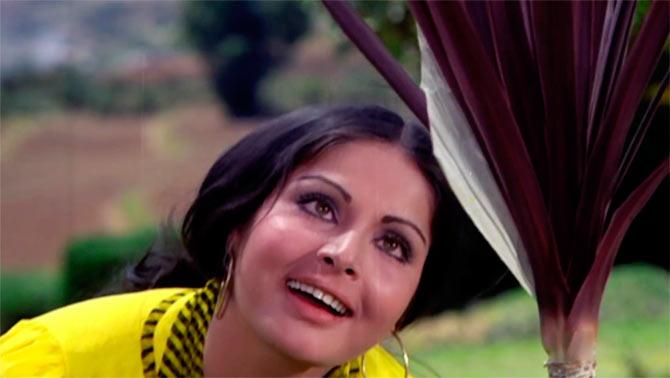 Image: Raakhee in Blackmail
'Main saans leta hoon. Teri khushboo aati hai. Ek mehka mehka sa. Paigham laati hai.'
Words like this from the chartbuster Blackmail song are bound to excite anyone. But please don't sprain your neck in all that enthusiasm. Isn't that right, Raakhee?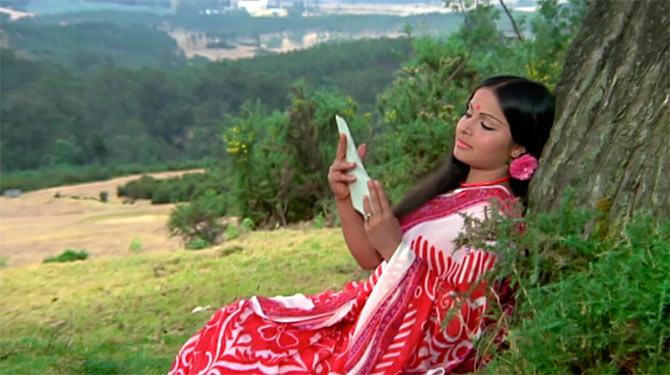 Image: Raakhee in Blackmail
Instead, why not rest under a tree's sprawling shade and leisurely go through its lovey-dovey contents?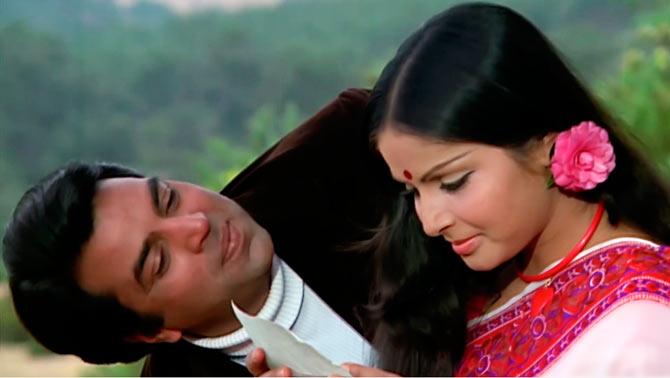 Image: Raakhee in Blackmail
You never know, a deliciously dapper Dharmendra might just magically appear from nowhere. ;)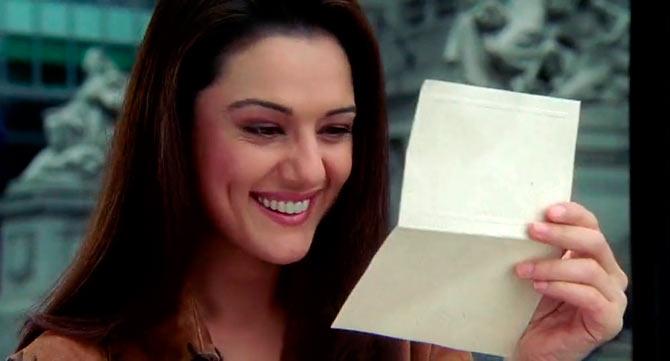 Image: Preity Zinta in Kal Ho Naa Ho
Impress with bad poetry like, 'Lal mere dil ka haal hai. Lagta tumpe kamaal hai. Yeh tohfa nahi sawaal hai. Kya Subhash Ghai ki picture Taal hai?' to get her giggling like Preity Zinta in Kal Ho Naa Ho?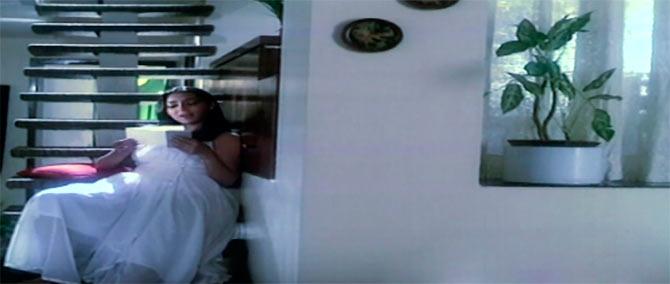 Image: Anuradha Patel in Ijaazat
'Aur mere ek khat mein lipti raat padee hai. Woh raat bujha do mera woh saaman lauta do.'
Letters soaked in free-flowing, free-spirited verse like that of Gulzar's in Ijaazat will make their point succinctly, sublimely.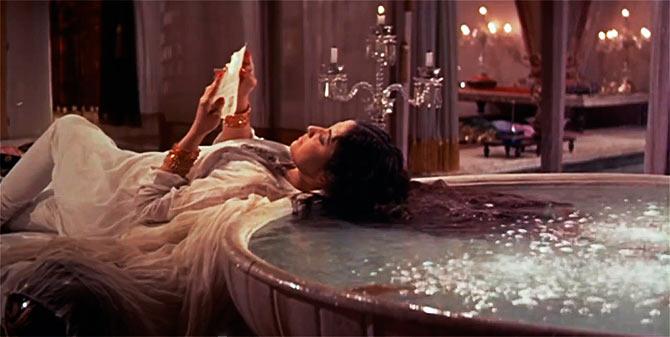 Image: Meena Kumari in Pakeezah
What woman wouldn't want to repeatedly read a love note as charming as Raaj Kumar's iconic: Aapke paon dekhe. Bahut haseen hain. Inhe zameen par mat utareyega, maile ho jayenge? Meena Kumari, quite the vision in Pakeezah, obliges in style.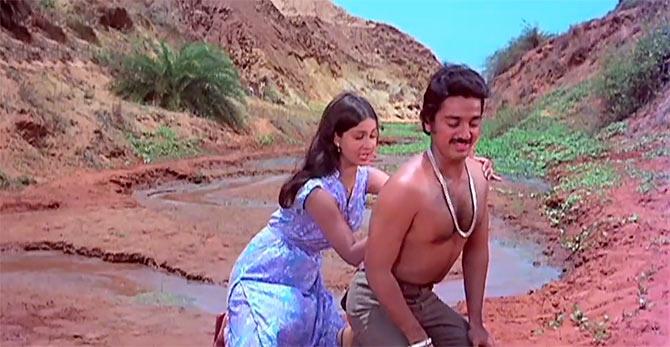 Image: Rati Agnihotri and Kamal Haasan in Ek Duuje Ke Liye
A firm believer in save paper, save trees? Simply doodle your feelings on the boyfriend's back like Rati Agnihotri does on Kamal Haasan in Ek Duuje Ke Liye.
How's that for ecofriendly?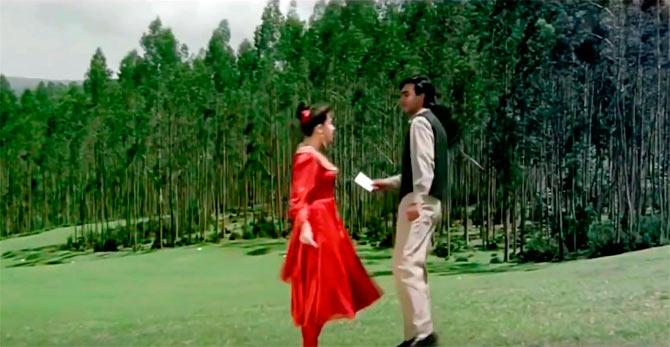 Image: Karisma Kapoor and Ajay Devgn in Jigar
Take a leaf from Ajay Devgn's book in Jigar. Be your own postman and hand-deliver that 'pyaar ke kagaaz pe dil ke kalam se' note for the Karisma Kapoor of your life.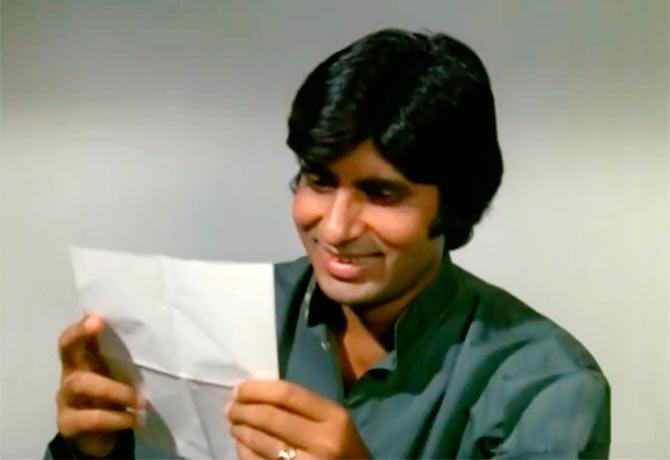 Image: Amitabh Bachchan in Mili
Sign off those sweet-somethings with amusing sobriquets like 'Dusht Rakshas', a la Amitabh Bachchan in Mili and earn loads of brownie points.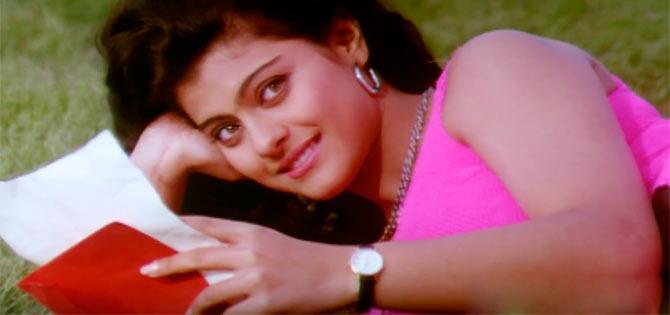 Image: Kajol in Bekhudi
Don't want to get caught reading that besotted 'khat' from the beau, smartly sneak them inside your textbooks like Kajol in Bekhudi.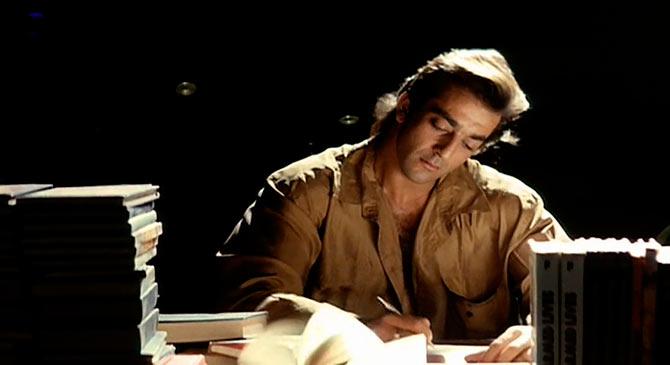 Image: Sanjay Dutt in Saajan
Hard to tell if he's studying for an MBA degree or penning poetry for his googly-eyed fangirl. Channel your inner letter-writing nerd like Sanjay Dutt in Saajan.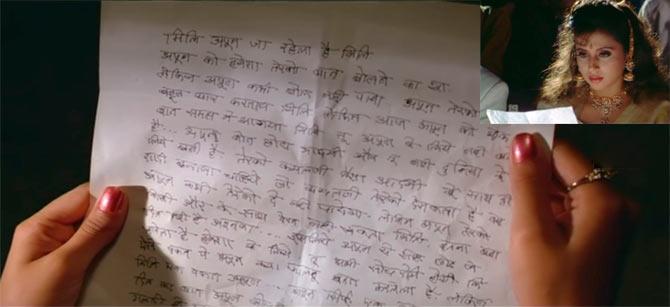 Image: A still from Rangeela
Nothing like a little dramatic timing to distract the object of affection steadily slipping out of your league like Aamir Khan's heartrending but guilt tripping, tapori-flavoured declaration of love for Urmila Matondkar in Rangeela's climax.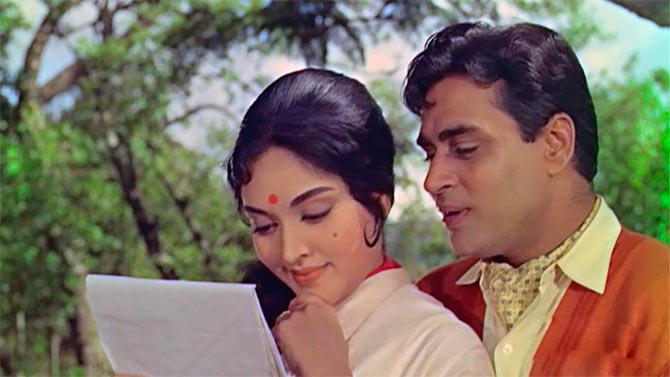 Image: Vyajayanthimala and Rajendra Kumar in Sangam
Script, sing, serenade -- all at once like Bollywood's evergreen 'Prem Patra' specialist Rajendra Kumar, the Jubilee-scoring hero simply left Vyajayanthimala with no options but concede to his implorations in Sangam.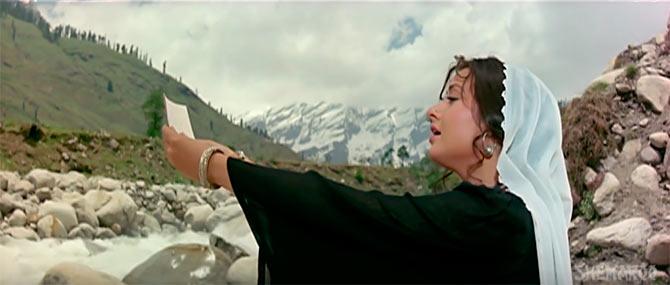 Image: Zeba Bakhtiar in Henna
Some people talk to the mirror. They get a reality check.
Some people talk to cave walls. They open.
In Bollywood, people sing to their letters. They reach faster.
Not really but the lovelorn Zeba Bakhtiar sure tries in Henna.