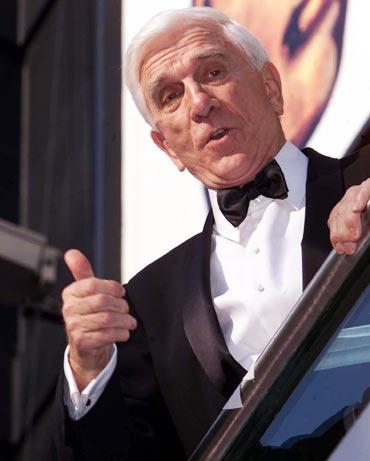 Canadian-American actor Leslie Nielsen, who famously switched from dramatic roles to comedy towards the tail-end of a long and successful career, died Sunday of complications related to pneumonia. He was 84.

Nielson broke into Hollywood in the 1950s, where, owing to his striking good looks, he soon found himself typecast as usually a serious autocrat or a handsome ladies' man. He enjoyed success in this vein for many years, including as the captain of a sinking ocean liner in 1972's The Poseidon Adventure.

But with 1980's Airplane!, Nielson's showed that he'd actually always been closet comedian. Straight-laced, deadpan delivery of absurd lines quickly become his trademark, and the style was reprised in TV show Police Squad! and the wildly successful Naked Gun trilogy, which brought Nielson further critical and commercial success.
After Naked Gun, Nielson starred in a string of late-1990s comedies, including Dracula: Dead and Loving It, Spy Hard, and Mr Magoo.
Photograph: Jonathan Evans/Reuters