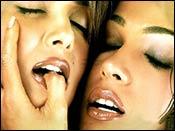 Recently, the lesbian relationship portrayed in Karan Razdan's Girlfriend roused the ire of the Shiv Sena.
It gives rise to the question: are Hindi filmmakers losing their coyness about sexual mores?
Until recently, homosexuality was strictly caricatural in Hindi films. Now, with films like Girlfriend and Madhur Bhandarkar's Page 3, the issue seems to be in the spotlight.
Changing sexual mores and ethical values were shown in Deepa Mehta's controversial Fire. Shabana Azmi and Nandita Das broke every sexual taboo in Hindi cinema to play sisters-in-law with lesbian overtones. The movie did shock people, but it was accepted. Perhaps because it was a film by an 'outsider' — Mehta is a Canada-based filmmaker.
Within Mumbai, it took filmmakers longer to accept the changing reality of sex and the swinger male. Gay jokes surfaced in mainstream films like Arjun Sablok's Na Tum Jaano Na Hum and Nikhil Advani's Kal Ho Naa Ho, where the two male leads were wrongly perceived to be homosexual, when found in a 'compromising' position.
In Girlfriend, Isha Koppikar plays a closet lesbian who is over-possessive about her best friend Amrita Arora. The two are not only shown kissing, cuddling, necking, and making out, but Koppikar even uses the 'L' word to describe her sexuality.
Though the director claims there is no sensationalism in the treatment, it is fairly obvious that a touch of the salacious does ensure a certain level of audience participation in a non-starcast film.
Hence, in Bhandarkar's Page 3, newcomer Jai Karla is cast as a closet homosexual — a secret that the journalist heroine (Konkona Sen-Sharma) discovers only later in the story.
In Sanjay Gupta's Musafir, Sameera Reddy is cast as a married woman who has an affair with a number of men who pass through her life. The film and Reddy's role are inspired by Jennifer Lopez in Oliver Stone's U Turn.
Some years ago, it would have been unthinkable for a leading lady in Hindi cinema to have done this film. Today, Kareena Kapoor plays defiantly ambivalent in Fidaa, while Priyanka Chopra goes gloriously grey in Aetbaar, where she has been cast as a maneater who wrongfully accuses Akshay Kumar of rape when he turns down her sexual advances.
Wanton woman or product of contemporary times?
Dino Morea, who is increasingly acquiring a reputation for playing psychologically unconventional characters, plays a wife-beating sadist in Mahesh Manjrekar's Rakht, and a young man who has an affair with an older woman (Jaya Pradha) in the same director's Deha. Jaya Pradha has even done a lovemaking sequence with Morea.
The actor says there was no awkwardness or hesitancy in playing such offbeat characters: "Why should there be? Haven't we opened our doors to globalisation? And shouldn't mainstream Hindi cinema reflect this reality?"
Two years ago, when Dimple Kapadia was approached for Leela by Somnath Sen to play a lonely housewife who has a physical relationship with her student, the actress agreed reluctantly, and on oath of secrecy.
Times have changed indeed.