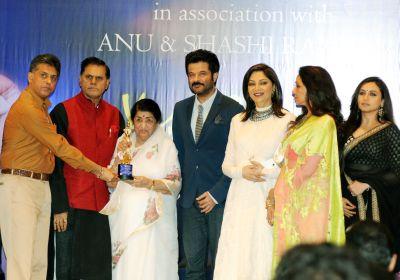 Legendary singer Lata Mangeshkar has been honoured with the first Yash Chopra Memorial Award for her contribution to Hindi cinema.
She was presented the award by Information and Broadcasting Minister Manish Tewari at a function in Mumbai on Saturday night.
Lata, who has been unwell for the last three days, made it a point to attend the function where industrialist-politician T Subbarami Reddy, who produced Hindi films like 'Vijay', 'Chandni' and 'Lamhe', announced a national award in the memory of the legendary filmmaker.
"I am unwell since three days... I have fever and doctors have asked me to take rest and not go out anywhere. But I wanted to come here... I have not come here for the award and Rs 10 lakh. Yashji was special and close to my heart... We did not meet always but we were close as we loved each other," Lata said, adding she felt sad as she could not meet Yashji before his demise last year.
Chopra's wife Pamela was also present and became emotional while talking about her late husband.
"I am honoured and privileged to be here. She (Lata Mangeshkar) is an icon and we are happy she got the award. She is close to my husband... my family. I am grateful to her to come here for my husband despite being unwell," Pamela said.
A number of Bollywood celebrities including Sridevi, Boney Kapoor, Anushka Sharma, Anil Kapoor, Jeetendra, Rani Mukerji, Hema Malini, Akshay Kumar, Subhash Ghai, Simi Garewal, Sonali Bendre to name a few attended the event.
Lata Mangeshkar is the first recipient of the award constituted by TSR Foundation of T Subbarami Reddy.
"In our first year, we are giving this (award) to Lata Mangeshkar for her immense contribution to cinema. She was very close to Yashji and she has sung for almost all his films," said Reddy, also a Congress leader.
Yash Chopra (80) died in Mumbai on October 21 last.
A panel of actors comprising Hema Malini, Simi Garewal and Anil Kapoor worked as a special jury which finalised Lata Mangeshkar's name.
Recalling her memories with Yash Chopra, Garewal said, "It is a great loss not only of a great filmmaker but also as a family member as I am the sister-in-law of the late filmmaker."
Actress Hema Malini said she was lucky to work under Yashji, who had cast her in four of his films. "I think Yashji presented heroines beautifully in his films," she said.
Image: Union Minister Manish Tewari presents the Yash Chopra Memorial Award to Lata Mangeshkar on Saturday
Photograph Courtesy: PIB