Director Apoorva Lakhia has every reason to be grateful to Amitabh Bachchan, as he mentioned in this interview. After all, without the star, Lakhia may have been left without a career.
A family friend to the Bachchans, all his films have starred either father or son, or both -- right from Mumbai Se Aaya Mera Dost, Ek Ajnabee and Shootout At Lokhandwala.
His latest film, Mission Istanbul, releasing this Friday, will see Abhishek Bachchan in a song. Quite a casting coup, considering the film stars Vivek Oberoi, who was once seeing Aishwarya Rai, Abhishek's wife.
Apoorva spoke to Chief Correspondent Syed Firdaus Ashraf about Mission Istanbul, which also stars Zayed Khan. 
From an underworld real-life subject of Shootout At Lokhandwala, you have shifted to a story on terrorism.
I like to make films based on the grey shades of life. I like to play with grey shades for my characters too. My characters are both bad and good. Take Maya [Vivek Oberoi] of Shootout At Lokhandwala. He was a bad guy but in the film, I portrayed him in such a way that I wanted the public to form their own opinion about him.
Right now, I want to make a film on this genre. I am happy to have got the right kind of people to work on such projects.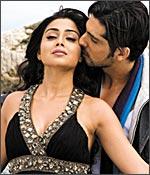 But terrorists are always on the wrong side. Do you feel they have a right side as well?
I don't know whether a terrorist will agree to that.
I am not making a film on terrorism. I am trying to make an entertaining film. I don't want to send a message through my film. Mission Istanbul is not based on terrorism, it is based on a world, which has terrorism. Even as we talk, there is terrorism in this planet. Mission Istanbul is about a simple journalist, who tries to interview a top terrorist.
Where did you get the idea for this film?
It took shape when I was reading an article in a magazine at Heathrow airport. They had quoted John Lennon's song, Imagine. They imagined what would the world be like if Osama Bin Laden was dead. I thought it was very interesting and decided to make a film on it. I spoke to [producer] Suniel Shetty and [writer] Suresh Nair about it.  
So there is an Osama lookalike in the film?
Yes, his name is Abu Nazir.
Let me clarify that if you are making a film on terrorism, there should be a George Bush too. You and I know the reasons for that. We took the trouble of flying down Brent Mendenhall, who looks like George Bush. He has a three-minute role in a scene where George Bush visits India. We also have National Conference leader Omar Abdullah playing himself. 
Are you trying to make an international film by including such people?
Our only intention is to make entertaining films for the Indian audience.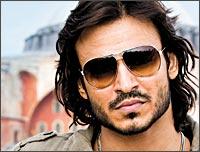 Why did you pick Istanbul?
We needed to shoot in an Islamic country, and Turkey is the most liberal out of them. Though it is backed by the army, I have never seen such a liberal military. I don't think any country has not been affected by terrorism today; Turkey has its own problems too. They have a fantastic film culture and the government was happy to give us all kinds of help.
You have repeated Vivek in Mission Istanbul.
No one can doubt his capability as an actor. He is a great dancer and very sincere in his work. Vivek's problem is not acting -- he has improved on that. His problem is something else -- he has to learn to keep his mouth shut. I will not take any credit for him in Shootout. He had Sanju Sir [Sanjay Dutt] with him in the film, and he did his best. Hats off to Vivek, he got back on track.  
You managed to rope in Abhishek in Mission Istanbul, in a song. Quite amazing, considering Vivek was seeing Abhishek's wife, Aishwarya Rai, before they got married.
This whole Abhishek-Vivek drama is often played by the media. I know for a fact that they SMS each other when they see the other's film. I am friends with both. I don't see any problem between them.
Are you expecting the same response, as you did with Shootout At Lokhandwala?
I hope the film does well. If it doesn't get a good opening, I hope it picks up by Tuesday by word-of-mouth. But Shootout was an adult film so families could not watch it. Mission Istanbul is not an adult film. That was the only brief [co-producer] Ekta Kapoor gave me.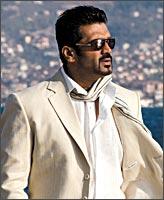 Your first two films, Mumbai Se Aaya Mera Dost and Ek Ajnabee, did not do well. Your next, Shootout, did well. Is the morale of the story that one should keep trying to succeed in Bollywood?
It is very difficult to survive in Bollywood. One day, you can be a hero. By Friday, you can be a zero. I was quite depressed when Mumbai Se Aaya Mera Dost flopped. My mother told me that now the only way you can go is up.
I sat at home for two and a half years doing nothing. Then Amitabh Bachchan called me and told me that I was extremely talented, and that he wanted to do a film with me. I am very grateful to him.
Ek Ajnabee did above average business. It was a good film but the media killed it by saying it was a remake of a Hollywood film. Now, I realise that if you copy from a film, it is a copy. If you copy from four or five movies, that's research. So as far as I am concerned, I have proved myself.
Tell us about the phase, post-Mumbai Se Aaya Mera Dost.
In a volatile industry like Bollywood -- where you spend someone else's money -- you have to be very humble. This industry can be very good, if you keep your head down and do your work. One must respect the people and actors in front of you. If you don't, you will be running a very short race. The best part is that someone or the other will always give you a chance in this industry.
What next?
I have three films lined up -- one is for Vashu Bhagnani, one is for Balaji Telefilms and one is for Sohail Macklai.