Winner of three Andhra Pradesh State Nandi Awards for the films Swayamvaram, Manoharam and Preminchu, Laaya is expected to bag yet another award for her author-backed role in Tripuraneni's Gelupu. She is also doing two comedies, Dongaramudu & Party and Missimma.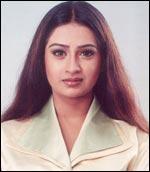 The actress -- who played a fiery wife who saves her husband from being hanged in Manoharam and a blind girl in Preminchu -- now wants to try her hand at glamorous roles. And though she has 'even reduced my weight', she will stick to her 'dress code', she tells Vijayalaxmi:
How does it feel to receive two awards for two consecutive years?
It is a rare moment in any actress's career. To have received the award in 2000 and 2001 is memorable.
After bagging the Best Debutante Award for Swayamvaram in 1999, I gained confidence. But with two awards for Manoharam and Preminchu, I feel responsible. I am determined to pick roles that justify my talent.
How did you use your talent in the entertainer Dongaramudu & Party?
I have a well-etched role demanding a good performance. I took it up to work with seasoned director Vamsi. Working with him has been a learning experience.
I agree it is an entertainer, but it has the typical Vamsi touch, taking the audience through a gamut of emotions.
I like to do meaty roles. But it does not mean I will sit at home waiting for those 'elusive' roles.
Are you playing Savitri's role in the rehash of the old classic Missamma?
Except for the title, Missamma has no similarity with the old classic. Director Neelkantan, who won the National Award for Best Screenplay for Show, has come up with an interesting tale of a girl who faces problems from her husband's boss [played by Bhoomika]. It is a robust comedy. I enjoyed doing my first comedy role. It's another film I am looking forward to.
Are you confident of bagging your fourth award with your author-backed role in Gelupu?
I do agree it is a mind-blowing role, but it depends on the releases of the other actresses this year. I would be on cloud nine if I bag the award!
The film deals with the constitutional right to identity. I do not want to reveal anything more. I enjoyed working with talented actresses like Suhasini and Soundarya, who play key roles in this female-centric film. It could be my next release and I am keeping my fingers crossed.
I have also signed a Hindi film.