Kunal Shivdesani has made a name for himself directing over 300 commercials for brands like Mountain Dew and Pepsi. Now, he's trying to leave his mark on Bollywood with his first full length feature film, Hijack starring Shiney Ahuja, Esha Deol and newcomer Kaveri Jha.
Kunal spoke exclusively to rediff.com about Hijack, his jump from ad-making to filmmaking and experience working with the cast. Excerpts:
You've been directing commercials for nearly a decade now. What were you doing before that?
I was about 16 or 17 and I'd just given my HSC exams. I knew I was going to fail. So I decided to take up a summer job. I was lucky enough to join a production house. I instantly fell in love with the whole post production process, especially editing.
Well, as expected I did fail, but I managed to convince my family that I failed because I was busy working. It seemed like destiny, I was at the right place at the right time and I've been in this line ever since.
Could you give some examples of your work?
I've worked on commercials like Mountain Dew, which was a very different and path breaking commercial. The line, Cheetah bhi peetah hain, really got on with the youth. I've been involved with many other interesting brands like Pepsi, Mirinda, Maruti etc.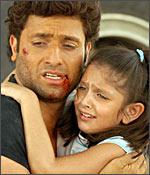 With such success why did it take you so long to make this transition from ads to movies?
I believe that you should do something when you feel you're ready for it or you'll mess it up. I know that if I'd taken up filmmaking before time, I would have messed it up. Handling a full length feature film is a huge responsibility. You need to be well versed with every aspect of filmmaking. And as a director, if anything goes wrong, I'm responsible.
Why did you pick Hijack as your first film?
I like watching action films and thrillers, and I wanted to do a film that culminated this genre with real human emotions. I didn't want to make a typical Hindi film. I wanted to exploit performances from real characters and the idea of putting these characters in a small container, a plane, gave me this perfect opportunity.
Shed some light on the story of Hijack.
The film is about an everyday working guy who happens to get stuck in this extraordinary situation. Vikram Madan (Shiney) is a maintenance engineer at an airport. He knows flights inside out. His daughter is on a plane which gets hijacked. So the film is about how Vikram finds the hero in himself, when under emergency situations, and saves his daughter.
There seem to be certain parallels to the sequel to Die Hard. Have you been inspired by such action thrillers?
Of course. Even though the second Die Hard had the plane disaster story line, I was inspired by the original. It was not over burdened with special effects; it was about raw human emotion which is exactly what I wanted to bring out in this film. Then there's Executive Decision and Flight Plan, which is again an emotion driven thriller. It's about a mother and daughter, where as Hijack is about a father and daughter.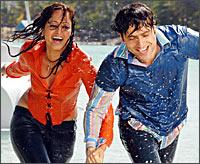 Do we see Shiney in the plane by the end of the film?
Yes, he manages to find his way in. But you must understand that though the style of this movie is inspired by these Hollywood films, the crux of the film is very Indian.
Talk about the casting process of the film.
We wanted good actors. We auditioned many people. There are 30 important characters in the film. Every passenger on the plane or ground crew has some importance in the film.
I wanted Shiney and Esha as the lead because they are good actors. Also my daughter Aleya plays Shiney's daughter in the film.
Shiney is known for intense dramatic performances...
Shiney was always my first choice. I knew he could handle action very well. I've known him long before he became an actor. We've worked on many commercials together, like Hero Honda. He did this commercial for Sun Silk, where the camera had to roll for just one minute and Shiney performed so well with his eyes and face, I remember thinking that this guy is an amazing actor and if I'd ever make a movie, he'd be in it.
Is it true that Shiney has done his own stunts?
Yes. There is this scene where he's hanging from a helicopter. We could have easily used special effects but we wanted it to look real. It took six days to shoot, with Shiney hanging from the helicopter all the while. And you know, he'd say that he's tired or his back is paining, but really what could I say, we had to complete the scene. But he really pulled through for us in the end.
Were there any artistic differences on the set?
With so many people involved, there are bound to be. Not all people can think alike. I was open to hearing suggestions or ideas, because this movie is about real human emotions, so it was interesting to take in someone else's reaction or perspective on a scene.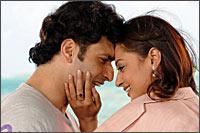 How was it working with Esha Deol?
Esha plays an airhostess. She is a great actress. She's a thorough professional. I believe she hasn't got her due in the industry. An actor like her in Hollywood would have been so respected. She gets these roles where she has to play a glamour doll but I think Hijack is going to change this trend for her.
Do you think Bollywood movies have come to a point where they could stand up to Hollywood action blockbusters?
We have brilliant technicians in India. We have great scope and vision but unfortunately we don't have the budget. The money spent on one action film in India is about one-fourth of what a Hollywood actor gets paid. So we have a long way to go in terms of budget but its happening. Bollywood films are now screened all over the world.
What do you think of Hijack personally, does it hold up to Hollywood quality?
I think it does. We haven't compromised with any part of the film. In fact we've gone over the budget. I think people will enjoy the film and see it as an attempt of making an Indian film on the scale of a Hollywood film.
What's next?
I'm working on a script, another thriller. I think the script is the actual hero of a film. In Bollywood there's this constant need to make a big multi-starrer films, but the beauty of a simple film like Jaane Tu Ya Jaane Na, tells the audience that it is an honest film with heart. That's what I want people to take away from Hijack too; pure human emotions.