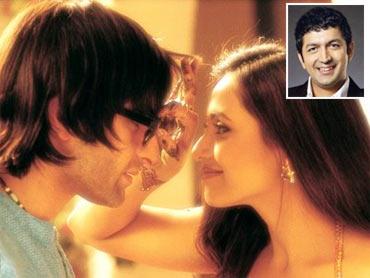 In his 18-year-long Bollywood innings, Saif Ali Khan has played a variety of roles -- from comic films to really off-beat movies. As the star turns 40, we speak to Kunal Kohli, who directed Saif in the National Award-winning Hum Tum, as well as in Thoda Pyaar Thoda Magic.

 

Kohli, who will soon be working on his third film with Saif, talks to Patcy N about how the Chhote Nawab has evolved as an actor over the years. Over to the director:

 

On Saif the actor: Saif has evolved as an actor, but one of the wonderful things that have happened is that our films have also evolved. We are doing a whole range of films today, which is perfect for someone like Saif. So, both the films we make and Saif have grown together.

When Saif came into films, heroes acted in a certain way. Over the years, the filmmakers and Saif realised he is the hero and he doesn't have to pretend to be a hero. The cool look he wears or the way he performs is very controlled and suits the film and the character.

 

On Saif's strengths: He can become any character. You can't imagine anyone else playing Langda Tyagi in Omkara or anyone else playing Karan Kapoor of Hum Tum or the two characters he plays in Love Aaj Kal. And that makes the roles and the films memorable.

 

On Saif's comic roles: When someone is successful and popular, their body of work is reexamined and appreciated; and that's what happened with Saif. Like Aamir (Khan), Saif too has played a multitude of characters. Comedy is part of his persona and he exhibits his talent as an actor, for which comic timing is essential.

 

On Saif as a person: Saif is a very balanced person and always spends time with his kids and goes on family holidays. His kids are very close to him. His films do not affect family life and vice versa. He does not let anything affect him when he is focusing on his career, but when he is with his kids, he won't take phone calls.

 

On Saif's offbeat roles: Saif gets attracted to interesting characters -- like the ones in films like Ek Hasina Thi, Being Cyrus or Omkara. One would never imagine Saif Ali Khan would be able to play Langda Tyagi with that accent, but he did it so well. Someone who won the National award for Hum Tum and was a strong contender for the same award for Omkara, shows he can straddle the East and West. It shows you can excel in both these forms of cinema.

 

On Saif's role selection: When

Saif reads the script for the first time, he is already working on how he will play it. And I think that's what helps him decide to do the film. And he begins preparing for the role right there. On the sets, he always adapts to new ideas, takes inputs from the director and his co-stars, and that's rare.

 

Hum Tum and Thoda Pyaar Thoda Magic experience: When you work with Saif, you tend to be creatively challenged all the time -- you have to tell yourself to keep pushing the envelope. But it does get a little easier for you to work with him the second time. He has his needs as an actor that have to be fulfilled -- an understanding of every facet of acting. It's a beautiful give-and-take relationship where you push him to whatever limits that you want to and he is happy being pushed. It's great when your actor and you are on the same page.

 

On Saif obsession about his character: I wouldn't say Saif is obsessive about his character, but I would say he gets into his character. When we were in London shopping, he suddenly started looking for clothes for the character he was playing. Then we went to a few more stores and shopped for the character and all the way, he was talking about how we should style the character. He gets completely involved.



He has been preparing for a very long time for Agent Vinod and I would say (director) Sriram Raghavan is lucky to have Saif as an actor.

 

Once he was walking in a park and he called me to discuss his character - it just inspires you to do better. We filmmakers think 24x7 about our film and it's so nice if your actors also does the same

 

Memorable moment: Two instances I will never forget -- after he got the National Award, we met and he just laughed non-stop and then he came and hugged me. That laugh said it all -- it was like, 'We did it man!'.

 

The other is more recent, when I went to London after reading my new script, he got up shook my hand and hugged me. It was like 'Okay, this is it'. He does not get into 10 pages of expression, but his one smile, one hug, one handshake or just one sentence, is enough.

 

Next film: It's a contemporary love story about relationships. It tackles a subject that all men and women love. We haven't found the girl, but it will go on the floor in December

 

Birthday wish: To give us at least 10 more varied characters in the next five years -- so five years later, I have that much more to discuss.