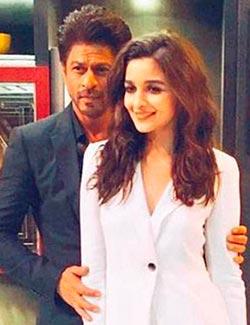 This episode doesn't reach the heights of the one with the Kapoor siblings, Hema Malini and Zeenat Aman's blast from the past or Ranveer-Arjun's raita rendezvous but amply shows off SRK's reputation as the superstar we love to hear talk, writes Sukanya Verma.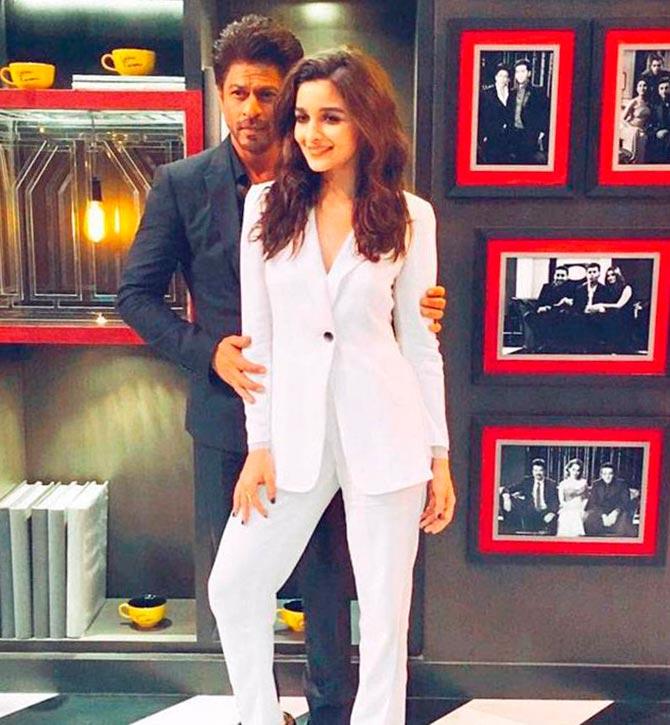 Damn this obligation to plug movies, it demeans the purpose of freewheeling conversation with its constant demand to throw in snippets about the all-important new release. And it's no longer limited to the individual but the combination collaborating on a given project.
Yet Karan Johar has a knack for making the obvious a little less in our face by communicating his incredulity and amusement, mocking the grapevine just enough to retain the mystery and throwing his guests in a tough spot through cheeky inquires. Moreover, he's never just a spectator but also a partaker, at times even a punching bag (remember Kajol, Akshay, Aamir?), of this banter.
When the 44-year-old filmmaker kicked off the talk show Koffee With Karan, the idea was to bring in his celebrity pals and cash in on his intimate equation with the who's who of showbiz.
During these past four seasons, he's had his share of hits and misses, triggered controversies galore and showcased some stars like never before.
Armed with these qualities, the Ae Dil Hai Mushkil director returns to host season five starring the leading actors of the November release, Dear Zindagi.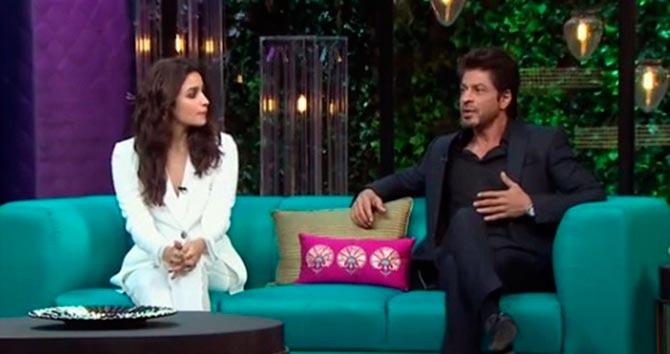 As Shah Rukh Khan -- his no-show in Season 4 led to rumours of fallout (addressed and dismissed in killer King Khan style: I have to justify my nationalism. You have to justify your love for me) -- discloses K Jo's embarrassing tendency to walk inside the trial room of a boutique while his Kuch Kuch Hota Hai hero is still in and publically fuss over the fit.
As his stylist, it cannot be helped, protests K Jo in his defence.
Nevertheless, the duo is more than happy to laugh off the tittle-tattle about their link-up. Let's show them (the media) photographs, SRK humours and throws in keywords like 'kiss,' 'nudes,' and 'marriage.'
Alia Bhatt is not nearly as audacious or entertaining, perhaps still hurting from her last appearance, where she became the butt of numerous jokes regarding her ignorance about the President of India. Although Alia's take it on the chin approach has got her a lot of support since.
Her choice of attire, a well-tailored pantsuit projects a ladylike demeanour, but a fidgety body language, around a co-star in the 25th year of his career and the director responsible for her debut (Student of the Year), can hardly conceal the 23-year-old's awkwardness or awe.
Between gushing about 'SR' sans the K in a 'biggish' way, denying a 'legit boyfriend' status to Varun Dhawan or Sidharth Malhotra and maintaining diplomacy at Sonam Kapoor's potential Best Actress sweep for Neerja, Alia alternates between boring and hyper.
While I certainly endorse, er, SR's admiration of her acting abilities, she's what one calls, the weakest link, of an otherwise lively tete-a-tete.
Truth be told, it's a bit unfair to pair a rookie with someone as seasoned and charismatic as Shah Rukh. Every sentence to come out of the man becomes a quote.
"Youth has the gift of detachment."
"I am at rest but not at peace."
"Be demotional. Detached but emotional."
"I am the fourth idiot for having passed it (3 Idiots) on."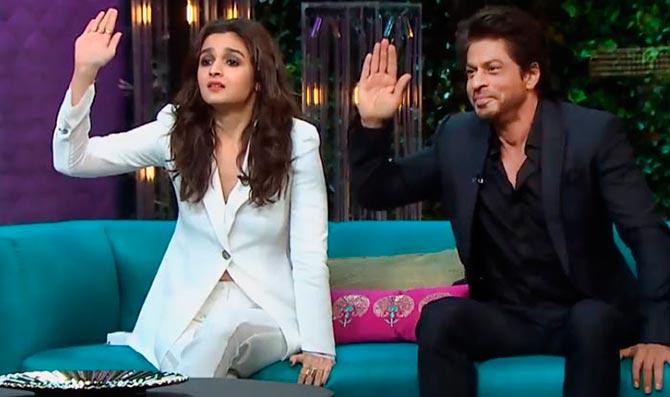 Pomposity has made way for matter-of-factness as SRK admits he doesn't have the biggest box office success. There's a calmer vibe to him. It's rather attractive. As is the sight of the man blushing when Alia's love life takes centre stage.
As always though, it's the games segment that brings out the spontaneous best of its star guests but the rapid fire needs to discard its exhausted template of questions.
Surely the KWK team can do better than test Alia's knowledge on three recent Bollywood breakups or ask her to choose whom she would marry (Shah Rukh Khan), hook up (Ranbir Kapoor) or kill (Ranveer Singh).
The Udta Punjab star serves a wicked quip answering about the actress she would stalk if invisible. "Kangana Ranaut. So many airport looks, I want to know where she is landing?"
Hopefully, the Queen will grace one of the forthcoming episodes to give her a Shandaar reply.
Meanwhile, SRK is all sass as he drops this pick-up line, "F*** me if I am wrong but isn't you name Madhushree?"
If he woke up as Alia Bhatt, who doesn't get his joke, he would read the newspaper (even performing a little gag about her last goof-up) and if as Ranveer Singh, he would ask where he got the padded underwear (in Befikre).
The Band Baaja Baaraat dude doesn't get much love from these two but Katrina Kaif seems to be a mutual favourite. If rapid fire is to be believed, Kat is the one SRK would pick to marry and bunny hop buddy Alia would liaison with.
Needless to say, SRK walks away with the hamper in this round, one he dedicates it to his daughter, Suhana.
A segment inspired by Johar's favourite Ellen DeGeneres has the two rendering lines in a tone dramatically different from its content. Alia ably does a Poo to convey something profound whereas SRK bellows a nursery rhyme to the sound of Arnab Goswami. It's hysterical unlike his attempt at reading out a butter chicken recipe in what's meant to be sensual but comes across like someone who's stepped inside a tub of ice-cold water.
Alia's sulk turns into a smile at the mention of the easy-peasy pop culture quiz, almost designed as a consolation. All her claims about not being "insecurely competitive" go out of the window as she almost jumps out of the couch to grab a win even as SRK grapples between Tom Ford and Tom Cruise.
This episode doesn't reach the heights of the one with all the Kapoor siblings; Hema Malini and Zeenat Aman's blast from the past or Ranveer-Arjun's raita rendezvous but amply shows off SRK's reputation as the superstar we love to hear talk.
Now curious to see what Mrs Funny Bones and 'the man of the house' have to offer.
Rediff Rating: