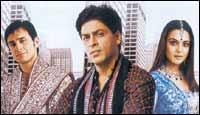 Suffering a major fall in the second week in North America -- part of it due to a heavy storm on the East Coast -- Nikhil Advani's Kal Ho Naa Ho grabbed about $350,000 over the weekend.

Across the Atlantic, the fall was less precipitous. It took a 38 per cent nosedive against 60 per cent in North America, where the cumulative reached $1.46 million. In England, the film, starring Shah Rukh Khan Saif Ali Khan and Preity Zinta, grabbed about $400,000 in its second weekend and $1.3 million in ten days.

It set a record of sorts in England, having had the highest per screen average in two successive weeks. It may boast of a higher per screen average -- $10,7000 in the second week -- than the chart-topper Love Actually's $10,000, because of the limited number of screens it was showing at.
While Love Actually, which grossed $4.5 million its third week was on 478 screens, KHNH played on 38 screens.
Despite the big second week fall, KHNH can be called a superhit. Its solid success further consolidates Shah Rukh Khan's appeal in North America and England. His popularity far exceeds that of Salman Khan and Aamir Khan. Hrithik Roshan, though growing in popularity, hasn't had a hit here like KHNH.
The gross for Main Prem Ki Deewani Hoon would be $500,000 less than the projected gross for KHNH in North America. And Koi... Mil Gaya, a big hit in India, didn't even come anywhere close to grossing $1 million. 

US audiences don't necessarily reflect the preference of Indian audiences. Govinda's films are hardly hits in the US or in England, while many of them do smashing business in India. Sanjay Dutt and Ajay Devgan are not favourites in the US either.

The new Shah Rukh Khan hit may end its run in North America and England with about $4 million, if there is not a sharp erosion in the third weekend. Realistically, it may exit with a solid $3.5 million.
The figure would be, of course, far removed from producer Karan Johar's previous hit, the $6 million grossing Kabhi Khushi Kabhie Gham (which he also directed).

In North America, KHNH slid from the 17 to 19 position on the box-office chart while still showing in 51 theatres. In England, it dropped from the sixth to the eighth. With some luck, it might still be on the top 10 list for one more week.
Click here for More Features