'People like to personalise a lot but the honest truth is, after Tiger Zinda Hai released, the next time I was in contact with Salman again was on the sets of Bharat.
He was already shooting when I arrived and he just said, 'Katrina, what's up?''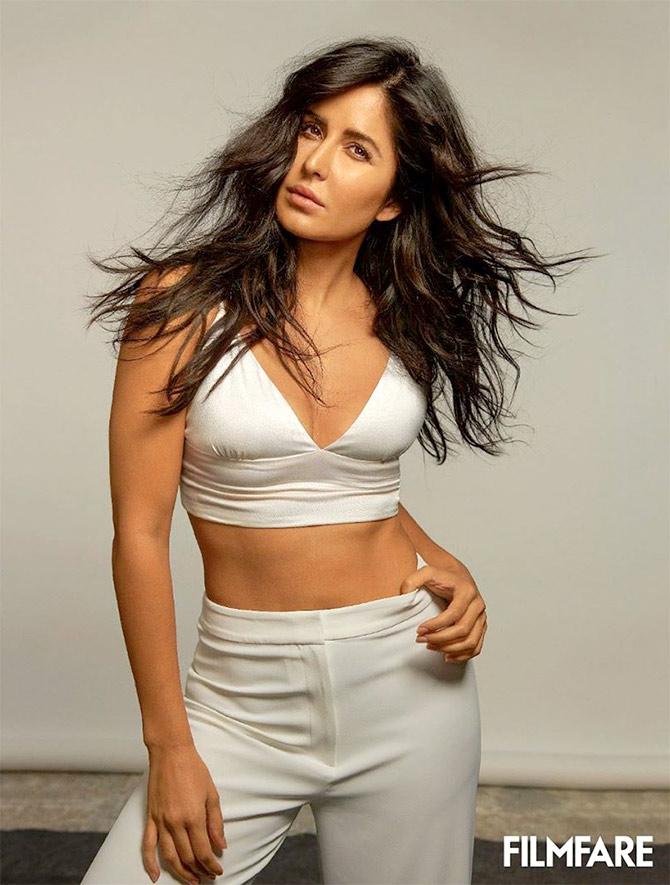 Salman Khan believes Katrina Kaif's performance in Bharat will earn her a National Award.
Even as Katrina herself wonders whether that's a joke or not, she admits that she's worked hard on this character.
It's very different from the ones she's played before and she hopes that her performance will give filmmakers 'the confidence to try new things' with her.
"Salman has appreciated what I was doing and I think that is nice because I have really given everything for this role," she tells Patcy N/Rediff.com.
You're among the fastest growing stars on Instagram.
I am also the last star to join Instagram.
There's no one left to join.
Who else do you think will come on? I don't think Kareena will.
It's been a nice decision for me.
I don't know what I was stressed about; I was really against it.
I remember when Twitter came to India, my manager told me they wanted me to join the platform. It was like an endorsement; aaj kal sab log free mein post karte hain (people post for free nowadays) on Twitter.
I remember saying nothing is happening, no one is coming on this platform, yeh bakwaas hai (this is rubbish).
But now, 50 million people are on Twitter.
Sometimes, I lack foresight. I lack the vision.
There was a phase when everything I read about myself was not a correct presentation of who I am. I used to feel helpless.
I wondered why it was more for me than for others. That's when I realised that everyone had a platform from where they spoke.
It was the deciding factor that made me join social media.
Also, I can put out messages. Like, in the last 10 days, when I put out stuff about my film, about my mom and her charity... so that people have access to that information about you, your life and what's happening.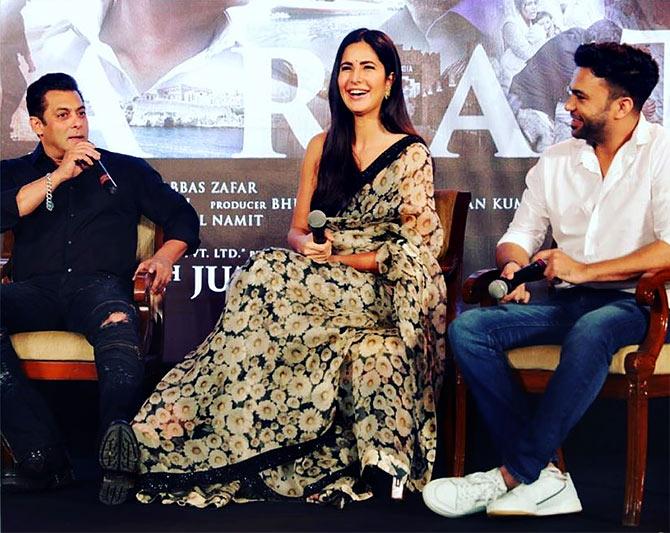 You did Mere Brother Ki Dulhan, Tiger Zinda Hai and, now, Bharat with director Ali Abbas Zafar. How has journey with him been?
I met Ali for the first time on the sets of New York.
I was working with (director) Kabir Khan and Ali was his assistant director.
I told my manager, 'I hate this boy. If he talks to me again, I am going to tell Adi (Aditya Chopra, New York's producer) that I am leaving the sets.'
I wanted to come back to Mumbai for the promotions of Singh Is Kinng; I just asked for two days.
But Ali told me very sternly that I could not go back.
So we started off on a very bad note. Dheere dheere, we became friends.
I saw that he was a hardworking fellow and his heart was in the right place.
One day, we were celebrating something and I was dancing on the table. When we going home, he told me that it's not the right behaviour.
I saw that he was actually a very nice person.
He comes across as stern, but he has a good heart and soul.
We became friends from then on.
Ali and Karishma (Kohli), another assistant director, became part of my circle of friends.
I was shooting for Zindagi Na Milegi Dobara when Ali sent me a script for Mere Brother Ki Dulhan. He said he would be directing it.
I asked him if he was sure he was ready because direction is a big step.
He told me he was clear about making it.
When I read the film, I realised that he had written it for me -- like the person he knew me to be, not the perception that people have.
The character he wrote, Dimple, is fun-loving and mad, silly and plays pranks... that's how our equation was.
There was a lot of scope for me to have fun with it and it's one of the most enjoyable roles I had a chance to play.
Then he went on to make Gunday and Sultan. For whatever reasons, we were not working together on those films.
I was doing other projects too.
One day, he told me he was working on the script for the sequel of Ek Tha Tiger. It did not occur to me that someone would make a sequel for Tiger. But it was the most correct film that Yash Raj could have made a franchise of.
I loved the story. I loved my character.
But if I have to choose, I feel Bharat is the best film we have done together.
Kumud is the best character he has written for me.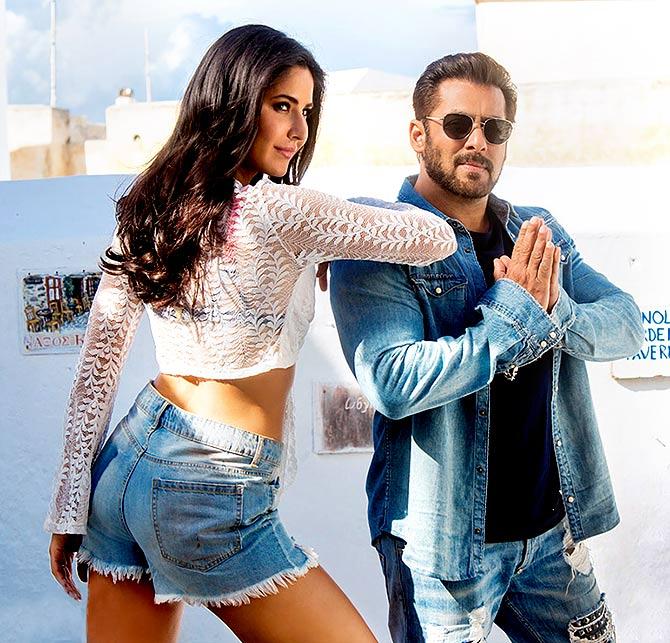 But this role was not written for you.
That's why it's a blessing in disguise.
He said he did not write it for anyone in particular, it just happened that he went to Priyanka (Chopra) because he had finished Tiger Zinda Hai and he felt that my combination with Salman would be too close (to repeat).
Because it was not written for anyone in particular and because he was certain that it would not be me, the character is very different.
Like, when Zoya (Akhtar, director) wrote Zindagi Na Milegi Dobara, they had already thought of who they wanted. Therefore, there were certain connections.
In this film, there was nothing because I was not on his mind.
That was a blessing for me as it gave me something super challenging to do, something I have not done before.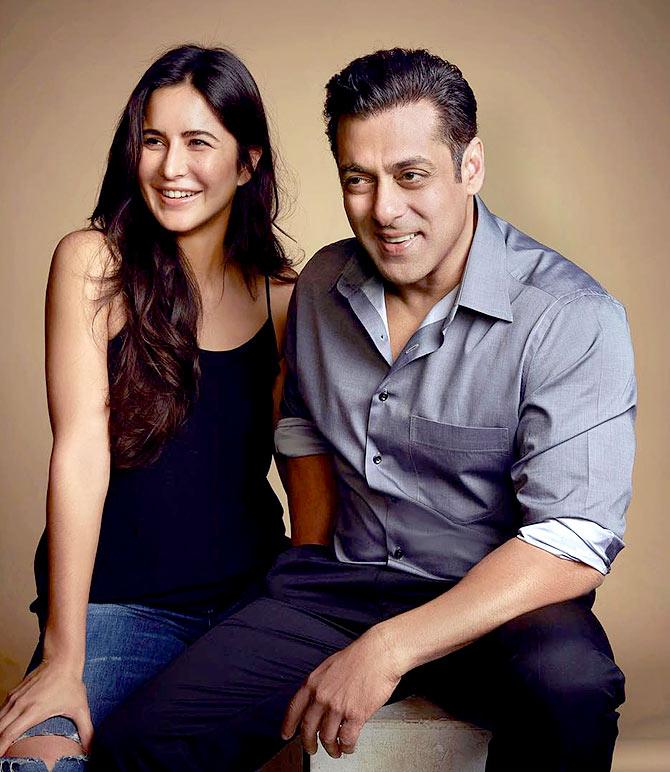 How is Salman as a co-actor?
He's great.
Any experiences you would like to share?
People like to personalise a lot but the honest truth is, after Tiger Zinda Hai released, the next time I was in contact with Salman again was on the sets of Bharat.
He was already shooting when I arrived and he just said, 'Katrina, what's up?'
That's it.
He was not overly excited to see me and all that.
Salman is Salman. When he sits in front of you, the way he is, he's like that with us too. He keeps doing, 'Hmm, hmm.'
He knew that Priyanka could not do the film and Ali had that comfort level with me, so Salman left it to him.
It was very important for me to know that it was going as per the director's vision.
I don't think Salman had any say in it.
In my mind, I felt my character -- the wife -- would be docile, timid, seedha-saadha...
But when I read it, I was shocked because, as you can see it from the promo, that's not her attitude.
She is a modern, self-made woman from the 1970s, a woman fighting in a man's world.
But she's also feminine, she wants to get married and have children.
I liked that balance and Kumud's character has that.
She becomes a newsreader in the early 1990s, so we had a specific reference in mind -- the Doordarshan newsreaders. Like Salma Sultan, the one who wore a flower in her hair.
It was a challenge to make this character look believable.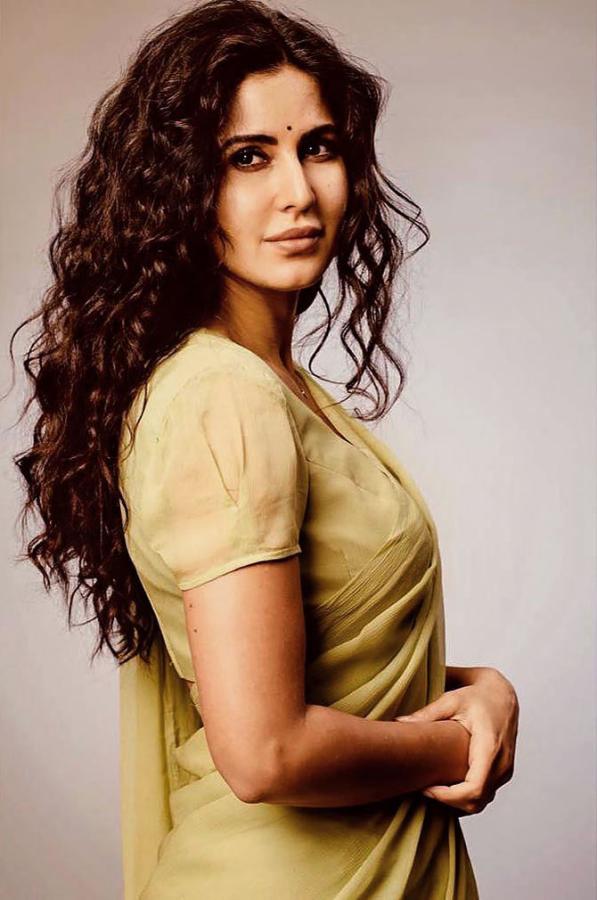 Salman said you have performed so well, you will get a National Award.
Aap jaante hai, jab Salman baat karte hai... there is always a lot of humour.
It's impossible for anyone to know -- the audience reactions, the award, we don't know these things now.
He hasn't said this about anyone else.
Toh phir yeh achchi baat hai (then it's a good thing).
When Salman says things, sometimes he just says it but it always stems from some sense of truth.
He commented like this on the sets as well.
He has appreciated what I was doing and I think that is nice because I have really given everything to this role.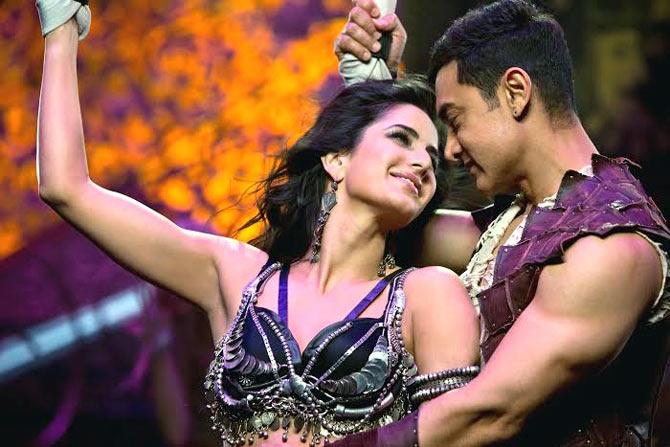 Ali said that audiences will get to see Katrina, the actor, here. Earlier, you were appreciated for your dancing skills but, with Zero and Bharat, people will talk about your acting. Do you see that change in yourself?
I am not a newcomer anymore.
How do you sustain yourself in any profession?
You have to evolve.
There should be some growth, some change, so that audiences feel they have seen something new.
You have to remain connected with your audience.
How you do that is your choice because it is different for everyone, whether it is Salman, Aamir, Kareena, me or anyone.
I keep telling my sister that there is no rule book for acting. You can go to Lee Strasberg, which is the best acting institute, and you may not make it as an actor. And, sometimes, without any training, you may become the biggest actor in the industry.
The fact that people -- people from the media who review films and audiences -- see the change now, it's wonderful for me.
It gives me longevity as an actor.
It gives filmmakers the confidence to try new things (with me).
Some films are made for entertainment, fun and masti. You don't need to go into the depth of the characters. Like, for Dhoom 3, I did not go into any depth. Like, who was this girl?
If you give me Dhoom 3 today, I would. But, at that time, I did not go there.
It was about songs and glamour.
We were trying to do things that were never seen before, in the presentation of songs like Kamli and Malang.
For me, song and dance were a big part of what I wanted to do.
For me, my songs in films come in the category of performing arts. They are not item numbers.
When I was younger, I was only allowed to watch musicals of Fred Astaire, Ginger Rogers... Seven Brides For Seven Brothers, Singing In The Rain...
That was my vision of show business.
When I came here, I used to see Madhuriji (Dixit), Aishwarya (Rai Bachchan)... they have joy on their faces when they dance.
That was my ambition.
It was never about what I was going to wear or what song it was...
But now that I have done the song and dance, lots of it, I find my enjoyment in playing a character.
I did not want to dance in Bharat.
There is only one dancing song, Aithey aa.
I told Ali I didn't want to dance but he said it was a shaadi song, that people dance at weddings.
He explained that it was a situational song and we were not moving away from character.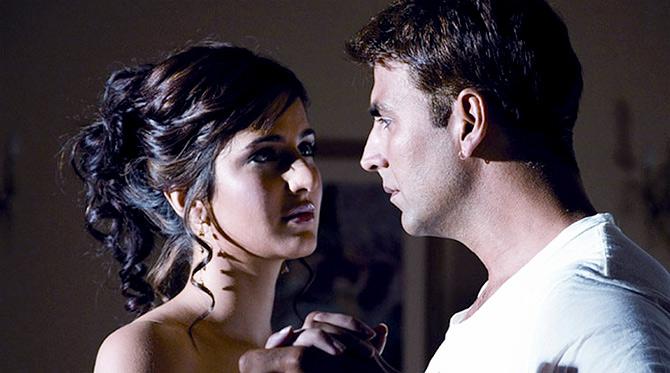 Why don't we see you in more films?
How much more time should I put in? I am already doing too much work.
In fact, I have signed a film (Sooryanvashi) too soon.
I am putting more work into a film so that takes more time.
I want to do something that challenges me, what I have not done before.
How open are you to working with new directors and actors?
Very open!
I worked with Aanand Rai sir (in Zero).
He's not new but I have never worked with him before.
I have worked with Gattu (Abhishek Kapoor, in Fitoor) and Dada (Anurag Basu, in Jagga Jasoos).
Earlier, I was doing movies by default; I had no choice then.
The first few films that you do depends on how lucky you are.
As soon as I was in a position to choose, my choices became performance-based roles. Like Namastey London. The girl's character was fantastic and Akshay (Kumar) agreed to do a film with a newcomer at the time.
In New York, I had the nicest character I've played. Neil Nitin Mukesh was a newcomer then and John (Abraham) was just coming up.
Ajab Prem Ki Gazab Kahani was Ranbir's (Kapoor) second film, right?
After that, I did Mere Brother Ki Dulhaan, where Imran (Khan) was a newcomer.
Actually, I never thought like that.
The larger-than-life feel that comes with certain films and songs takes precedence over everything.
Are you turning producer now?
I have a few ideas -- not mine, actually -- they have come to me through others. I really liked them and might put my name on them as producer.
I would like to put my name to something I feel strongly about.