Karan Johar can heave a sigh of relief. His film Kabhi Alvida Naa Kehna has opened to good reviews and house-full theatres.
Starring Amitabh Bachchan, Shah Rukh Khan, Abhishek Bachchan, Rani Mukerji and Preity Zinta, it revolves around infidelity and extra-marital affairs, a subject Karan has never tried before.
The director chats with Trans World Features correspondent Vickey Lalwani about KANK, and his worries before and after its release.
Now that KANK has released, are you relaxed?
To an extent, yes. The critics have praised my film and the opening is good. What more do I want?

You sound relieved.
Yes. One would think that since this is my fifth film (Kuch Kuch Hota Hai, Kabhi Khushi Kabhie Gham and two productions, Kal Ho Naa Ho and Kaal), it would be easier, but it got worse actually. Success makes you more insecure and edgy. I did not sleep many nights before its release because I was very nervous and scared. Since I am a director as well as a producer, the pressure is greater.

Was it tough to handle so many big stars?
The artistes I've worked with are above petty squabbles. They do have egos but they know how to hold it back because they would never want to harm a film. Above all, they are my friends. I owe the film to them but I don't know how far I've succeeded in directing them. I have received a good opening, but let's see how it goes.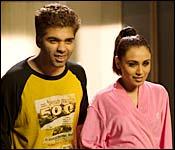 Was there a war between Shah Rukh Khan and Amitabh Bachchan?
Not at all. There is no truth in Rani-Preity stories too. They all got along pretty well unlike what the stories say. All these stories are baseless. They are the figment of someone's wild imagination. Little do such people realise that they cause terrible harm to the industry.

So what exactly is KANK about?
KANK is a tale of relationships, about why people look for love outside marriage.

Are you not in favour of getting married?
Personally, I'm cynical about the institution of marriage. I don't think I'll ever tie the knot. I maybe wrong, but that's how I feel today.

How true are reports saying that KANK is a mix of Silsila and A Brief Encounter?
That's rubbish There's only one scene that is inspired from A Brief Encounter and that is that Rani and Shah Rukh meet at a station.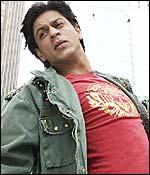 KANK is the first film you've directed since your father Yash Johar's demise. It must have been difficult...
If it weren't for his blessings, the film wouldn't have completed. I think that he was always there. Whatever problems we had, they always got sorted out easily. We all missed him, though. There was not a single moment when I didn't think of him.

What problems did you face?
Shooting in New York was not easy and we had trouble with the cold weather, over-budget schedules and location permissions. Abroad, it's not easy to get permission to shoot at all the places where you want.

People have great expectations from this film because of this great star cast. How do you react to this?
I am looking for public approval. People who love a good script and story will come to watch my movie. But I also know that there are people who will be waiting to tear apart my film. That's a part of life.
This time, I have done something different. If people are expecting a typical Karan Johar film, they will be in for a surprise.

It was surprising that you called off the premiere.
What Mumbai went through recently (July 11) was ghastly. I decided to release my film but didn't feel like celebrating with a premiere so soon after a disaster.