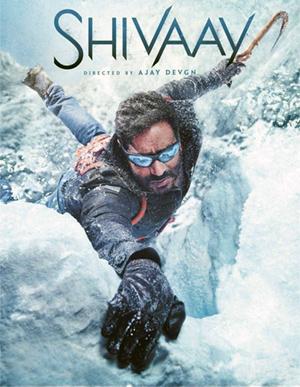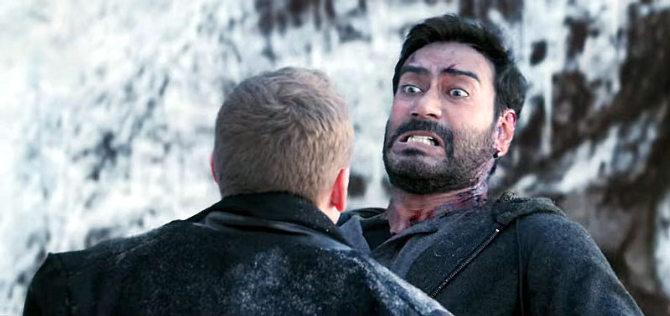 IMAGE: Ajay Devgn in Shivaay.
The box office battle between Ajay Devgn's Shivaay and Karan Johar's Ae Dil Hai Mushkil got dirty on Thursday, with former Bigg Boss contestant-turned-critic Kamaal R Khan alleging in an audio recording that he was paid Rs 25 lakh by the latter to tweet positively about Ae Dil Hai Mukshil.
Shivaay -- directed by and starring Ajay Devgn -- and Ae Dil Hai Mushkil -- starring Aishwarya Rai, Ranbir Kapoor and Anushka Sharma -- will clash at the box office this Diwali.
Ajay Devgn has tweeted an audio of a conversation-- reportedly between Shivaay's co-producer Kumar Mangat and Kamaal R Khan -- where the latter is heard saying that Johar paid him Rs 25 lakhs. This is in response to Mangat's query as to why he was tweeting positively about Karan Johar's film and negatively about Shivaay. The audio, which was reportedly recorded by Mangat, is not verified.
Devgn issued a statement this evening demanding investigation to find if Johar had paid KRK.
'I have been a part of the Indian film industry for the past 25 years and have been associated with over 100 films. My father was a professional action director and I have emotional connection with this industry,' Ajay said in a statement.
'It therefore pains me to see that people like Kamaal R Khan are holding the film industry to ransom by spreading negativity about films to extort money from producers,' he said.
'It is very sad that people from our own industry are supporting such elements and spoiling the ethos of industry. I would strongly demand that this be thoroughly investigated by competent authorities to clarify if Karan Johar was indeed involved in this,' Ajay added.
So far there is no statement from the Johar camp on the allegations.
Meanwhile, KRK took to Twitter and slammed Devgn and his team. 'I say thanks to Ajay Devgn and Kumar Mangat for giving me licence to destroy their... film #Shivaay..' he tweeted.
Later, he tweeted, 'Let me clear it. Karan Johar has never paid me or asked me to bash #Shivaay n you can hear it in the tape. I said 25 Lakhs to avoid Kumar.
'Kumar+Ajay offered me money to bash #AeDilHaiMushkil as he is offering in the tape also but I refused. I told them that I will do it free.'
With inputs from PTI.