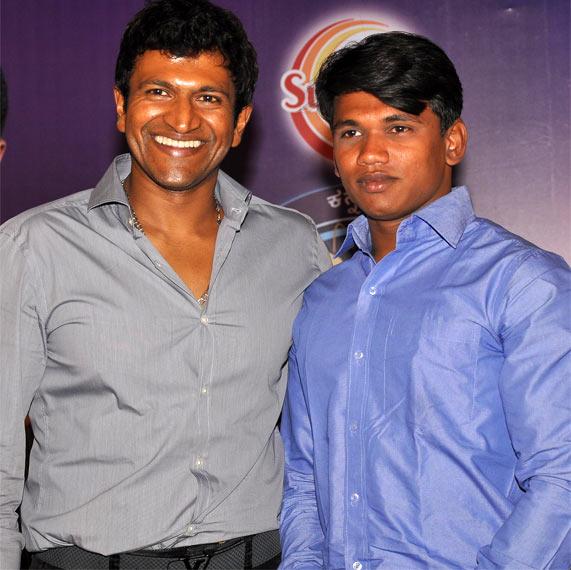 Kannadada Kotyadhipathi has got its first winner.

Hussain Basha, a college student from a village in Gangavathi taluk, Koppal district, Karnataka, won the Rs 1 crore prize money on the popular show hosted by Power Star Puneeth Rajkumar.

The milestone episode will be telecast on Suvarna channel on Monday, April 29 at 8 pm.

Kannadada Kotiyadhipathi is the Kannada version of the popular Hindi game show Kaun Banega Crorepati, which in turn was based on the global game show Who Wants To Be A Millionaire.

This is the second season of the game show and Hussain Basha has become the first contestant to win the top prize.

Basha comes from a family of farmers. He has four sisters and a brother. He did his primary schooling in his village and went on to study in a residential high school run by the Siddaganga Math in Tumkur.

"I had to discontinue my studies for four years after school due to financial constraints. I did odd jobs in Bangalore for a living during this period, including cleaning lorries. I went back to my village and joined a college to do my pre-university course in 2010 and I'm now pursuing BA," says the country's latest crorepati.

Speaking about the show and the questions, Basha said he was not good at the fastest finger first round
in the contest and barely managed to make it to the hot seat.
"Puneeth sir made me feel comfortable and he was encouraging me all the time. Initially, the questions were easy to answer but the game became tougher as I started giving the right answers," Basha recalls.
Basha cherished no hopes of winning the top prize. "I just wanted to win Rs 3.2 lakh as prize money to clear our family loan of Rs 4 lakh. I was sure that I would win at least Rs 3.2 lakh.
"I had two days' time to answer the last question. During this period I decided that I would go for it as it was a once-in-a-lifetime opportunity. I took 15 minutes to answer the last question," he said.
Host Puneeth Rajkumar says, "I am very happy for Hussain as this show has changed his life. I like his knowledge and confidence. I hope we have more common people who will reach the one crore mark."
Confirming the good news, Anup Chandrashekaran, business head of Suvarna channel, said, "We are proud to announce the first one crore winner of our show Kannadada Kotyadhipathi. We had started this show with the core thought of providing an opportunity to common people to change their lives.
'There have been contestants who have won prize monies but Hussain has created history by winning the maximum. I would like to congratulate him and his family."
Kannadada Kotyadhipathi
is telecast on Suvarna channel at 8 pm, Monday to Thursday. The show is produced by Big Synergy.