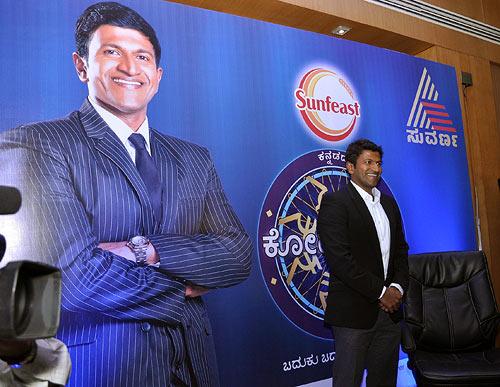 The second season of Kannadada Kotyadhipathi, the popular game show and the Kannada version of its Hindi counterpart Kaun Banega Crorepati will be back on air from March 11, Monday at 8 pm on the Suvarna channel.

The game show is being hosted by popular Kannada actor, Power Star Puneeth Rajkumar, once again in its second season.

The show, which is based on the globally popular Who Wants to be a Millionaire format, had telecast 80 episodes in the first season. The game show offers Rs 1 crore as prize money for participants who successfully answer the 15 questions in the programme.

Anup Chandrashekaran, business head of Suvarna channel said the first season saw 102 participants with total prize money of about Rs 4 crore being disbursed to successful participants.

"The format and the rules of this season will be the same as the last season. However, this season will showcase the heritage and culture of Karnataka,"
he said.
Big Synergy, the production house that put together the Hindi version, Kaun Banega Crorepati, will be responsible for producing the 'Sunfeast Kannadada Kotyadhipathi' with the core thought of this year's show being "The questions that can change your life".
Anup Chandrashekaran said the channel is spending about Rs 5 crore on promoting the show across all media.
Host Power Star Puneeth Rajkumar said, "I am glad to be doing season 2 of this show. It gives me an opportunity to interact with the common man. I have learnt a lot about the show from Siddharth Basu and his team. I hope the viewers will like and accept the show again."
Following the resumption of Kannadada Kotiyadipati, Suvarna channel has brought about some changes in telecast timings of some of its popular Kannada daily soaps, Preethinda, Akasha Deepa and Pallavi Anu Pallavi, which will be telecast ahead of the game show from this Monday.