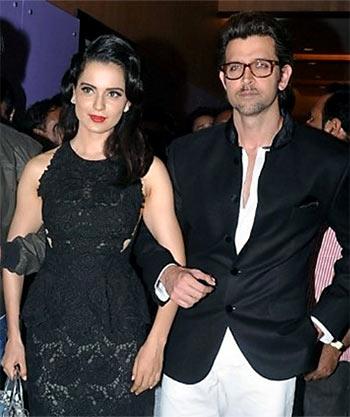 'Hrithik Roshan is in an awkward situation.'
'The world is saying Hrithik's wife left him because he had an affair with my client.'
Rizwan Siddiqui, Kangana Ranaut's lawyer, tells it like it is.
Hrithik Roshan's legal battle against Kangana Ranaut has been gaining momentum as the stars' legal teams issue statements against each other.
Where does the case stand now?
Prasanna D Zore/Rediff.com grills Rizwan Siddiqui, Kangana's lawyer.
Tell us about the legal spat between Kangana Ranaut and Hrithik Roshan.
Kangana received a (legal) notice from Hrithik. That is how it all started.
In that notice Hrithik asked Kangana to tender a public apology for calling him a 'silly ex'. This was the legal notice sent by Hrithik Roshan's team.
Is it legally wrong or a crime to call somebody a 'silly ex'?
No.
Then, what is this legal notice from Hrithik all about?
That is what we have asked him. First and foremost, you need to prove that this 'silly ex' is you.
Why has Hrithik sent this legal notice to your client?
What does the word 'silly' denote? His case is not about the word 'silly'; his case is to do with the word 'ex.' He is saying the word 'ex' hints that there was something going on between the two (Kangana and Hrithik).
So Hrithik does not agree that he had a relationship with your client?
Hrithik Roshan does not agree to the particular view of my client that there was no relationship between the two of them.
But hasn't your client said there was an 'affair' between her and Hrithik?
My client is not talking about it at all. She is not bothered about this at all. She has not spoken about it till now.
If you go back in time and search on the internet, you will see reports from January 2015 that will talk about these two seeing each other.
So, the whole world is thinking, writing about the two as a couple and till about a week ago, Hrithik Roshan made no effort to stay away from my client.
They have been publicly seen together; they have been shot in the same frame by photographers...
But is your client opposing Hrithik's contention that they had nothing to do with each other?
My client does not want to talk about it at all. My client says, 'You (Hrithik) don't want anything to do with me, na? Good for you. But I don't want to say anything because I have moved on in life.'
When your client says 'I have moved on in life' in response to this notice, isn't she indicating that they had a relationship? What's your official position?
The very fact that Hrithik Roshan received 1,450 emails on his correct email address without any protests, without any complaints, what does that prove?
What kind of emails are you talking about here?
Those are private emails, personal emails from Kangana to Hrithik... that is what Hrithik says.
I haven't checked those emails, but that is his own admission that he has received so many emails from Kangana.
And despite that, he is denying that he and Kangana had anything to do with each other?
My question to you, supposing you are Hrithik Roshan, is this: As a married man, as a father of two, you are receiving explicit emails as you claim now...
Explicit? Could you please explain what 'explicit' means here?
'Explicit' is what Hrithik Roshan says basically because he wants to deny the whole thing. He is making efforts to deny the whole thing...
By 'the whole thing,' do you mean an 'affair' between the two?
Yes. He has gone to the extent of saying that they don't even know each other socially.
My question to you is: If you were not known to each other socially, how were you attending my private birthday party? How was I attending your private birthday party? How was I coming to your house for Ganesh Chaturthi?
All these photographs are in the public domain.
It was not that we were meeting at some third person's birthday party. It was like I am calling you for my party and you are calling me for your private party.
Now, who do you call for your birthday parties? General public? Strangers?
Therefore, Hrithik Roshan has made wild and baseless allegations without being able to substantiate them.
Also, the burden of proof lies upon him because he is the one who is making these allegations; he has patently lied about it, not my client.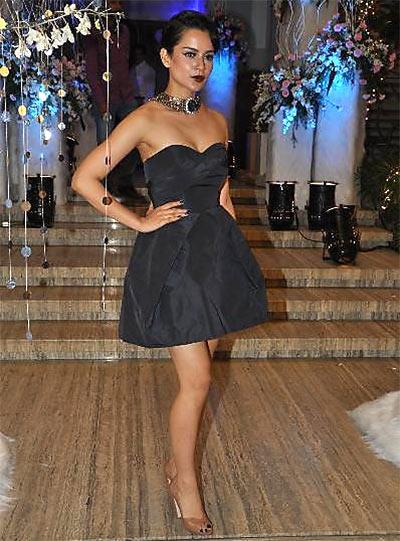 IMAGE: Kangana Ranaut attends Hrithik Roshan's sister Sunaina's birthday party in 2012.
Will your client be giving a statement to the police later this month on this issue?
Yes.
The legal position is this: Hrithik Roshan claims he knew about some impostor in 2014. As a superstar, if there is any impostor (impersonating you) in the market and you know about that impostor as per your own claims, then what would you do?
Won't you report to the police about it immediately? Or will you do that after eight to 10 months?
And besides that, you claim that you don't know Kangana socially and there is no relationship between the two of you.
So, would you not then ask Kangana to give you the details of that impostor immediately?
Did Hrithik reply to any of those 1,450 mails from Kangana?
These are all the claims of Hrithik Roshan. Whether he replied or didn't, I don't want to get into this.
Did your client send these 1,450 mails to Hrithik Roshan?
No. My client's email IDs were hacked eight months ago.
Why didn't your client bring it to the notice of the police or file an FIR if all her email IDs were hacked?
My client did not want to bring all these things to the notice of the public or the police because this was a private matter between two private individuals.
Can't Hrithik's side come forth with the same logic about his mail being hacked by an impostor?
See, you are confused. There are two email IDs. One is Hrithik's correct email ID and the one he claims is an impostor's email ID.
The impostor's email ID is not the one that received these 1,450 mails; they were sent to his correct email ID.
So if Hrithik Roshan is saying that an impostor is using his email ID, how would he know many emails were sent by my client?
Any reason why he is trying to wash his hands off the relationship between him and Kangana as you claim he is doing this all for?
The main reason is that I have put him in the dock by sending him a 21-page counter notice and asked him to reply to that.
What is the crux of this counter notice that you have slapped on him?
I want Hrithik to prove and substantiate the charges he has levied against my client.
My basic question was why did he lie about not knowing my client for so many years? Do you have some guilt in your mind?
My second question is that as a responsible citizen, why didn't you do anything about this impostor, who you claim you know for two years now?
My third question is that you are a married man, a father of two, who has been receiving so many unsolicited emails. Why did you not immediately put a stop to that? Why were you receiving it and keeping them for later use?
Suppose, you are Hrithik Roshan and I am Kangana Ranaut. I have sent you 1,450 emails on your correct email ID which you have been receiving. And you say that there is nothing between the two of us.
Let me put it this way: You are a married man and a girl, who is not known to you, is going on sending you 1,450 emails with photographs, videos, poems and with (pauses) you know (pauses) everything. Will you keep receiving them if you claim you don't know who the sender is?
In 2014, you, as a married man, are receiving emails from an unknown girl. The media is linking you to that girl. You still continue to meet that girl, still take photographs with that girl, still receive emails from that girl and you still do not send any notice to that girl. You still keep quiet. What does this mean?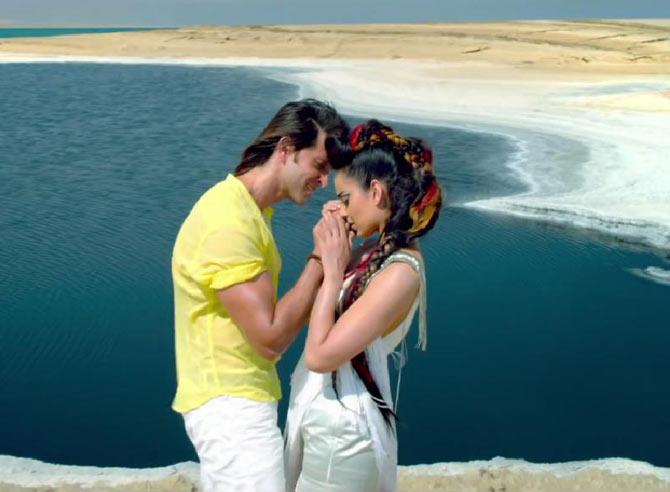 IMAGE: Hrithik Roshan and Kangana Ranaut in Krrish.
Are you contending that Hrithik used this episode to gain publicity?
Why would he need publicity? He is a superstar.
He is trying to hide the fact (of an 'affair' with Kangana) because he is in an awkward situation. The world is saying that Hrithik's wife (Sussanne Roshan) left him because he had an affair with my client.
What good could Hrithik gain from denying his relationship since he is already divorced from his wife?
Some people do not get into relationships because they really want to maintain it. It could be a fling, it could be anything. Normally, men are known to be less emotional (to break ups). They move on.
So, you are saying that Hrithik has moved on?
Both of them (Kangana and Hrithik) have moved on.
Why did you say you would get Hrithik arrested under Section 67 of the Information Technology Act?
That (he could get Hrithik arrested under Section 67 of the IT Act) was carried by the media, but it was not said by me.
He had threatened to use my client's pictures and tarnish her image. So I said that if you do this, you will be liable to be tried under Section 67 of the IT Act (transmitting obscene material in electronic form).
But isn't threatening to do so in itself a crime?
I have written to the (Mumbai) police commissioner already.
My client doesn't want to get into this muck.
If you check the records -- and I am giving statements only on behalf of my client -- because Hrithik is doing something, so I am defending my client.
From our side, we are not doing anything.
Why didn't you file a police complaint or an FIR (First Information Report) against Hrithik for his alleged threat?
The minute we file an FIR -- we can file two FIRs, not one -- the entire thing will go haywire.
Hasn't this case already gone haywire?
No. It is Hrithik's case, na? Let Hrithik prove (his charges against my client). He hasn't proved anything yet.
We are reserving our rights (about filing an FIR against Hrithik). We will do what we want later on. The entire thing is Hrithik's case, not our case.
Is this not just an allegation from your side that Hrithik threatened your client?
You don't have anything substantial to prove your charge and that is why you haven't yet filed an FIR against the actor?
It is not an allegation. I have my (legal) right to file a case up to three years from the date of happening of that event.
But aren't you then defaming Hrithik?
The meaning of defamation is very simple. It is saying something which is 'legally, factually wrong.'
Reserving my right doesn't mean that I am legally wrong. It's just that I am not exercising my right.
Then you have proof that Hrithik threatened your client?
Yes, everything is on record.
But you will not file an FIR against Hrithik?
We are withholding our right. When push comes to shove, we will do our best. We will do it.