The actress stood out in an off-shoulder shimmery dust blue gown.
She teamed her gown with a classic bob, which is similar to the look that she will be seen sporting in her upcoming film Rangoon.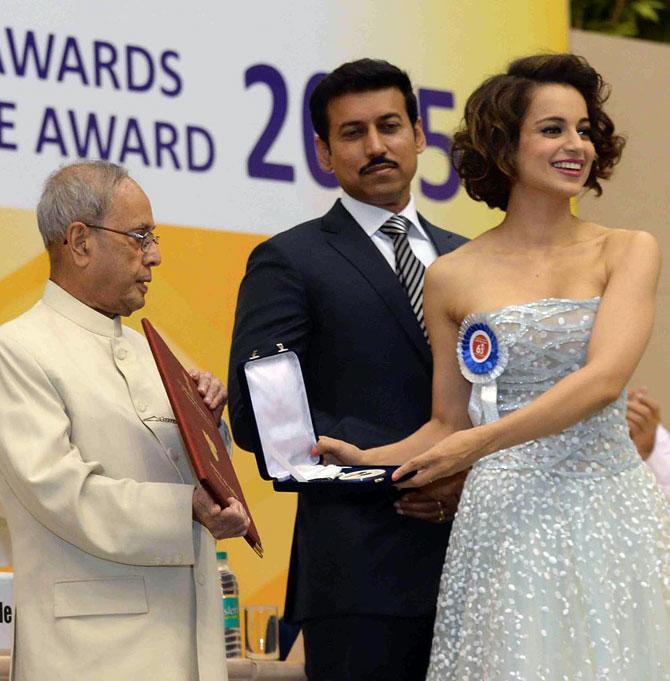 IMAGE: Kangana Ranaut receives the National Award from President Pranab Mukherjee at Vigyan Bhavan, May 3, 2016. Photographs: Rashtrapati Bhavan/Facebook
Bollywood star Kangana Ranaut's mother came out in support of her actress daughter, saying the controversy surrounding her alleged relationship with actor Hrithik Roshan is "nonsense".
Asha Ranaut turned up at the 63rd National Awards to cheer for her daughter, who was honoured with the best actress recognition for her dual role in Tanu Weds Manu Returns.
Amid Kangana's personal turmoil, Asha said her daughter's rise in Bollywood is remarkable.
"I am proud of her and her achievements. I am very happy that she is at the peak of her career and has got till here only with her hardwork."
"The whole controversy is nonsense. We wouldn't want to comment on it. Our lawyers will only talk about it. She is coming out stronger in these testing times," Asha told PTI.
Also present at the awards were Kangana's father, sister and brother.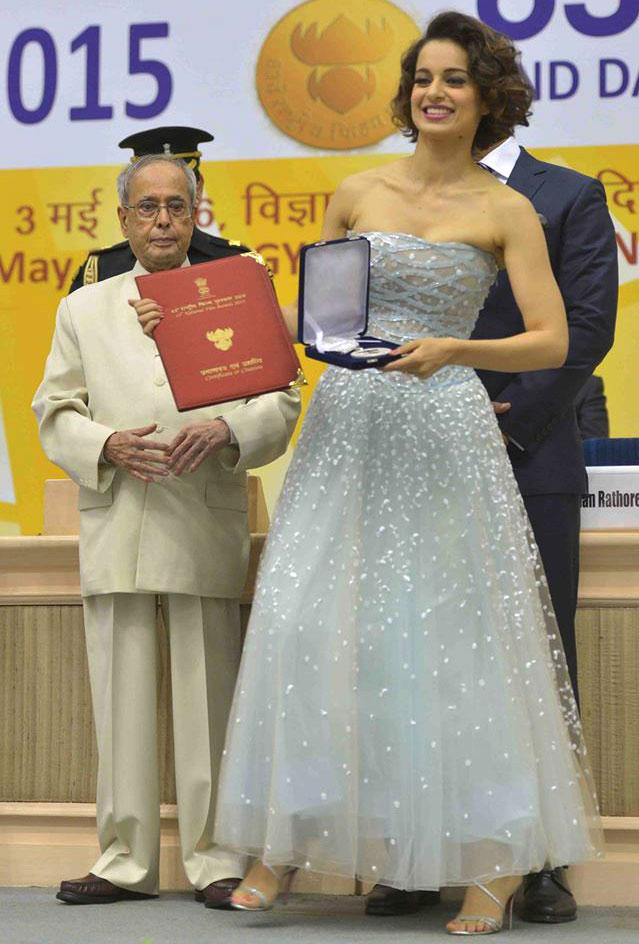 IMAGE: Kangana Ranaut exultant after receiving her third National Award, Vigyan Bhavan, May 3, 2016.
The 29-year-old star's father Amardeep Ranaut said it was a proud moment to see his daughter receive her third National Award from President Pranab Mukherjee.
"I am very happy. I am a proud father and it is a matter of great pride," he said.
The actress stood out in an off-shoulder shimmery dust blue gown.
She teamed her gown with a classic bob, which is similar to the look that she will be seen sporting in her upcoming film Rangoon.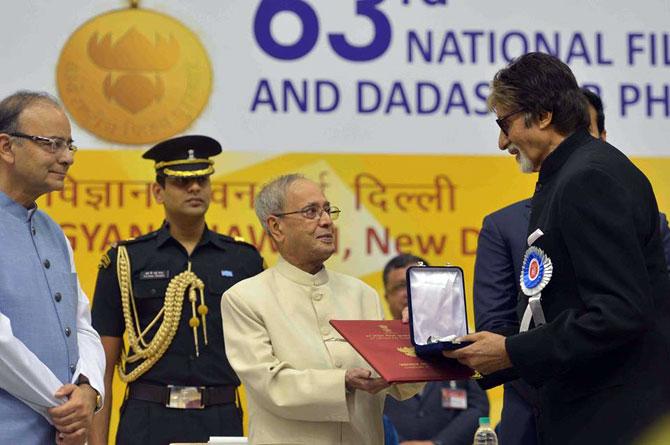 IMAGE: Amitabh Bachchan, whom the President hailed as a legend, with his National Award.
Unlike the traditional attire opted by Indian celebrities for such events, Kangana usually goes for international coture. She had opted for a dust pink gown by India-born designer Bibhu Mohapatra at the 2014 National Awards where she was honoured for her role in Queen.
Her first National award was in the best supporting actress category for Fashion.
As she arrived, Kangana greeted Amitabh Bachchan, who was seated next to her and later met his family.
Bachchan won the best actor honour, his fourth National Award, for his role in Piku.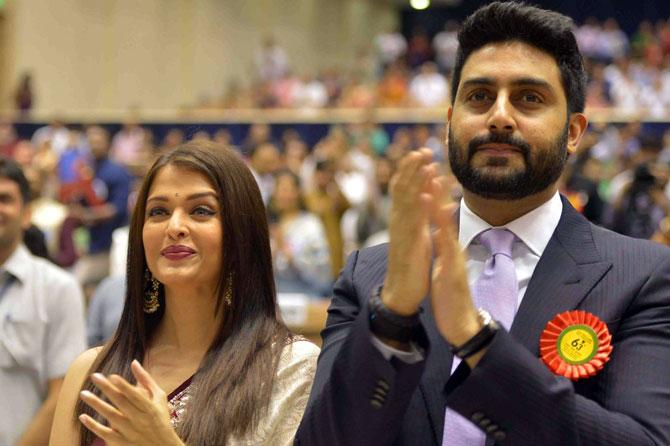 IMAGE: Present in the audience Aishwarya Rai-Bachchan and Abhishek Bachchan, making his second public appearance after his recovery from a slip disc.
"I am very happy that this time there are a lot of newcomers, who have won awards and what makes it more special is that there are legends, living legends, like Mr Amitabh Bachchan, who have been honoured too," President Pranab Mukherjee, who presented the Awards, said.
India, the President said, has never allowed divergence to create disunity as its people always find an underlining unity, lauding filmmakers for making movies which truly reflect Indian character.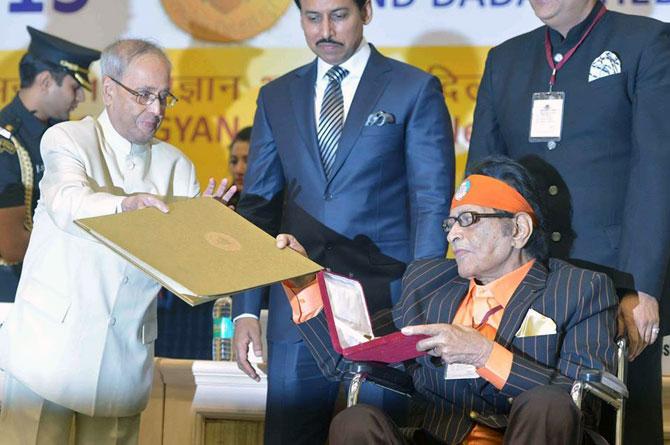 IMAGE: Manoj Kumar, the 47th recipient of the Dadasaheb Phalke Award.
President Mukherjee conferred the Dadasaheb Phalke on actor Manoj Kumar besides presenting the other awards.
The 78-year-old actor, best known for his patriotic films Purab Aur Paschim, Upkar and Kranti, received a standing ovation from the audience as he was taken to the stage on a wheelchair at Vigyan Bhavan to receive Indian cinema's highest honour.
The actor -- the 47th recipient of the award -- sported an orange bandana of Sai Baba. He presented the President with a crystal statue of the deity as he received the honour. Manoj Kumar was presented the Swarn Kamal medallion, a cash prize of Rs 10 lakh (Rs 1 million) and a shawl by the President.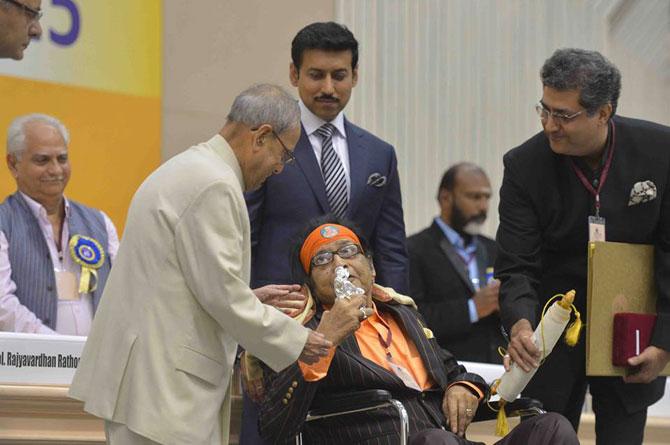 IMAGE: Manoj Kumar presents a crystal statue of Shirdi Saibaba to the President.
"We did never believe in exclusion, always in inclusion," the President said. "We did never allow divergence to create disunity. We celebrated divergence because always it finds an underlining unity," he said.
He expressed his gratitude to Indian cinema and its doyens from past to present who, he said, are contributing to make "Indian films truly reflective of Indian character of unity amidst diversity."
The President said he had learnt that the domestic revenues of the film industry have risen to Rs 138 billion in 2015, up from Rs 126 billion the year before. Even the external revenues have grown from Rs 8.6 billion in 2014 to Rs 9.6 billion in 2015.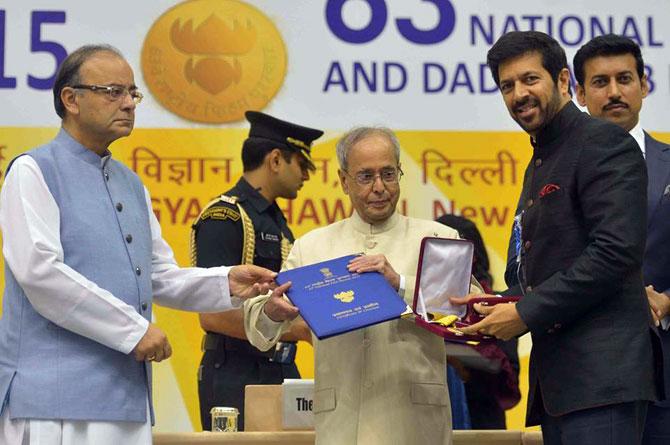 IMAGE: Director Kabir Khan, who was unfortunately hooted at Karachi airport last week for his movies, Phantom and Bhajrangi Bhaijaan, receives his National Award for the latter Salman Khan blockbuster.
President Mukherjee said he sometimes marvels at the varieties of Indian films and added that managing India in itself is a challenge as it is a country with 1.2 billion people who speak 122 languages, 1,800 dialects, follow seven religions and belong to three major ethnic groups.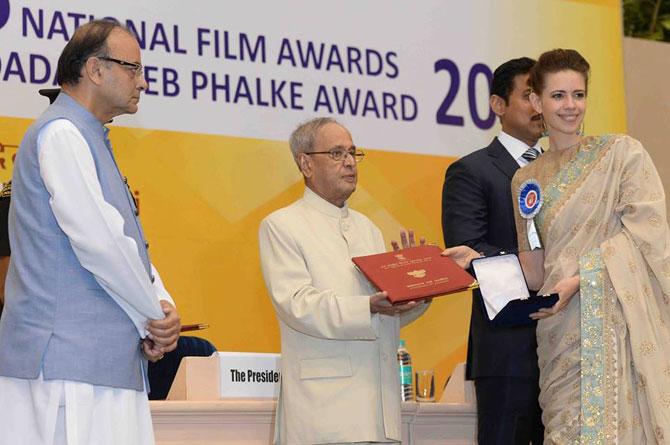 IMAGE: Actress Kalki Koechlin with her National Award for Margarita, With A Straw.
Referring to Information and Broadcasting Minister Arun Jaitley, he said Jaitley, who is also India's finance minister, must be extremely happy as the industry is contributing to the exchequer and helping him in its way in solving the "monumentous problems" that he faces while looking after the economy.
Earlier in his speech, Jaitley said the National Film Awards were "truly national" as a distinguished jury selects the best films from hundreds of movies in various categories.
India's diversity, different cultures and languages are displayed in this industry, Jaitley said, which is "multilingual and has come of age".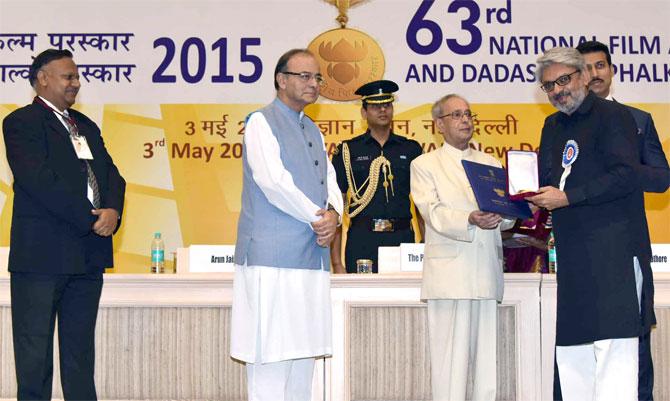 IMAGE: Director Sanjay Leela Bhansali with his National Award for Bajirao Mastani.
Filmmaker Sanjay Leela Bhansali said Bollywood and cinema from other regions should not be differentiated as Hindi filmmakers work as hard as their regional counterparts.
Bhansali was honoured with the Best Director award for Bajirao Mastani at the 63rd National Awards, which was dominated by Bollywood with other winners including Amitabh Bachchan (Best Actor) and Kangana Ranaut (Best Actress).
"In today's time," Bhansali said, "I don't think that there is anything like Bollywood and regional cinema. I think it is cinema and everybody gets a space to showcase their work. Everybody works hard. Bollywood works as hard as regional cinema makers. Our job is also very difficult."
"It is so special," he said of his first National Award. "It is the acknowledgment of the government. You are being compared with the best of the nation. And there is a great jury comprising of talented people. It means a lot. It is a very proud moment for me. It is a reward for the twenty years of my hard work."
More photographs from the National Awards presentation ceremony will be posted on Wednesday. Stay posted, folks!