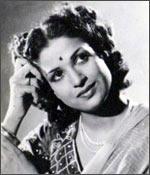 Not many know that
Kamini Kaushal
was the first heroine Lata Mangeshkar ever sang for. It was for the film
Ziddi
, way back in 1948.
As rediff.com continues our celebrations to mark Lataji's 80th birthday on September 28, Patcy N asked the legendary actress to look back about her association with the amazing singer.
Lata sang for me in Ziddi for the first time. That was the first time she sang for the leading lady in a film. Before that, she sang for actresses in supporting roles.
She sang very beautifully.
Shamshad Begum and Surinder Kaur -- whose voices had more base -- used to sing my songs. Nobody's voice matched mine because my voice is slightly high-pitched. In Ziddi, Lata had not started singing in the pitch that she sings in now. Still, her voice matched mine so well that people thought I had sung the song myself!
On the music credits on the record, Lata's name was not mentioned. Instead, it was mentioned that Asha sang the songs -- Asha was my screen name. That's why people thought I had sung it.
I received so much fan mail, it was unbelievable! I did not know what to do because I was getting credit for something I had not done. So I wrote back to my fans saying that Lata Mangeshkar had sung the songs.
About 20 years after Ziddi released, I was the MC for for the National awards. Lata was supposed to get an award. I narrated this story there.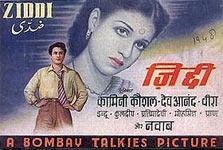 I have not met her often, as our fields are different -- she's a singer and I'm an actress. But later, she sang for my productions -- Poonam and Night Club. Lata is a very sweet lady. She's very obliging and gracious./P>
I remember when I had called her and asked her to sing for my production. After she finished recording the song, I told her I had another song. It was a small song, not picturised on the leading lady. It was to be shot on a fisherwoman. Lata agreed to do it.
She recorded it in five minutes without any rehearsals. And she did not take any payment for it. She's terrific.
I like her voice because it has that high pitch.
I love her hair too. She has long and gorgeous hair, which comes trailing down to her knees. She is such a soft-spoken person, she talks in whispers. Even when she sings, the mike is very close to her mouth.
Also in the series: 'Lataji is the universal Didi,' says Ram Kumar, acting legend Sivaji Ganesan's son, while singer Sunidhi Chauhan, composer Jatin and reader Yousuf sing their favourite Lata songs.