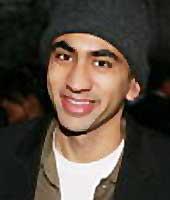 He may be best known for the stoner comedy, Harold And Kumar Go To White Castle, but Kal Penn's concern for immigrants' rights and issues involving Asian-Americans is no schtick.
On his website, he endorses the American Red Cross, Unicef, Narika, a Berkeley, California-based group that aims to empower women, Asians for Miracle Marrow Matches, and the AALDEF, the Asian American Legal Defense and Education Fund.
Penn was a special guest at the AALDEF's lunar new year celebration at Chelsea Piers in New York City February 2. The annual event, also occasion for presentation of `AALDEF's Justice in Action Awards,' has in recent years seen honors conferred on writer Salman Rushdie, director Mira Nair, and New York-based activist Bhairavi Desai.
'Namesake is very uncannily my story!'
Penn, who will soon be seen in Superman Returns as Stanford, an associate of baddie Lex Luthor, and in the lead role of Gogol Ganguli in Mira Nair's The Namesake, was scheduled to deliver a special message at the AALDEF awards gala that evening.
Dressed in a light blue shirt and dark jacket to which the hosts had pinned a red flower, Penn said The Namesake, based on Jhumpa Lahiri's novel of the same name, held a personal connection.
"One of the reasons that I was inspired to be an actor was one of her (Mira Nair's) earlier films, Mississippi Masala. Ever since I was younger, one of my goals was to work with Mira," he told India Abroad. The Namesake, he said, is also among his favourite books. "All of those things came together to be able to tell a story that is, in my opinion, a very universal American story."
"We have all come from some place, and the story happens to follow two Indian Americans and then follow their kid growing up in America," he added. "It's a very American story. In that sense it's also very personal."
Penn said though he was not aware of any release date being established, the film was expected to be released toward the end of 2006.
About his activism and support to the AALDEF, he said, at a press conference preceding the awards ceremony, it stems from the values he acquired from his immigrant parents and his grandparents, who participated in the Mahatma Gandhi-led non-violent struggle for freedom from the British.
The AALDEF, in its 32nd year, is a civil rights organisation that blends litigation, advocacy and education in its work with Asian American communities across the United States. Examples of its work include representing a Bangladeshi father and son facing deportation after complying with the Department of Homeland Security's special registration program. AALDEF is monitoring collaboration of immigration officers with the local police, and has filed complaints on behalf of a Palestinian driver facing deportation who charged that the police violated an executive order for confidentiality by disclosing his status to Homeland security officers.
"It is a critical time in our history. The attacks on civil rights and civil liberties have never been more intense," Margaret Fung, AALDEF executive director, said at the press conference. She said it was important for people to oppose of the immigrant bashing that had been going on and to take a more expansive look towards the future. "Our honorees tonight really represent that vision," she said.
The 2006 Justice in Action awards were presented to Charles J Ogletree, Jr, a law professor at Harvard Law School, litigator and activist; Katrina Vanden Heuvel, editor of the progressive political journal The Nation; Ivan K Fong, executive vice president at Cardinal Health, a leading provider of pharmaceuticals, medical supplies and clinical services.
Judge Denny Chin, a federal district judge in the southern district of New York, and Peter Kwong, a professor of Asian American Studies at CUNY/Hunter College, were among the presenters.
Photograph: Getty Images