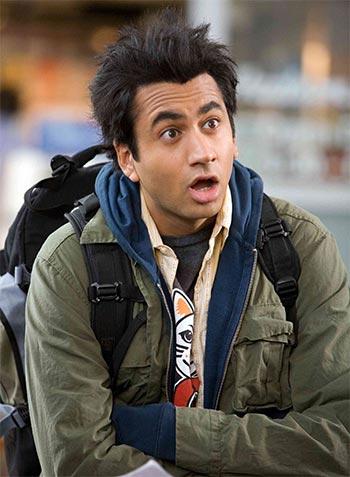 '...But my strong suit will not be dancing,' Kal Penn tells Vaihayasi Pande Daniel/Rediff.com, in the concluding part of the interview.
Also read: Part I of the interview: 'I'm not related to Narendra Modi!'
Part II of the interview: 'I am always excited to come to India'
'I'd do a Hindi film that's a mix of Kuch Kuch Hota Hai and The Lunchbox'

Review: Bhopal: A Prayer For Rain is a haunting film

Kal Penn's biggest break was his appearance, at 27, in the first 2004 Harold & Kumar film, with another Asian American, John Cho, that went on to become a hit stoner comedy trilogy and will be reborn in an animated version on television.
Even in India -- and as expected among the journalists he just met, who pose for selfies with him and tell him, "We grew up on your films... Are you aware of your Indian fans?... Today we actually get to see you face to face!" -- he realises the amount of popularity Kumar Patel still lends him.
It is a film role Penn continues to cherish: "When I am 60, I might be doing Harold & Kumar12," he says.
The actor recounts how the film had actually been a box office failure but magically gained an avid fan following three months after its release, when it went on DVD. Those who liked it started passing it on or advising their friends to download it, because the universal theme of friendships began to "resonate" with everyone or as Penn calls it the this-is-so-us feeling.
"We shot it for almost no money. We thought it was funny. I guess nobody else did. It maybe lasted a week. It did such bad business. Nobody went to see it... It really was a fan-driven thing. We feel a debt of gratitude to them... I love you guys."
Penn goes on to explain that that film has been his lucky charm and everything good that has happened to him somehow started with Harold & Kumar, although he tacks on, "Kumar is way cooler than I will ever be!"
His next bit of good fortune was a role as Gogol in Mira Nair's The Namesake, based on Jhumpa Lahiri's novel. That break too had an H & K connection.
Penn has always been a fan of Lahiri's books and short stories: "I want to be in everyone of her stories from Accustomed Earth to Interpreter of the Maladies."
And when he read The Namesake, he and John (Harold) had a wild idea that they were going to be the guys to turn it into a film and bravely asked their lawyers to secure the rights. The lawyers came back with the information that the rights rested with Nair.
A somewhat relieved Penn mounted a super-aggressive campaign to get a role in it. When calls to Nair's office elicited absolutely no response, he wrote her a letter.
"I wrote her that The Namesake is one of my favourite novels, Jhumpa is one of my favourite authors, which is true. And one of the reasons I became an actor is because I saw Mississippi Masala in eighth grade with Denzil Washington and Mira Nair and (said to myself) I can do this for a living!"
He got his call and flew to New York for the audition.
When he met Nair, she told him: 'You should know that the biggest reason you are here is because my 13-year-old son and his friend are huge Harold & Kumar fans. For the last six months, Zoran and his best friend Sam have been telling me that I have to audition you for Gogol...' Zoran even dragged Nair to a computer to showed her a clip from Harold & Kumar, which, says Penn, "Hurt my case more (because Mira saw it) and said: 'Clearly this is not Gogol'.
And the rest was history.
"Anything that Jhumpa does (in the future) I would like to be a part of. In anything that Irrfan (Khan), Tabu and Mira do I will glad to be an extra in the back of the room... This is how much I liked working with those guys."
Penn will be appearing January 2015 on CBS as a police detective in Battle Creek. And he just finished a four-week show called Midterm Mayhem that aired on Fusion -- "Sort of a cross between The Daily Show and MTV news. There (were) news elements to what we (were) covering but it was a lot of youth-focused stuff... using humour to highlight stories of the midterm elections in the States."
He is definitely part of the changing South Asian face in Hollywood and American television, but does not speak in absolutes about the acceptance.
"I always hesitate in saying there's a day when acceptance has been achieved. Who gets to decide that is what acceptance looks like," he says. "You would never have seen a show like the Mindy Project, five or 10 years ago. Mindy Kaling is incredible, super talented, amazing. That's a testament first and foremost to somebody like Mindy or somebody like Aziz (Ansari, comedian). They write their own stuff. They are insanely funny. They're really nice people. I think Hollywood has taken notice of that and also because audiences really want to laugh; they are sick of seeing the same stock characters they have seen before."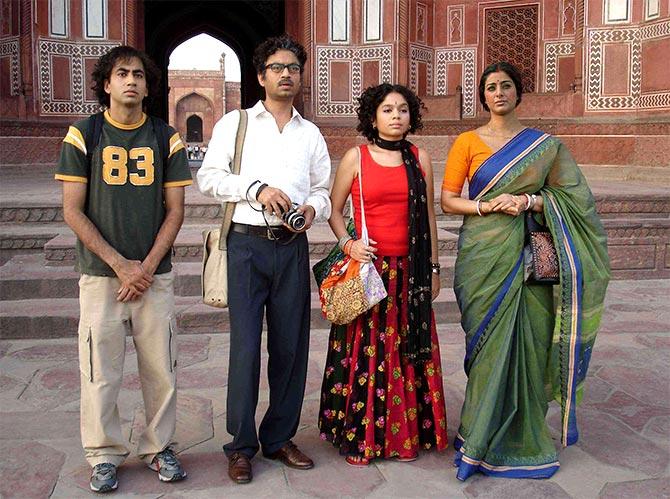 Image: Kal Penn, Irrfan Khan, Sahira Nair and Tabu in The Namesake.
Penn says he believes Hollywood is a lot more open now than it was even five years ago and he wishes it continues that way.
"When I get offers I think are stereotypical, or not particularly challenging, for one reason or another, I can say no, because of the point that I am in my career. But there is no shortage of actors of Indian descent in New York or Los Angeles or Chicago who don't have that opportunity... Things are changing slowly... moving in the right direction and I hope they continue to move in the right direction and casting is more colour blind than ever."
Bhopal is his first exposure to the world of Hindi films although he catches a Hindi film now and then (D-Day on Netflix recently and Gunday on the plane: "I liked both of them.")
The most startling aspect of working in Bollywood, for him, was learning how many productions people worked on at the same time.
"I was talking to Bollywood actors here and they would say, 'Yeah, these are the five movies I am working on right now.'
"'Oh my god, you are shooting for five movies?! Simultaneously or back to back?'"
"'No. no. On Monday, I will shoot this... Tuesday I will shoot… (he says slipping into his perfect Indian accent).'"
"Oh my God! That's incredible. I would love to shoot five Bollywood films simultaneously. That seems so insane and awesome... But how do I put this... my strong suit will not be dancing."
The two Bollywood films he wished he had a role in are the 1998 megahit Kuch Kuch Hota Hai and the Irrfan Khan starrer The Lunchbox.
Penn returned to acting in 2011 to do How I Met Your Mother (Kevin Venkataraghavan for a season) after a two-year spell serving on Barack Obama's team at the White House.
He says he prefers to always follow several interests in addition to acting, hence the teaching gigs or even flirting with the idea of writing a book. It was therefore not surprising that a writers' strike in Hollywood led him in 2007 to volunteer for the Obama campaign. The fact that everyone was predicting that Obama was an underdog and said things like "Nobody can pronounce his name. Good luck," according to Penn, inspired him to join and take a break from acting for what he calls a public service stint, not politics ("No plans to run for any office").
The importance of public service was instilled in him, while growing up in New Jersey, by his Gandhian Gujarati grandparents, who came to stay every year, from Mumbai for six months.
"At seven, (I had) a grandfather telling me stories about marching with Gandhi -- 'Eat your Roti, come on, I'll tell you another story, take another bite'. I didn't realise what he was telling me until I reached high school and realised what he told me was the entire basis of the American civil rights movement -- concepts of non-violence, civil disobedience, Martin Luther King. That I think was my thought when I started volunteering for the Obama campaign. I am not a Democrat, not a Republican, and will always be an independent."
While his agent was horrified about the proposed break, Penn says he could not say no to the White House, when he was offered a chance to serve the country, through the job of an associate director of public engagement, where he worked from 2009 to 2011. It is a role he would "do again in a heart beat."
What is your present role in the Obama Administration?
After 2011, I came back to acting full time but was appointed to something called the President's committee on the arts and humanities, something I am currently serving on... The arts commission works on arts education projects in 34 schools around the country. (It focused on arts education in underperforming schools and takes an art education approach to increasing reading and math and language scores, he explained earlier).
...A lot of the work you do with the commission is maybe once every two weeks with conference calls or e-mail or going on site visits to teach kids the arts... that kind of thing. The commissions let you work full time in your private sector career. When you are a full-time staff member at the White House, you can't do anything else.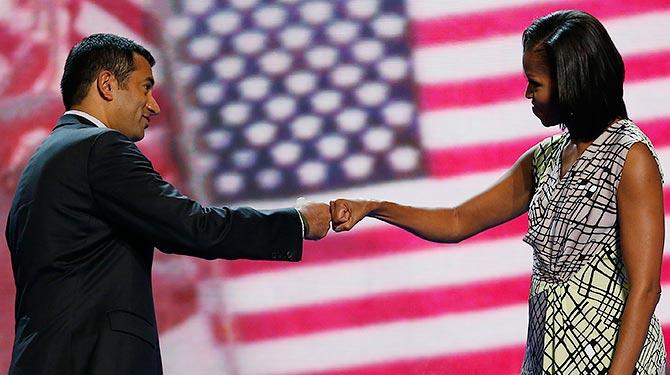 Image: US first lady Michelle Obama 'fist-bumps' Kal Penn. Photogrpah: Jim Young/Reuters.
What did you learn when working full-time for the White House?
I learned so much I wouldn't know where to begin.
I learned patience, I would say. One of the frustrating things about any democracy is that change happens slowly. It's a good thing, because it means we don't have a dictatorship (laughs). But it can be frustrating if you are executing certain promises and trying to make them happen. A lot of the things the office that I worked on/was responsible for was outreach related to things like the health care law in the US or a policy called Don't ask, Don't tell in the military.
I worked mostly on youth issues. Those were things that young people overwhelmingly supported. But young people are not the only ones that drive how that process happens so it took the better part of a year and a half to get that stuff done. I learned a lot about how coalitions are put together. How you wangle votes in Congress. How young people can support the political process. What maybe derails the political process. It was very eye opening and very different from the work you do in Hollywood as an actor.
Is your engagement with politics going to end with Obama's term? Maybe you were in it because it was a historical moment…
I don't know. I am not a Democrat. None of this was planned. I do support the President and continue to support him.
So you got into this because of Obama's persona or because of the moment?
It was having a very different type of person running for office with a very different set of qualifications and backgrounds that I think was very necessary and remains very necessary.
Hopefully, there will be other candidates like that in the future. I always want to remain engaged in the civic process. I don't know if that means the political process necessarily. I have always voted since I was 18. So, none of that will change necessarily. But I don't know how active I will be.
What do you tell the Indian American community about voting, about being involved, about running for political office?
I don't know that I have any unique advice aside from the obvious which is the more people vote and participate in the process the more the interests of the community are represented. You see that across the board…
Indian Americans statistically tend to vote Democratic. Yet two of the most phenomenal, talented politicians, who I may not agree with politically, who I certainly admire (are Republicans) -- Bobby Jindal and Nikki Haley, two governors of incredibly conservative states, incredibly homogenous states and they have really achieved something remarkable because of their individual merit and the way that they have climbed the ladder.
For any ethnic community, any regional community, the more that you vote, the more you participate in things, the more things change.
Issues that affect Indian Americans are issues that affect all Americans -- the job market, the cost of education, health care.
The things that are unique to the Indian American community are things like immigration which is a big topic in the US -- comprehensive immigration reform, visa structuring. All of that disproportionately impacts certain communities, especially recent immigrant communities.
Certainly, the Uncles and Aunties (he pronounces that with a mischievous Indian inflection and smiles) love to have dinner time conversations that sometimes get heated about this stuff. But nothing changes unless you actually register to vote on a vote. If, for nothing else, those passionate feelings can be put to vote one way or the other. It makes a difference.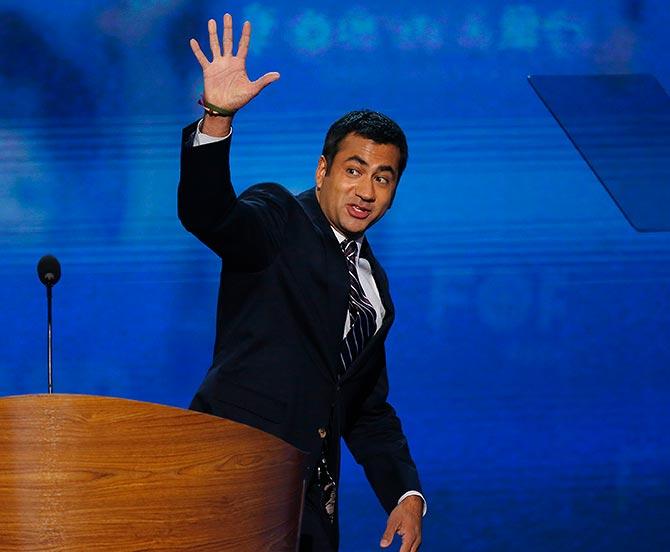 Image: Kal Penn waves after addressing delegates during the first day of the Democratic National Convention in Charlotte, North Carolina. Photograph: Jason Reed/Reuters.
You are a symbol of change in the Indian-American community, both as an actor and as someone engaged peripherally in politics. What are some of the other changes the community is going through that you have noted?
That is a broad question. Any community changes rapidly, especially when you are talking about two major waves of immigration. There's the post '65 and then the '80s. Both of those communities are coming of age.
You see a shift in terms of profession, economic status, diversity within the community and how that all plays out. I think that's an exciting thing because you go from being a relatively new immigrant group to participating in the American dream and what that looks like and how that comes together.
Honestly if you took an India Abroad (rediff.com's sister publication) from five years ago and an India Abroad now, there is so much more diversity and coverage of what people are doing. There are articles on sports and media and LGBT issues and women's issues and things that are a lot more progressive -- I don't want to use the word progressive because it sounds like I am being political and I don't mean to be -- but there is a lot more diversity of experience in the community that is being covered now. I think that's so awesome.


Also read: Part I of the interview: 'I'm not related to Narendra Modi!'
Part II of the interview: 'I am always excited to come to India'
'I'd do a Hindi film that's a mix of Kuch Kuch Hota Hai and The Lunchbox'

Review: Bhopal: A Prayer For Rain is a haunting film