Kaamyaab makes you feel sad about the condition of character actors in the movies, but it won't hold you for too long, says Moumita Bhattacharjee.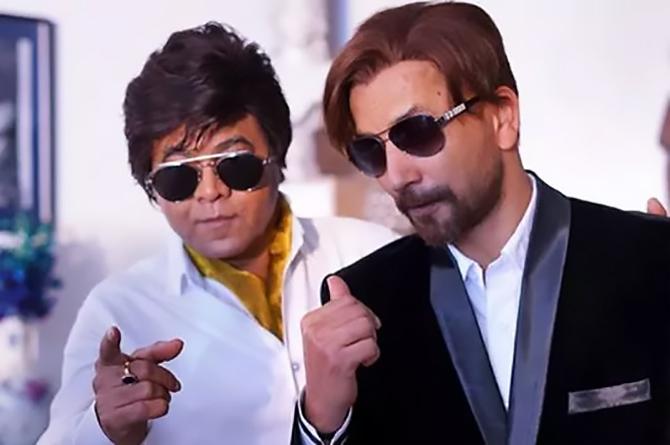 Like Sholay's Samba became popular for saying a single dialogue in the film -- 'Pure pacchas hazaar' -- Kaamyaab's Sudheer has the same trajectory in his career. Despite having 499 movies to his credit, he's known for his dialogue, 'Just enjoying life, aur option kya hai.'
Director Hardik Mehta starts the movie with two contexts of the same dialogue and sums up the life of a character actor in one go.
While one got him success, the other leaves him forgotten.
Despite such a promising opening, Kaamyaab meanders and slows down on many occasions.
In a bid to show how Sudheer -- played by Sanjay Mishra -- realises he is done and dusted in the industry, Mehta forgets to rein in the flow of the movie.
In a scene, Mishra tells an aspiring actress how his wife felt cheated when she realised 'Jab koi baat bigad jaaye' from Jurm was copied from the song, 500 Miles. The second half of the film makes you feel the same.
While giving an interview, Sudheer realises that he is just one film short of creating a record of being a character actor in 500 movies.
He decides to get a round figure and meets casting agent Gulati (Deepak Dobriyal), who is the Steve Bucknor of the industry. That's how he describes his move from being an actor to a casting director.
While Sudheer tries to understand the new ways of landing an acting gig in today's time, his daughter Bhawna (Sarika Singh) isn't too kicked about it. He does land his 500th film, but does he manage to complete it?
Watch the film to find out.
Kaamyaab shines in parts.
There are a lot of digs at the industry and nationalism. For instance, the time when Sudheer's best friend explains why it is the perfect time for his return because Om Puri is no more, Naseeruddin Shah is busy with theatre, Paresh Rawal is into politics and Anupam Kher is more busy with Twitter.
It is a delight to watch popular yesteryear faces like Liliput, Guddu Maruti and the late Viju Khote together, playing themselves.
They beautifully project the helplessness of character actors who aid heroes to victory in movies, but they themselves are forgotten.
Avtar Gill, playing himself in the film, is shown as one of the preferred character actors. But then there's another sequence which exposes the plight of such actors who don't get their money just because they couldn't make it to dubbing.
Post-interval, the movie slumps and never recovers.
It goes on aimlessly to address issues like loneliness and depression but doesn't go deep.
Sudheer and his daughter's slightly strained relationship is not explored properly.
The climax attempts to give Mishra's character a victorious finale, but falls short.
Sanjay Mishra excels in each frame.
From being pleased with people's respect for him even after so many years or getting shocked at the way character actors are treated on the movie sets now, Mishra is nuanced and apt.
Deepak Dobriyal brings comic relief to the proceedings, but his scenes are limited in the second half.
It ends with an ode to character actors who aren't with us anymore and that is perhaps the best part.
Kaamyaab makes you feel sad about the condition of character actors in the movies, but it won't hold you for too long.
I will still recommend it for some clever dialogues and, of course, Sanjay Mishra.
Rediff Rating: