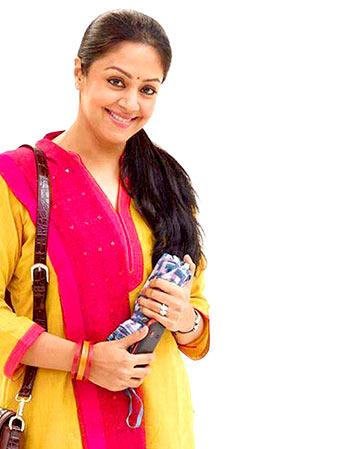 'Before we started shooting 36 Vayadhinile, I watched Jyothika's previous films. I told her that I did not want the old Jyothika. I wanted to present a completely new Jyothika.'
Director Rosshan Andrrews discusses his well-reviewed film.
One of the themes in 36 Vayadhinile is women sacrificing their dreams at the altar of marriage.
Both actresses -- Manju Warrier and Jyothika -- who have played the central character in the film (Warrier starred in the Malayalam version How Old Are You) have given up their successful careers to get married and take care of their families.
Rosshan Andrrews, who directed both the Tamil and Malayalam versions, tells Rediff.com contributor S Saraswathi why he believes this script will work in any language, and the contribution of his leading ladies.
How does it feel to have both the Malayalam and Tamil versions of the film so well received?
It makes me very happy. This is my first venture in Tamil and I am truly thankful that Tamil audiences have accepted and supported my film.
When working on the Malayalam version, I believed that this concept had the potential to touch the hearts of people far beyond the state of Kerala.
The film talks about women giving up their dreams and sacrificing their lives to look after their children and family.
This concept is universal. It happens everywhere in the world, but more so in India.
I felt a Tamil version would help reach a wider audience. I am keen to make the film in Hindi too. I believe it will work in any language.
Did you pick Manju Warrier and Jyothika because both quit films after marriage to focus on their families?
No, not at all. The personal life of Manju and Jyothika had no bearing on this film.
I wanted them for what they had previously achieved, their stardom and the respect they commanded in this industry. Their contribution to the film industry is huge.
I see the audience clapping and whistling every time Jyothika comes in the frame. We had a similar response for Manju.
The film industry is male dominated. There are few women who command this kind of love and fewer films with any kind of substantial role for them.
This is a film that every woman can relate to.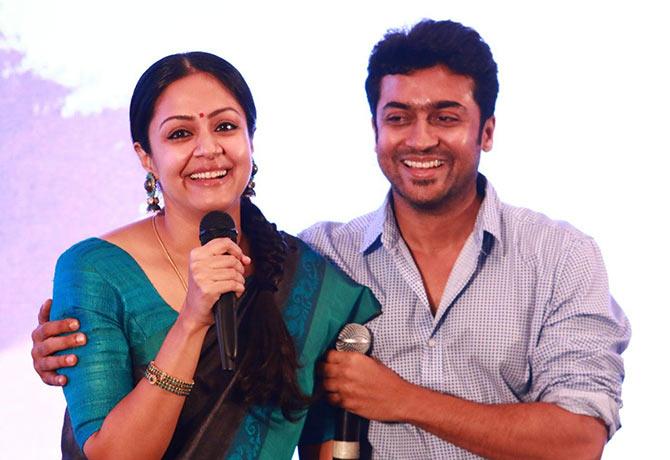 Image: Suriya with wife Jyothika.
How did Suriya come to produce the film?
Suriya was in Kerala for the promotion of a film when I contacted him. Through one of my associates I sent the DVD of How Old Are You and requested him to play it to Jyothika.
I had heard that she had stopped acting and had refused several scripts, but I knew that this screenplay would be perfect for her. The concept needed her.
Jyothika saw the film and I was called for a meeting. Suriya asked me if I had a producer in mind. When I said no, he said that he would like to produce the film.
I not only had my actor, I had also found my producer!
Was Jyothika nervous facing the camera after more than eight years?
Jyothika is a very assured and confident performer. She had no trouble facing the camera.
In fact, before we started the shoot, I took the time to watch her previous films. I told her that I did not want the old Jyothika. I wanted to present a completely new Jyothika.
She did not hesitate; she came to me leaving behind her past, her stardom. And the best part is that she listened. I was very clear about what I wanted from her as an actor and she delivered every time.
Everyone who has seen the film has appreciated her performance. This is definitely one of her best performances to date.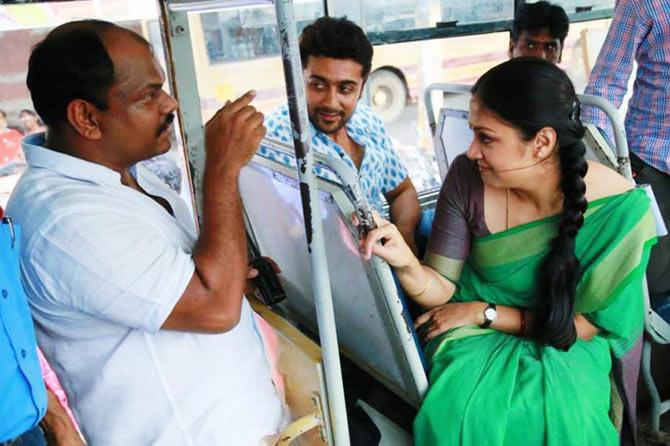 Image: Rosshan Andrrews explains a scene to Jyothika as Suriya looks on.
How would you compare the performances of Jyothika and Manju Warrier?
You cannot compare the performances of any two actors. Every actor has a different perspective, a different body language.
Give the exact same situation to three different actors anywhere in the world and their performances will be different.
The emotions would be the same, but the way they project themselves, their gestures, how they move, how they look, will be different.
Manju Warrier was the best choice for the Malayalam version and Jyothika was perfect for the Tamil one.
Did you have to rework the script to suit the Tamil audience?
We did not tamper with the emotions in the script. Though the culture may be a little different, human emotions like love and yearning remain the same, irrespective of the language -- Tamil, Malayalam or Hindi. But we did work to make the script racier.
The Malayalam version was slightly longer, with a running time of 2 hours 20 minutes. The Tamil one is just under two hours.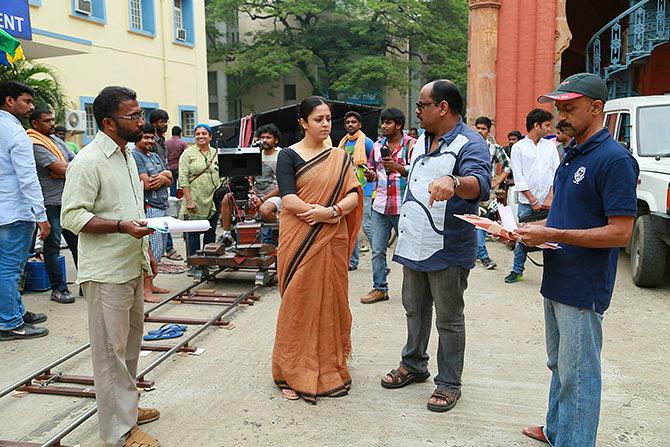 Image: Director Rosshan Andrrews and Jyothika on the sets of 36 Vayadhinile
After almost a decade in the Malayalam film industry, how did it feel directing a Tamil film?
Things were pretty smooth for me as I had a very good production house. Suriya's 2D Entertainment is one of the best I have worked with so far.
I gave them my wish list and I was granted all my desires. I did not have to worry about a thing.
The entire script was ready one month in advance. Viji, director Radha Mohan and I sat with the original script writers Bobby and Sanjay to get everything in order.
I was also very clear about where I wanted to shoot, so the location was planned well in advance.
Suriya asked me to suggest a music director and when I mentioned Santhosh Narayanan, he promptly agreed.
There were no hassles at all; it was a wonderful experience.
What do you think of the new breed of young Tamil directors and Tamil cinema today?
There are changes in not just the Tamil industry, but in the Malayalam film industry as well.
actors, directors, technicians and producers will inevitably change. New people with new thoughts will always come.
You need new people to make you think and react differently, make you laugh, bring some tears or add some excitement.
I may be a part of this industry for a decade now, but I am also a newcomer. For me every film is my first film. I am learning cinema every day. I am an ardent student of cinema.
What makes you stand apart is how you implement your ideas. The emotions you deal with are the same, but how you present your narration, how you visualise your story, makes you different.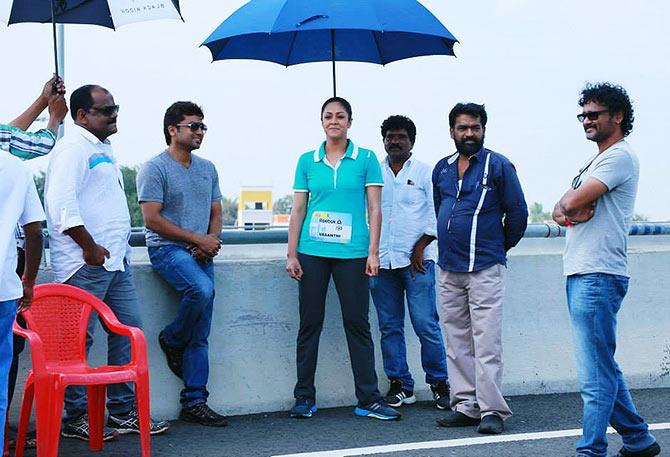 Image: Director Rosshan Andrrews, Suriya and Jyothika on the sets of 36 Vayadhinile

Any plans for another Tamil film?
I would love to work on another Tamil film. I thoroughly enjoyed this experience.
I feel blessed to have had this opportunity to work with Suriya and Jyothika.
I am sure they will come up with many more interesting films in the future, but I am glad that I was special enough to be their first.
I am from another state, from a different film industry, but the love and acceptance I have received here is overwhelming.