'He cooked chicken curry and so because of him, curries entered the British royal kitchens.'
'Eventually, he became a political advisor to the queen.'
'This guy was disrupting the royal household. It sent shockwaves...'
Ali Fazal on his character Abdul Karim and working with acting legend Judi Dench.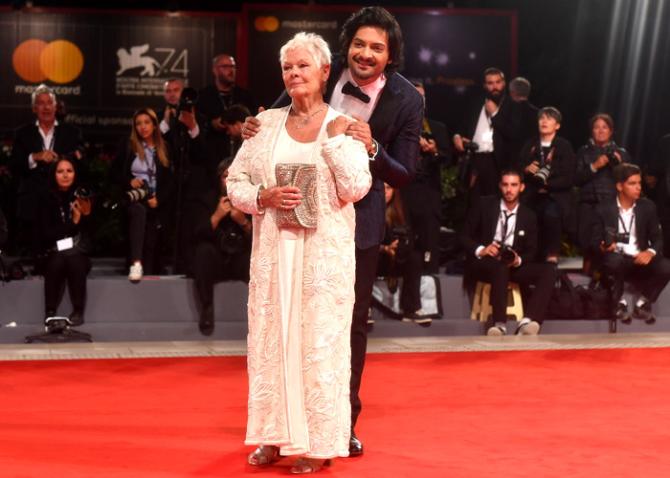 IMAGE: Ali Fazal and Judi Dench at the Venice Film Festival. Photograph: Pascal Le Segretain/Getty Images
In 1887, during Queen Victoria's golden jubilee celebrations, two Indian clerks were sent from Agra to England to present the monarch with a golden mohar.
One of the clerks, Abdul Karim, became the queen's trusted confidante and spent the next 15 years teaching her Urdu, and advising the empress of India on political and other matters.
Six years ago, Shrabani Basu, an Indian journalist living in London, wrote Victoria and Abdul about this unusual friendship between monarch and clerk.
The book is now a film, directed by Stephen Frears (My Beautiful Laundrette, High Fidelity, The Queen, Philomena).
In the charming and at times hilarious film, Judi Dench plays the queen. Munshi Abdul Karim is played by Bollywood actor Ali Fazal.
Victoria and Abdul premiered at the Venice film festival and played recently at the Toronto international film festival.
See pictures here.
It opens in the US on September 22 and on October 4 in India.
Aseem Chhabra spoke to Ali Fazal in Toronto about the film and his career.
Ali, you have been traveling for the last two weeks. What has it been like doing all this promotion?
What a generous audience we had in Toronto,
It has been so different in every city.
We started with Venice and then London.
We got laughter at different places in all three cities.
I know you acted in Furious 7, so you must have done a big junket for that as well.
That was a very small role.
I had made a decision -- and my PR team was upset in India -- because I said I don't want to promote it. It didn't make sense.
Why?
Because it was a cameo.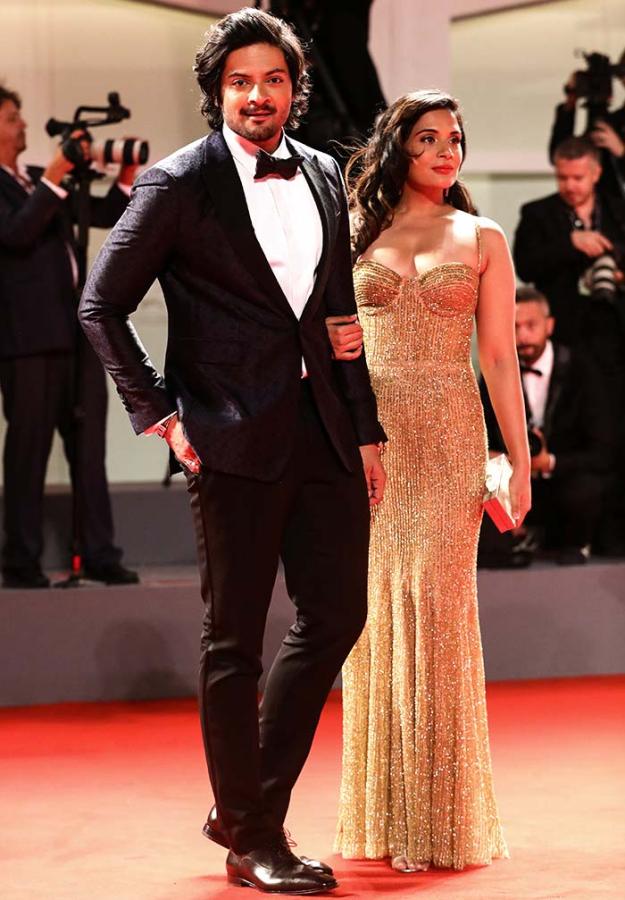 IMAGE: Ali walks the Venice red carpet with Richa Chadda. Photograph: Vittorio Zunino Celotto/Getty Images
Were you concerned about how people would react in India?
It was a good role, but the editing of my role was not in my control.
I didn't want to toot my horn and then people give me flak -- 'Arre aap to poster par cha gaye', but you are basically there for five seconds.
You were also in The Other End of the Line. My friend Tracey Jackson wrote the script.
I don't know why they listed it (his presence in the film on imdb.
I was in college and my friend who was working on the film came back one night and said, 'Dude, there's great money in this film.'
You got your money right?
Yes. I worked for such a short while: One dialogue.
I was so happy I made so much money in one day.
Did you say no to a role in Homeland, which eventually went to Nimrat Kaur?
They asked me for my availability before they even considered me for the role.
I said I was not available.
There was a full build up on it, but I didn't even audition for it.
They must have changed the role from male to a female character because Nimrat did the role for one season.
Gosh, main itna bhi famous nahin tha.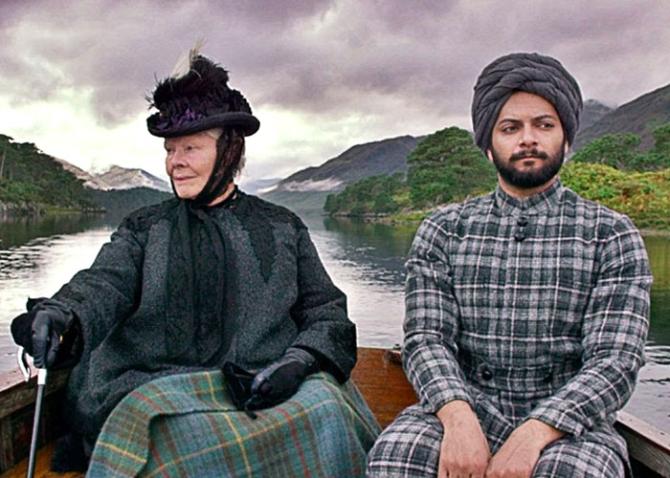 IMAGE: Judi Dench and Ali in Victoria and Abdul.
Victoria and Abdul is a charming film.
I have been following Steven Frears' films from My Beautiful Laundrette and Sammy and Rosie Get Laid.
Oh, you have seen Sammy and Rosie?
I've seen it twice -- once in Boston in the late '80s and then I watched a poor print of it on YouTube two years ago while researching my book on Shashi Kapoor.
So tell me, how did this role come to you?
I remember I was with (Bollywood agent) Reshma Shetty.
She told me this audition had happened a week earlier and suggested I should try it.
We called up (casting agent) Nandini Shrikent, recorded two scenes and sent them.
Twenty-five days later, we got a call saying Stephen and (producer) Beeban (Kidron) are coming down to India to sift through Bollywood actors.
You probably won't tell, but let me ask in any case.
Who were your other competitors?
Oh God. I can't say (laughs). I respect them all.
This was when?
May 2016.
We started shooting by September end.
But in between, it was another month-and-a-half of look-tests and readings.
I flew down to London to read with actors in the studio. \
The final commitment only happened after that. It was quite traumatic.
IMAGE: Dame Judi and Ali chat with the media at the Toronto international film festival. Photograph: Kind courtesy Ali Fazal/Instagram
Did you read with Judi Dench also?
Not at that time.
I was back in India celebrating my friend's birthday at Eddie's Bistro in Bombay when I got a call from Beeban saying we would love to have you on board.
After that, Stephen never had any formal rehearsals.
It was almost like that period they were building this trust with me.
He just said come on the set and do your job.
So Judi and I would do our rehearsals, me teaching her Urdu.
I have seen some old black and white pictures of Abdul with Queen Victoria. Was Abdul really that much taller than Victoria?
Yes. Usually, they show the later photographs where he had put on weight.
But in the earlier ones, he appeared quite tall.
Tell me about the first day you met Judi Dench.
It was my fan moment.
Did you kiss her feet like Abdul does in the film?
I actually did.
I made a fool of myself, but she was so sweet.
I am a stranger and she gave me the warmest hug.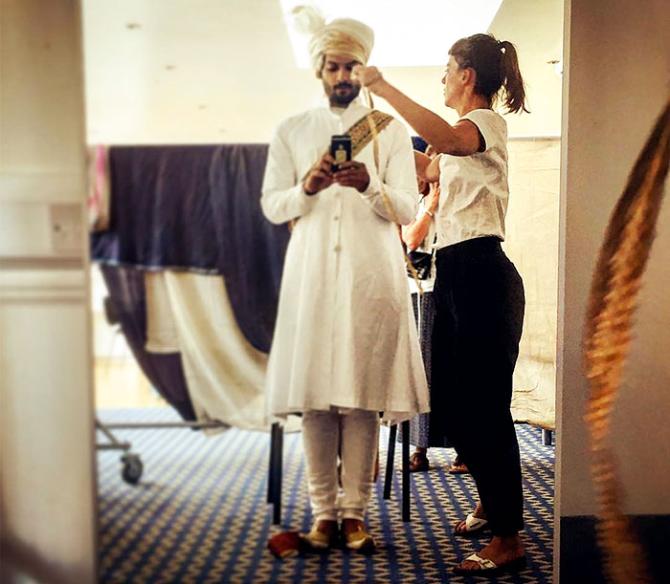 IMAGE: 'Prepping on costumes. Early measurements.. My first day in Twickenham,' Ali posts on Instagram. Photograph: Kind courtesy Ali Fazal/Instagram
Well, she was going to work with you so it was natural.
British actors, because of their stage background, tend to be more down-to-earth.
I love huggers.
She is so tiny, she probably reaches your belly button.
She's so sweet (laughs).
We started chatting. She is obsessed with India.
Well, she did those Marigold Hotel films in India.
Her sense of humour is great, and we sort of gelled on that.
And then came D-day and we were on.
Judi Dench is an Oscar winning celebrity. How did you forget that and treat her as a co-actor?
I like to work differently because I keep hearing this.
If my co-actor is so good, that makes my job easy.
It's so nice and refreshing to have someone who is a better actor than you. They make you look good.
So Judi and you would rehearse before the scenes?
All the time!
She comes from a theatre background, so she is so good.
It helps to bring in good old school work.
She knew her lines, so I would know my lines.
She went public with her eyesight problem and that she is not able to read. How did you guys manage?
Her script would be in large print.
Her memory is still very sharp? She remembers her dialogues well?
Yes. There were some shots that are just straight up. And she would do a whole passage.
She would do it again, but only because Stephen wanted another take.
A question I ask every Indian actor who has worked in the West. What is different in their filmmaking style?
Things are moving ahead in India, but technologically, we are 15 years behind.
I know that because I worked on Fast and Furious.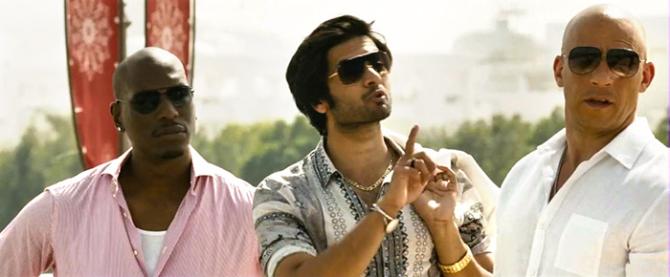 IMAGE: Ali with Vin Diesel on Fast And Furious 7.
I am also asking about the difference during the shoot, on the set.
Oh definitely.
I had some single shots and I felt weird that Judi would be standing off camera.
I even asked one of the ADs (assistant directors) if she had to be there.
And I was told, 'No, she stays. That's how we work.'
She is supposed to feed you the reactions.
Yes. She didn't have to, but she would.
You would not expect this from Amitabh Bachchan or Shah Rukh Khan.
They would not.
Now we have reached a point where we don't even take offence to that. It's become normal.
So she would feed me the dialogues. She would do as many takes as I would.
She is so generous and humble. It was fun.
Would she get tired because of her age?
I guess she would and then rest in her van.
But she would be on the set as long as everyone else.
By the way, had you read the book?
I began with a lie. I told them I had read the book.
I started reading it and then I stopped.
I thought Lee Hall (writer of Billy Elliot) had written a very different screenplay, and he has a very fantastical approach.
He doesn't even give you timelines in the screenplay.
It is the costumes that tell you the time.
It is very smart, but it is also hard to club in 15 years in about two hours.
So I knew it would be a collaboration of a lot of departments.
But I sometimes regret the decision of not finished Shrabani's book because I ended up reading eight to 10 books on history.
Itni padayee main school mein kar leta...
Arre, but aapko actor to banna tha.
I don't know (laughs).
You went to Doon School.
Yes. But the intent was not to become an actor.
I was studying science and economics.
I was bit of a geek back then. I used to play sports.
I read that you did theatre in school.
I started theatre because I broke my arm.
In boarding school, you had to do something or else I felt my life was done.
I went into depression. But a friend said 'tumari angrezi theek hai', so try a Shakespeare play.
I tried out and began to enjoy it.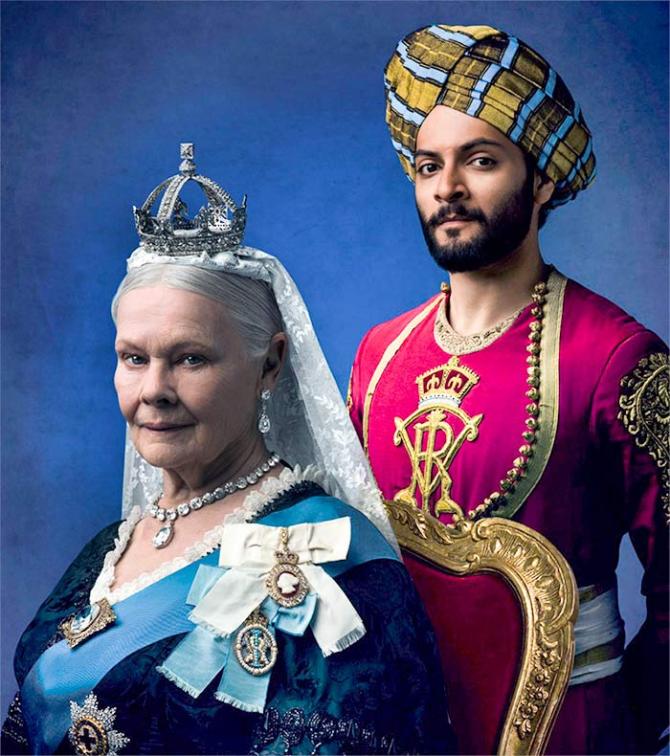 IMAGE: Dame Judi and Ali in Victoria And Abdul.
So by reading history books, what knowledge did you gain?
I started reading Indian history and what happened in England during the Victorian era. There was the Industrial Revolution happening.
Queen Victoria was fresh out of her relationship with John Brown (who she perhaps secretly married).
We were 20 years out of the 1857 Mutiny. The East India Company was busy ruining us.
I learned small things from his photographs.
One of my first visuals was an Urdu letter, very well written, in Victoria's handwriting.
Shrabani Basu found a whole journal in Karachi with Abdul's extended family.
Even after Abdul Karim's death, there were two raids on his house in India.
Bertie (King Edward VII) made sure that no documents about Abdul would be found.
I kind of had to figure Abdul in the midst of all these historical events.
Is there any fiction in the film?
No, all that is shown is real. They couldn't show everything.
He cooked chicken curry and so because of him, curries entered the British royal kitchens.
Eventually, he became a political advisor to the queen.
None of this was taught to us in our history books in school. It was conveniently brushed aside.
But the sequence of events may have been shifted for dramatic purposes.
She gave him lot of gifts -- mugs and more. But the locket that is shown in the film was not written in the journals.
That was a small cinematic liberty. The locket had a more intimate touch. She had given him her photographs.
I also read the autobiography of Dr James Reid, the queen's doctor.
He had a chapter called The Munshi Mania.
It is hilarious, but interesting to see the other side of the perspective, how this guy was disrupting the royal household. It sent shockwaves across.
Was it fun wearing all those costumes?
Fantastic, but I had to go through hours and hours of fitting, measurements and trail sessions.
Were they stitched in India?
The fabrics were brought from India.
Consolation Boyle worked on the costumes. She is a genius.
She worked on Florence Foster Jenkins and The Iron Lady with Meryl Streep.
She was in sync with the script because as I said, the costumes tell the time.
How many costumes and turbans did you wear?
I lost count. I just remember a sardarji on the set who would make moulds on my head every day.
Do you have an agent in Hollywood or UK?
Now I do. In fact, Judi and I share the agent.
Same agent with Judi? Nice!
And Daniel Day Lewis and Jude Law. It's such a wonderful feeling.
Have scripts started coming your way?
Well, they definitely know I am interested. So fingers crossed.
How many projects do you have in India?
Nothing other than Fukrey 2.
I immediately start a Web series with Amazon and Excel, Farhan's Akhtar) company.
Are you playing the lead in it?
Yes.