'Look at what we are doing to the goats, the cows, the women, the children...'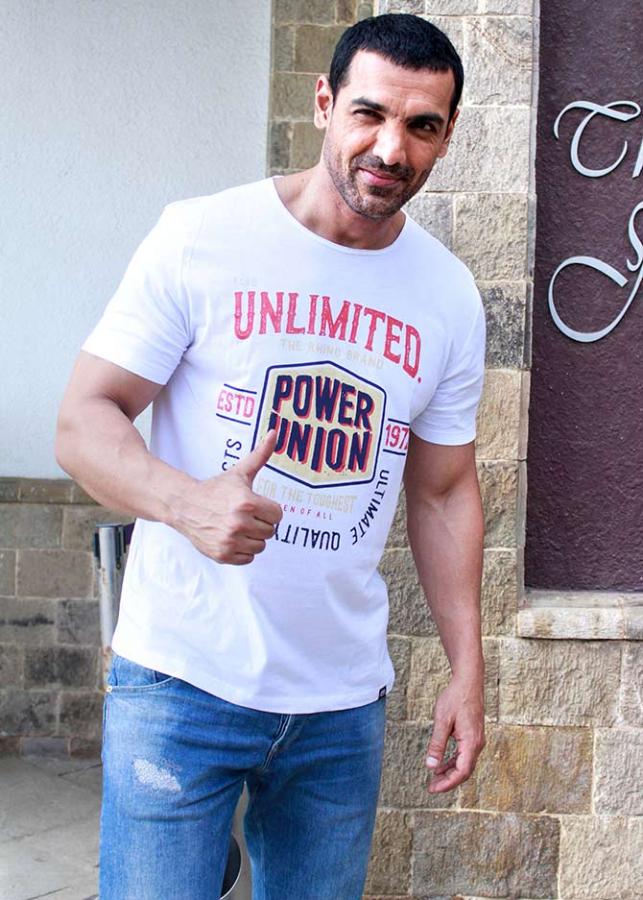 John Abraham likes to be known as an action hero.
But in real life, he says he never hits back -- instead, he will take the beating.
"I don't want to fight," he tells Rediff.com's Patcy N. "But on screen, people will expect me to run through doors or break walls or break everybody's head!"
Were you sceptical about working with Director Milap Zaveri on Satyamev Jayate?
No. I heard the narration and loved it.
There's another important character, and they asked me who should play it.
I suggested Manoj Bajpayee because he brings credibility and gravitas.
I felt if Manoj Bajpayee reacts organically, like I did, maybe Milap has got something right in his script.
Manoj Bajpayee said yes promptly.
John Abraham may go wrong, but I don't think that gentleman (pointing to Manoj Bajpayee, sitting at the other end of the room) can go wrong.
We really believe it is a commercial film.
Today, if a girl is walking on the road and feels a man is undressing her in his head because of the way he is looking at her, she will feel like slapping him.
My character (in Satyamev Jayate) does that on screen.
If you feel there is corruption, and you are seeing it right in front of your eyes and you want to hit the guy, my character is doing that for you.
Satyamev Jayate, by default, becomes an inspirational film.
On one hand, today's society is saying India is economically progressive and that we are moving at the fastest rate possible.
But look at what we are doing to the goats, the cows, the women, the children...
Who is safe in this country?
There is an underlying angst in this country.
This country is getting polarised, and when that happens, you are creating fringe elements.
Then, you are blaming a communal group.
We are addressing all those issues.
But the biggest issue is corruption.
Will the film bring the Angry Young Man back on screen?
I hope Satyamev Jayate does exactly that.
A BJP member has said the trailer of Satyamev Jayate hurts religious sentiments.
It's appalling!
I am very respectful towards every religion.
I am not an idiot to do something wrong.
Who are these people who are creating problems?
I don't pay attention to this crap.
We are concerned with the censor board. They will decide what stays and what goes.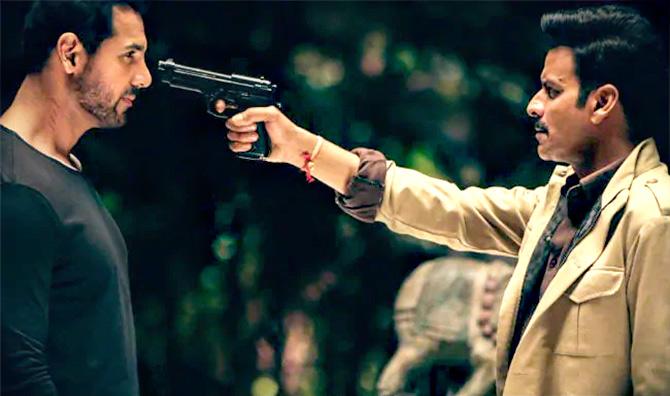 You are doing films like Parmanu, Satyamev Jayate and RAW. Are you creating a genre for yourself by doing nationalist films?
Satyamev Jayate is not a nationalist film.
He is, in fact, critical about his country.
He also shows the honest side, which is Manoj Bajpayee, and we find out where he is actually (coming from).
It shows you both sides of the coin.
It is a commercial, paisa vasool, dialoguebaazi film.
It shows the underlying issues of the country, but does not show India conducting its nuclear test. It is not Parmanu.
Similarly, RAW is a true story.
Batla House is probably the most explosive story I have made with Nikkhil Advani.
It is very uncomfortable to see that something like that happened 10 years ago.
It's important to address all issues, but I am not in that one mould.
As actors, we are prisoners of our own image.
So there was a time after Jism and Dostana and even New York, where women told me I was sexy -- probably because of the image of those yellow trunks.
In Force, when I was getting beaten up, and not hitting back, they said, 'Kya action kiya usne!
We get stuck in the image.
I like to do different films; my favourite genre is comedy.
I take my parents to watch comedy films. I still watch Garam Masala.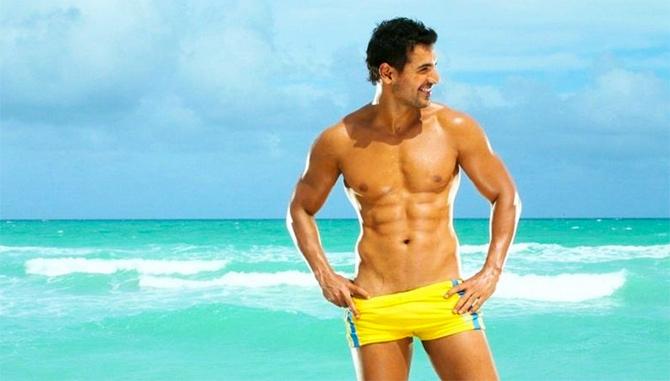 You have been playing playing human characters with superhuman strength like lifting a bike, a car...
In Attack, I will go one up on that.
I will be doing action like never seen before.
The idea is to do something different with each film, not just beat up people.
It's how you structure your screenplay.
For me, Attack is a love story. It is the emotion that drives the action.
I can do 40 back flips, but if there is no emotion, it is a failure.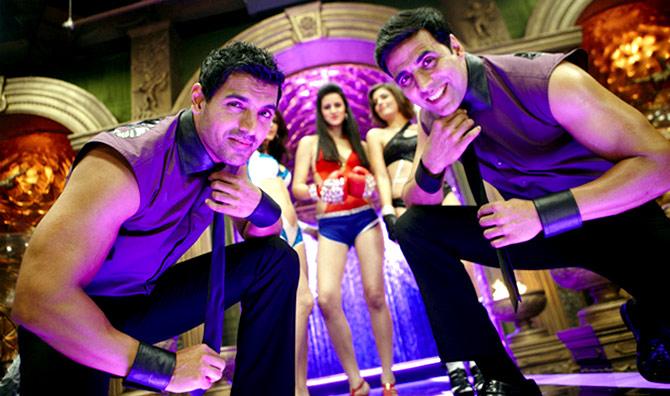 People think Akshay Kumar is today's Mr Bharat because of the films he does, like PadMan and Toilet: Ek Prem Katha.
Who is building that perception? (Points to the media)
That is the reason Akshay is doing Housefull 4, Akshay is doing all kinds of films.
I come with a certain physicality.
You said I lost weight, na? I am 92 kilos now, with the weight loss.
If I go back to my normal size, people will expect me to run through doors because my physicality demands that.
In real life, if someone gets upset with me and hits me, I will probably duck and take his beating and then ask, 'Are you done?'
I don't want to fight.
But on screen, people will expect me to run through doors or break walls or break everybody's head! It's just the image you create.
Any chance of Akshay and you coming together?
I would love to!
Even he wants to, but we are waiting for a proper script.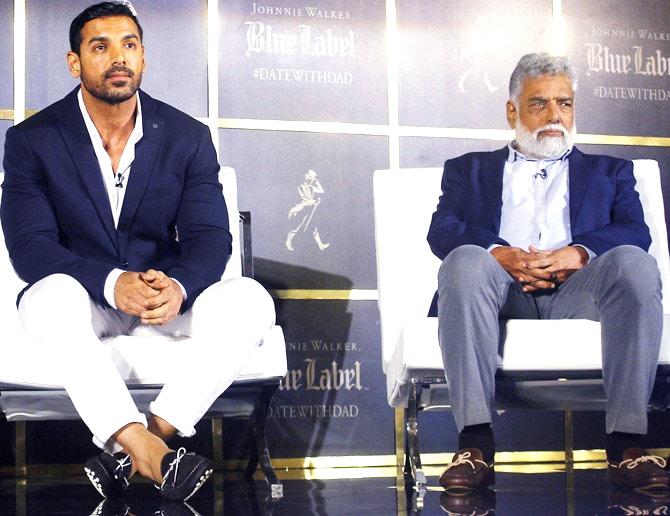 When your parents watch your films, what is their reaction?
My dad is very critical. If he watches a film, which is not good, he will say it's not good.
But if he see a decent film, he will say it.
He felt Madras Cafe was the best; Parmanu was 'very interesting'.
He sees that I am evolving and doing something different.
He loved Kabul Express, Jism and said exactly what (Mahesh) Bhattsaab had said, 'If society accepts what it (extra marital affairs) is, this film will work. If it doesn't, it won't.'
Of course, the film also worked because of the beautiful songs.
My mom is like what Akshay's dad was like after every film -- she says it's fantastic.
She will watch even the worst film and say superb because mothers are mothers.
Jism was a soulful film, but there are some films which went horribly gone wrong, like Lakeer.
When will you collaborate with Shoojit Sircar again?
I think Shoojit is very busy.
I tried getting in touch with him, but he has been very busy.
Whenever he has time, I will go and meet him.
I am really happy for him.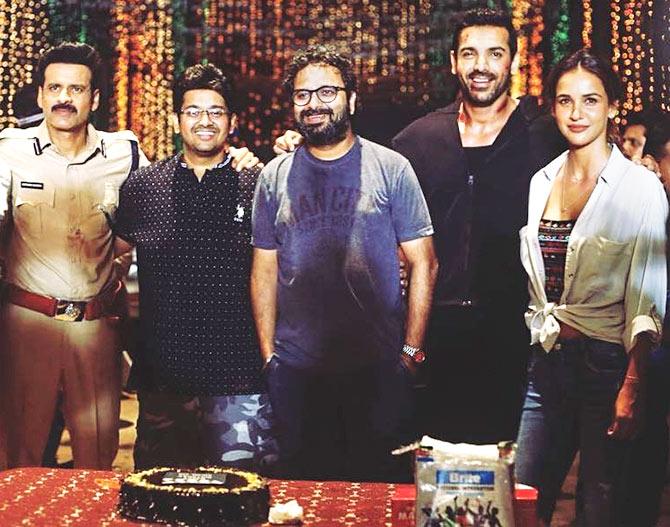 Milap said you are probably the only actor who does not judge the director by his last film.
Yes, I don't judge.
There are actors, who are only concerned with working with the biggest directors.
They want to safeguard their track record. They have 47 managers to tell them what they need to do.
I don't care; I have no fears.
But I safeguard that through the script.
If I know the script is strong, I know a good enough director will manage to pull it.
Before I did Parmanu, no one had faith in Abhishek Sharma because of The Shaukeens.
When Kabir Khan came to me, he was a war documentary film-maker.
Shoojit Sircar's Yahaan had not done well, and no one had any expectations from him.
But I like that space because these people are the hungriest.
They will work hard and when they become successful, they will look for greener pastures. That's fine.
You use John Abraham and then move on.
John Abraham will get another Shoojit Sircar, Kabir Khan or Abhishek Sharma.
But my next is with Abhishek again after he finishes The Zoya Factor.
I will get more people in my fold and work with them.
I don't have the luxury of working with the biggest directors, so I create my own.
This is how Akshay Kumar thinks as well.
He's a fantastic, self-made, man.
That's why I love him.
You come with your own set of rules and create your own things.
I can't sit with these five big directors and tell them please do a film with me because all those actors, who are sitting with these directors, will not be able to work or succeed outside these big directors.
Will we see you in more films now?
Yes, you will unfortunately see me regularly now.
I had taken a break for a year.
My production house has Vicky Donor 2. We are looking for the right cast; I am not doing it.