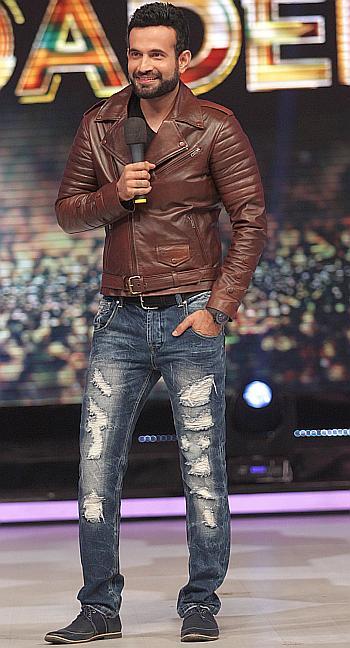 'Virat Kohli is pretty good at dancing. Dwayne Bravo is an outstanding dancer. Harbhajan Singh and Yuvraj Singh dance really well.'
Irfan Pathan gets ready to dance on Jhalak Dhikhhla Jaa 8.
Indian all-rounder cricketer Irfan Pathan will enter Jhalak Dikhhla Jaa 8 on Sunday, July 26, as the season's first wild card entry.
The sportsman makes no bone about the fact that he cannot dance.
He tells Rediff.com contributor Rajul Hegde why he chose to participate, and what he will do with his earnings from the show.

What attracted you to Jhalak Dikhlaa Jaa?
The dance show is all about the journey of non-dancers.
The biggest attraction was the challenge because I am a non-dancer and it took me two-three months to accept the show.
There were also reasons too. Last year, we announced a foundation called Cricket Academy of Pathans, to coach under-privileged children and give them equipment. Money from my earnings from the show will go there.
Does dance aid fitness to the mind as well, and help one play cricket better?
Yes. This is the off-season for cricket in India. Normally, cricketers use this break to train. I will not only get to train but also keep myself fit with dance and have a good time.
Are you concerned about the risk of injury during dance that can affect your cricketing career?
Everybody knows I am a sportsperson. I will not do something that will hurt my profession.
Have you been get inspired by other cricketers, who have been a part of the show before?
I am really inspired by Subhreet Kaur (who danced on one foot). If she can dance, why not me?
Since you have already shot the entry episode, who do you think is your biggest competitor?
Everyone is my competitor but I don't not know them much.
I have watched Kavita Kaushik's television show (FIR).
Aashish Chaudhary is a friend.
I know Shamita Shetty, as she is Shilpa Shetty's sister.
I have watched Faisal Khan (DID Little Masters 2 winner). He is an outstanding dancer and very comfortable with the stage.
Are you also planning to act in movies?
I am 30 years old and still have to achieve a lot in cricket.
Even during Ramzan, I would train for cricket. That's my passion. I may think about acting after my cricketing days are over. There is lots of cricket still left in me.
How did your family react when they learnt of your participation on Jhalak?
My father was cool but my mother was hesitant. (Brother) Yusuf doesn't give any reaction! (laughs). My sister was very excited.
Your brother Yusuf Pathan is quite reserved.
Actually, he talks a lot but with select people. I gel easily with people.
But he is a bigger prankster than me; his pranks are remembered for years.
What reaction did you get from your cricketing colleagues?
They had a big smile. For Robin Uthappa, it was a big question mark. Obviously, people will be surprised.

Who is good at dancing among your cricketing friends?
Virat Kohli is pretty good.
Dwayne Bravo is an outstanding dancer.
Harbhajan Singh and Yuvraj Singh dance really well.
What was your entry episode with Jhalak's judges like?
Karan Johar's comments were funny.
I had a nice conversation with Shahid Kapoor about cricket because he loves cricket.
I couldn't interact much with Ganesh Hegde and Lauren Gottlieb.