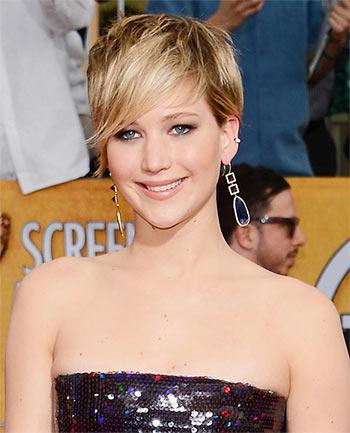 Lindsay Lohan and her family have hit out at Jennifer Lawrence after the latter poked fun at the Mean Girls star's reputation. Lawrence, 25, made the barb against Lindsay, who has been in rehab nine times, while discussing her work ethic.
Speaking on The Late Show with Stephen Colbert, she said, 'I'm a puker. I don't stop working because I am a show pony. I don't have a choice.
'So I just keep going until my body is like, 'If we don't make her barf or pass out, she won't stop.' I get like, Lindsay Lohan-grade exhaustion, but without any drugs or alcohol.'
'I'm always in bed early. I'm still tired.'
Lindsay, 29, said the Hunger Games actress should 'learn to support others' while her younger sister, Aliana, said the 25-year-old beauty had 'lost a fan'.
Aliana tweeted, 'I never breathe life into negativity but I stand by my family. Disappointed in Jennifer Lawrence. You lost a fan.'
Lindsay added, 'Thank you sister... Maybe who you're referring to should learn to support others like #mayaangelou.'
Accompanying the post was a quote from author Maya Angelou, which read, 'You may shoot me with your words, you may cut me with your eyes, you may kill me with your hatefulness, but still, like air, I'll rise.'
And Lindsay's mother, Dina Lohan, admitted she was 'disappointed' in Lawrence.
She said, 'We love Jennifer Lawrence, we have always been fans of hers. It was all unfortunate that she used Lindsay as a reference of not showing up to set, and that whole bit.'
'It was disappointing that she didn't have her peers' back. You shouldn't trash anyone, it was just surprising. My family sticks together.'