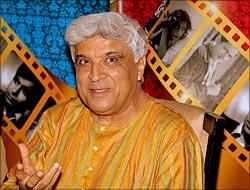 Writer-lyricist
Javed Akhtar
is presenting a second season of his TV show
Classic Legends
. The series on the lives and careers of stalwarts of the Indian film industry is a treat for lovers of cinema.
This season, Akhtar will talk about two living legends, Dilip Kumar and Pran. The 10 others who have passed into the ages are Meena Kumari, the evergreen Dev Anand, noted film-makers Chetan Anand, Nasir Hussain and Hrishikesh Mukherji, talented actor Sunil Dutt, one of India's greatest playback singers, Mohammed Rafi, renowned lyricists Shailendra and Anand Bakshi and one of the most respected music composers of all time, S D Burman.
The weekly series will air on
Zee Classic
beginning Sunday, November 18, at 7.30 pm.
Javed Akhtar gives
Rajul Hegde
a glimpse of the show:
On Dilip Kumar

Dilip Kumar is part of our past, present, and future generations.
He is an integral part of our lives, our nostalgia.
He is not someone who exists outside us; he's not just out there.
I remember when I was admitted in class 1, in a school in Lucknow, just to celebrate my admission, my father asked me if I wanted to watch a film or go to the zoo because Lucknow has a big zoo.
I took the right decision and said I wanted to watch a film. The film was Dilip
Saab
's
Aan
. He rode horses, was swashbuckling, singing songs and saying beautiful lines.
When I was 13, I saw
Madhumati
. he was part of our growing up. When I was in college, I began to understand his work, analyse it.
The best part is he was an actor who started out in 1944 but whose style of working is reflected in actors working in 2012! He exists in them. Even actors of today have influences of Dilip Kumar.
So many generations have come and gone but his performances, aesthetic, sense of drama and style is still prevalent.
Actors such as Amitabh Bachchan and Naseeruddin Shah, despite
being talented themselves, have honestly admitted to have been influenced and inspired by him.
Not many, including Dilip
Saab
, know that he is the first method actor in the world. Generally, in the west, Marlon Brando is recognised for method acting. But Brando is eight years junior to Dilip
Saab.
Woh hota hai na, you do something without being aware of it and then the world gives it a name. Dilip
Saab
probably didn't even know he was method acting till the world described his style!
On Pran

Pran had a unique fan following when he played the villain, which grew when he started doing character roles. The more evil he was, the more viewers enjoyed seeing him.
The minute he came on the screen, people would cheer and be happy thinking
ab kuch honewala hai.

Pran's achievement was that till he reigned, no one named their child after him! You won't find anyone with his name.
A fan club in Allahabad found out that no one had the name Pran. They sent out letters to other universities and found that no one with that name existed. Like how you won't name your child after Ravan!
On S D Burman

S D Burman Saab was, doubtless, a master of his craft. So much so, that he had given the exact same tune to two of his compositions and nobody could ever tell.
He could breathe life into a composition with his unique treatment. The distinctly different treatment he gave two songs made each one come across as fresh and unique despite the identical tune.
On Shailendra

Shailendra's poetry stemmed from a very special place. The pain in his lyrics was invariably personally experienced as he lived a hard life.
He worked on the side as a railway employee whose core job involved feeding coal into the train's engine. The sparks would literally leave holes in his shirts.
He would come for recordings in a dishevelled state and go back to a very humble home.
His emergence as one of the greatest lyricists of his time is a source of immense inspiration to all of us.