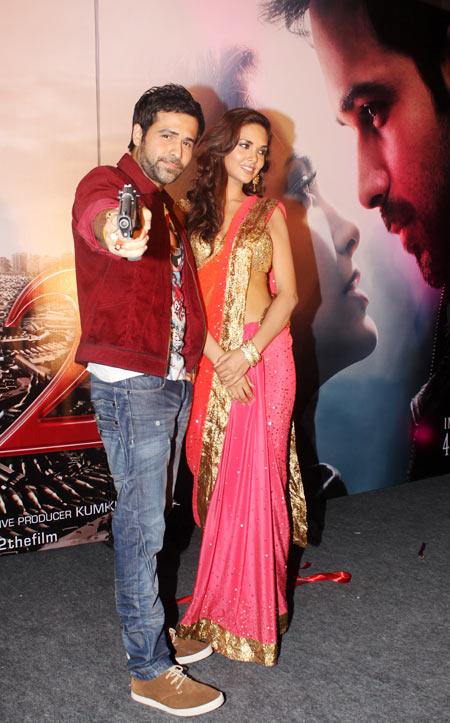 "We are not scared of the IPL, the IPL should be scared of us," Emraan Hashmi proclaimed proudly when he launched the music of his new film, Jannat 2, which will release in the midst of cricket fever.

"Jannat was released during the IPL in 2008," Emraan explained. "We were promoting our film in Kolkata on the same day when the Kolkata Knight Riders match was on. Still, we got a 100 percent opening."

Jannat 2 will introduce Kingfisher Calendar girl Esha Gupta, who looked gorgeous in an orange sari with a golden border.

Director Kunal Deshmukh, producer Mukesh Bhatt and music composer Pritam were also present.

A sequel to the 2008 hit film, Jannat revolves around Emraan's character Sonu Dilli KKC (Kutti Kamini Cheez), who is in the business of illegal arms trading in Delhi.

Explaining his character, the 33-year-old actor said, "My character is a Kutti Kamini Cheez in every sense. The street lingo that we have used defines my character. When you see the film, you will see why this tag has been given to the character."

He added that the character he played in Jannat was his favorite character till date. "My character died in the first part. Jannat 2 is not a sequel; it's a franchise. One man's quest for heaven and to attain life's luxuries for the girl he loves is similar to the first movie."

The film will release on May 4.
Photograph: Hitesh Harisinghani