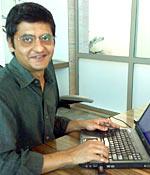 Writer Jaideep Sahni has given Bollywood some great movies like Jungle, Company, Khosla Ka Ghosla, Chak De! India and Rocket Singh Salesman of the Year.
He had an interesting chat with Rediff readers on Tuesday, and even gave some insightful pointers on how to become a scriptwriter in Bollywood. Read on:
Jaideep Sahni says, Hi everybody this is jaideep sahni, thank you for being here

salesman asked, hi, I found myself in your movie. How precisely you could narrate the story ? Were you too in sales?

Jaideep Sahni answers,  Hi salesman, it's my job to get the characters and their environment right, i'm glad we succeeded in making you feel that way, it's a big complement for our entire team

ashwath asked, Hi Jaideep, Greetings. I appreciate you for your good work with Chak De and Rocket Singh. What do you think a budding scriptwriter should do to protect his work in today's life of piracy and plagarism?

Jaideep Sahni answers, To all the chatters with questions about script registering...the first thing you do in life if you are a screenwriter is to register yourself with the film writers association in mumbai...then begin registering everything you write from then on and have written in the past with them

Company asked, Hi, Mr. Sahni. After one has written a script, does one register it at any association? If yes, will you please provide the name of that body?

Jaideep Sahni answers, you can find the fwa on their website...do visit it, it's very helpful

anil_ni11 asked, Hi jaideep..ur movie was v.good ..ofcourse i am talking about the Rocket singh.. My question is : do not you think if it would have a more better ending... like Ranbir get caught by the AYS head and then movie totally takes a U direction...better u would have shown more rivalary between Ranbir and AYS boss in terms of business competition..

Jaideep Sahni answers, hi anil, yes the option of having, let's say, a 'revenge' end was there in front of us but we felt it wasnt the type of thing which our character would succumb to, and it would kind of defeat the whole idea behind who he is and what he believes in...we knew it was a big risk but felt it was better to be honest with the characters as far as possible and not do something that might seem like a cheap trick for thrills to the viewers who related to the character...yes it would have been probably a more popular ending for many of us in the audience but it also smelt of being slightly populist to us, and we decided to resist the temptation. besides i had once done a similar thing with khosla ka ghosla and didn't feel like repeating myself...in the end you also have to live with what you write, you know!

shanaya asked, Watched Rocket Singh. My mom-n-law slept through the movie. If you knew her, you'd know that's actually the biggest compliment the movie can get. It's witty, intelligent and barring the half-hour leading up to the interval, very engaging. Bollywood is in dire need of writers like you. By the way, are they paying you well? They better, for their own good.

Jaideep Sahni answers, hi shanaya, sorry to be not able to engage your mom-in-law! our apologies to her for not ebing able to justify her time, it's not easy in old age to make the time and effort to go watch a movie and we respect that she did for us and our film

nitinsingh asked, how r u, how do u feel after big sucess of rocketsingh.
Jaideep Sahni answers, hi nitinsingh...thank you...we're thankful to everybody who came in to see the film and supported our desire as director, producer and writer to attempt something smaller, more intimate and much more risky in the face of all the supposed 'pressure' to do something 'bigger' and designed to be a blockbuster type thing...the compliments from you and everybody else like you give us a lot of support and encouragement to try more things in the future and push ourselves to go off the beaten path in the future

anushree asked, JAIDEEP SAHNI SIR , HOW WAS YOUR EXPERIENCE WORKING WITH THE BLUE BOY OF INDUSTRY

Jaideep Sahni answers, anushree, ranbir is a joy to work with as a collaborator because he is both immensly talented and takes his job seriously...like shimit says, he is a young guy just starting out with the soul of a much older and experienced actor

Sia asked, hi How R u? and what u r feeling about response for rocket singh?

Jaideep Sahni answers, feeling satisfied sia

at0z asked, Chakde Was good, But Rocket Singh lacked substance ! Your views please !

Jaideep Sahni answers, sorry to have disappointed you at0z, we'll try better next time and hope you'll have a different view next time

Vinod asked, How did u have a plan to create such a hit??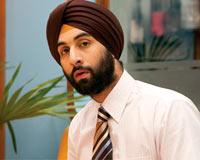 Jaideep Sahni answers, vinod, we didn't have a plan to make a hit, we just told a story that moved us as best as we could as a team, and are thankful and satisfied it worked largely the way we hoped it would...nobody can manufacture a hit on demand, and nobody should try, i feel that kind of thinking is disrespecting the audience

saj asked, Dear Jaideep, Enjoyed rocketsingh. Brilliant work and wishing you all the success in the coming year. I wrote a blog about Rocket singh from a startup employee perspective. If you google rocketsing startup you will get an ajaxination blog.

Jaideep Sahni answers, thanks so much saj, i will have definitely go have a look

teja asked, Hi Jaideep- Thax for making the movie..I related to it to death!! in the sense I started my career selling computers..THANKS

Jaideep Sahni answers, thanks so much teja, so you know how it is!

anantha asked, three of my friends saw the movie and the feedback is that its total balkwaas movie. do you still want me to watch the movie?

Jaideep Sahni answers, yes anantha, i do want you to watch the movie...sorry to disappoint your friends, but you just may feel differently!

anirban asked, hi jaideep....liked ur movie immensely.it was slick.without any apprehensions. only doubt in mind was it doesnt happen like this in companies.like employees throwing rockets,peeking inside blouse or making snide comments whole day.other than that the script was too tight.thumbs up.

Jaideep Sahni answers, it happens anirban, maybe you're too senior now to remember and everybody is afraid to throw rockets at you! or maybe you work in a kind of atmosphere where this stuff doesn't happen

KAUSTUBH asked, HI JAI! UR FILM WAS MORE ABOUT ENTERPRENEURSHIP THAN SALESMANSHIP..WHATS UR SAY ON THAT?

Jaideep Sahni answers, they are both intimately related, you know that

Hari asked, While I think you are good, I also am a tad worried that you haven't expanded your writing to touch upon something personal... Now, "personal" doesn't mean that because you were an IT guy in the past, you end up writing a movie abt that industry. That is too oversimplified a take-away. By personal I mean, that part of you, that would lay you bare... Something that great writers like Dostoevsky did, filmmakers like Bergman and Fellini did.. Charlie Kaufman is doing now... Your films have a rational viewpoint, while human emotions are essentially irrational.. I want you to do something like that... Now that would be hitting a new level..

Jaideep Sahni answers, thanks for your question hari, actually everything i have done, what happens with the stories and characters is personal to me in one way or the other...it just doesn't show in an autobiogrpahical way because nobody is going to be interested in seeing my life after spendning their money and time, that's delusional!

Dushyant asked, Hi Jaideep, Congratulations on a well written movie. I enjoyed the movie very much. My question is how to get into script writing. Are there any best-seller books on script writing or online tools available?

Jaideep Sahni answers, thanks dushyant, yes there are many books in bookstores an websites on the net about the craft now, as compared to the time when myself an many of my other writer friends started...please do make use of them...i have been fortunate to find directors, actors, technicians an other writers from whom i learnt, i hope you do find such people too

at0z asked, How do you manage to convince producers to produce films that you make.. also how does Aditya Chopra react to your script.. what do you feel of Aditya Chopra as a script writer n Director...

Jaideep Sahni answers, adi doesn't need to be convinced about making a new idea at0z, he is a film lover and has seen more cinema of all forms from all parts of the world than most people i know put together...for shimit and myself, he is our biggest supporter and also bouncing board, not to mention his creative inputs to our work...i only feel bad that somehow he and his company never get the credit which they deserve, maybe they don't speak out so much an go out and accept it

Sia asked, What is ur next project? and when we will see u next as I m very big fan of your's from chak de

Jaideep Sahni answers, thanks so much for the encouragement sia...i am not sure yet, just been fiddling around with some subjects, learnig more about them, researching, let's see where they go

writer babu asked, are you involved with "love sex and dhoka" ? the new dibakar banerjee movie? tell us about it?

Jaideep Sahni answers, no babu, it's an idea dibakar has had for a long time and is absolutely smashing...i wish i was, but he knows it like the back of his hand and doesn't need me...i'm looking forward eagerly to seeing it as much as you, i know it's going to be just stupendous, please do watch it

DeepSahni asked, Ur KHosla ka Ghosla was funny regarding the characters, realistic regarding dreams crashing and unrealistic regarding the second half. Thats why it made a good film?

Jaideep Sahni answers, nobody knows what makes a good film for whom i think, it's very subjective, different for different people, but if i repeated myself, i would die of boredom and probably won't do a good job anyway

SPIDERMAN asked, HI JAI! I LOVED THE LINE "RISK TO SPIDERMAN BHI LETA HAI"..WHO INVENTED IT?

Jaideep Sahni answers, it just came up when i was typing the scene, thanks for liking it

vijsagar asked, hi jaideep why did u make such a slow movie

Jaideep Sahni answers, it's not about slow and fast vijsagar, it's what's organic to the subject...about appropriate pace and not treating the audience like they are on drugs of artificially fast pacing...but maybe you expected something else when you came in, so sorry for disappointing you

DeepSahni asked, Why was it necessary for Ranbir to be a sardar in the movie

Jaideep Sahni answers, that's how the character came to me and i decided to respect that...there is no reason why all lead protagonists in hindi films should be a certain look, age and background...as it is because our primary audience is from hindi or hindi's sister language areas, it ties us down in a language prison, and we are not able to have as many characters from other parts of the country as we would like to...but atleast we can have as many characters from parts of the country or backgrounds which a film allows us to have...as a writer i am excited by that and as a person i support it...i wish there was a way to have more characters from all across india and all backgrouns and i keep trying, and will die trying!

Sia asked, Best of Luck Sir for ur bright future, May Sucess always comes in ur way

Jaideep Sahni answers, thanks so muc sia

jagat asked, though its not a big hit on the box office it is surley a big hit amongst the marketing & sales niche

Jaideep Sahni answers, thanks jagat, actually it's a very modestly budgected film so it's cool

RAKESH asked, THANKS FOR GIVING THE BEST FILM OF THE YEAR

Jaideep Sahni answers, thanks so much rakesh

danny asked, hi jai i saw u r flim chakde khosla roket u r briliant dir but i a fan of ajay devgan shahid kapoor n sunny make 1 good script for ajay sunny or shahid

Jaideep Sahni answers, i am too danny, an admirer of all three of them...i have had the opportunity to work with and learn from ajay in company and it added a lot to my learning

vijay asked,  hi sir, i wish god give you lotoff sucess. sir i want to being script writer in bollywood so is for any course impornant.please me guidence vijay

Jaideep Sahni answers, unfortunately we do not have too many screenwriting courses or even creative writing courses in our universities and that's sad...but there are two very fine faculties in ftii an whistling woods led by my friend and colleague anjum rajabali, do find out more about them and make your decision about which one you want to apply to

sac asked, How do you find the name Rocket Singh? is there any story behind this name?

Jaideep Sahni answers, the story of the film is behind it sac

JEET asked,  Jaideep, Greetings. I appreciate you for your good work with Chak De and Rocket Singh

Jaideep Sahni answers, thanks for your encouragement jeet

Nimish asked, I DONT AGREE THIS MOVIE IS A FLOPP........ITS MY FAVOURITE MOVIEE EVER.....I HOPE U WRITE MORE SUCH MOVIEESS!! UR MY BEST!! THANKS FOR AN AWESOME MOVIE!

Jaideep Sahni answers, it's a very modestly budgeted film nimish, so it's pretty cool that way, we have no problem of that kind!

hcas asked, sir, which one would you rate as your best work? KKG, CDI or Rocket Singh?

Jaideep Sahni answers, i don't know hcas, what do you think and why

Dushyant asked, do you believe in making sequels or ever thought of making remakes of any western classic or old hindi classic?

Jaideep Sahni answers, no dushyant, so far i am not a big one for sequels and remakes, but who knows what interests you at what time...but no plans so far

gajhodhar asked, did you have to struggle a lot in bollywood?

Jaideep Sahni answers, every writer i know has had his or her struggle which has been unique to them...writers never have it easy mate

sanju asked, Who do you think is the actress for whom you would specially like to craft a great role? Is it Madhuri?And Why?

Jaideep Sahni answers, don't remind me of it sanju! as it is didn't do a good enough job in aja nachle and already feel apologetic to madhuri and the entire team of some of the finest actors i have had the pleasure of knowing and working with...i hope i can get better at my job and find an opportunity to make it up to all of them someday...thankfully many among them are among my closest friends and have been very supportive in their love and the film and and me...but i screwed up

Abhijeet asked, First;y congratulations to u and Shimit for coming out with a masterpiece like Rocket. Is it true that there are 2 camps in the YRF one thats headed by Adi and the other by you?

Jaideep Sahni answers, hahaha that's too funny!

anand kumar asked, In your movie you have teach us how to develop the business but you did not show us the other aspect of life like Romance, Love, Fight,Strugle,glamour,songs,jeously etc.I think the over story is about sales only. I do not find any masala subject in the movie.Hope next time try to write about professional or Business skiils.

Jaideep Sahni answers, we hadn't started out to make a masala film anand...sorry if we gave you that wrong impression and disappointed you when you came in...my apologies

MallikBhai asked, Jaideep, I loved your Khosla ka Ghosla. What did you learn from Ram Gopal Varma during the making of Company? I think Company is the best movie of the decade. What do you think?

Jaideep Sahni answers, i learnt too much from him to spell out in a chat room mallikbhai...about craft, about people skills, about storytelling, about this medium, about what impact is...but most of all i learnt from him to believe in myself and my instinct which is his biggest gift to everybody who works with him, if you don't crazy with that gift that is!

diya asked, Hi, I luved the script of Aaja Nachle though it didnt do well at the box office. What do u think went wrong?

Jaideep Sahni answers, we had two stories competing for space in the film diya...one about a theatre or mall debate in a town, and the second which was a ance musical...and unfortunately they didn'y go well together because of their inherently different natures, or maybe we couldn't keep them together...we had a great cast and crew and director though, and we all meet often and remember the times fondly with sad longing

telephone asked, don't you want to direct ur scripts?

Jaideep Sahni answers, no telephone, not so far...i have been fortunate to have always found other people who are more talented in that department than i can be...ramgopal varma of course goes without saying, dibakar, shad, shimit, anil...i'm no good in that job as compared to these guys

Ash asked, What do you think.., Does Prostitution to be leagalised ?

Jaideep Sahni answers, it's too complicated an issue with various things to be considered and various group's views and long experience in working for sex workers and their issues...i do not believe i am competent to shoot off unconsidered opinions on important issues like this which affect other human beings seriously, just because i am some kind of a film person...film people are not experts in everything under the sun and should not be treated as such, and should not pretend to be experts either

Jaideep Sahni says, Thanks so much everyone for your time and your encouragement, hope to do this again sometime soon! Jaideep.